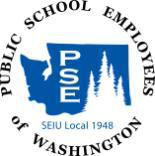 Public School Employees of WA
SEIU 1948

Organizing Manager
Based in Auburn, WA

This is a highly responsible position that leads and coordinates all internal and external organizing activities in PSE, with the emphasis on external organizing. The position requires extensive travel, long and irregular work hours, including weekends and holidays, and working away from home for extended periods.
Develops strategies and designs and implements long- and short-range plans to organize new members, provides grassroots mobilizing support to the field services and government relations departments upon request, and assists in retention and educational campaigns for PSE chapters and members.

Facilitates the continued growth of PSE and assists in meeting the organization's expansion goals. Identifies opportunities and develops plans for both internal and external campaigns.

Directs and leads all external organizing campaigns, identifying and developing support groups and developing the schedule.

Coordinates political, retention, educational, and mobilization campaigns with other members of the management team, and leads the Organizing Department in providing such assistance as is requested to support internal campaigns and projects as requested by the chief of staff or executive director.

Works with the communications department to design and develop communications plans and informational literature to facilitate the goals of the Organizing Department.

Supervises the organizers, member activists, and other individuals supporting particular campaigns.

Identifies and selects member activists.

Assigns activists and organizers specific duties and assignments.

Trains member activists and other organizing staff on the skills necessary to carry out the work on a campaign including but not limited to: house visits, rap, charting, assessments, and leader identification.

Performs regular debriefing of staff and provides feedback on their work.

Demonstrates leadership to staff and workers in the campaign.

Selects products for promoting PSE to the target group.
Job Type: Full-time
Salary: $81,169.00 to $91,304.00 /year
Required experience:
Required education:
Job Location:
Required license or certification:
WHEN APPLYING: Be sure to indicate that you saw this information at UNIONJOBS.COM.