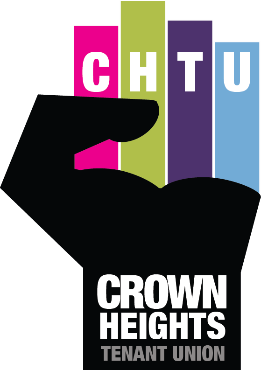 Crown Heights Tenant Union
Urban Homesteading Assistance Board

Housing and Community Organizer
New York City, NY
Want to organize to stop the landlords and brokers from displacing and overcharging working-class tenants in Crown Heights?
Want to fight for the block?
Love your community and your neighborhood?
Think we need new rights to take control of our homes and to win back the fruits of our labor?
Apply to be an organizer for the Crown Heights Tenant Union.
Deadline: January 31st, 2018.
About the Crown Heights Tenant Union (CHTU): The CHTU is a union of Tenant Associations, that began meeting on October 2013 in response to rampant gentrification, displacement, and illegal rental overcharges in the neighborhood. There are over 40 buildings in our union that have come together to demand new, stronger protections that guarantee tenants' rights.
We use a collective bargaining strategy to demand both stricter enforcement of existing tenants' rights in addition to new, stronger protections that eliminate loopholes in the law that favor landlords. Our demands call for a stronger tenant voice in decisions that impact rental housing and include a five year rent freeze and restrictions on tenant buyouts.
The Urban Homesteading Assistance Board (UHAB) is seeking a Housing and Community Organizer to provide technical assistance to the Crown Heights Tenant Union (CHTU). The CHTU has no budget and no staff, but UHAB organizers provide trainings and organizing capacity to the CHTU at the discretion of the CHTU's membership.
UHAB empowers low- to moderate-income residents to take control of their housing and enhance communities by creating strong tenant associations and lasting affordable co-ops. Since 1973, UHAB has been helping New Yorkers with limited means become part of their own housing solutions. Our work is guided by core principles self-help, democratic resident control, and low-income housing.
UHAB's Organizing, Policy, and Research department works with tenants who are at risk of displacement due to predatory behavior from landlords, gentrification, or poor living conditions. UHAB works with tenant leaders to develop resident associations and engage members in fighting for their own housing solutions. Tenant associations that UHAB works with fight to educate and enforce existing tenants' rights, and to strengthen them through participating in City- and State-wide campaigns.
Position Description: The tenant Organizer will work alongside tenant associations and community leaders to prevent displacement in Crown Heights. The Organizer will work to develop tenant associations in buildings facing distressed physical conditions, severe tenant harassment, and a loss of affordability as well as work closely with the leadership of the Crown Heights Tenant Union.
Responsibilities:
Supporting the development of tenant associations in Crown Heights and surrounding neighborhoods

Identifying and supporting the growth of tenant leaders through training, skill-sharing, and one-on-one meetings

Expanding the base of CHTU through outreach and leadership development to existing tenant associations

Working with the leadership of CHTU to coordinate two monthly membership meetings with its members, in addition to providing logistical support to the committees and working groups within the union

Reaching out to and mobilizing CHTU members to participate in and support the work of City- and State-wide coalitions to strengthen affordable housing in New York City
Qualifications:
The ideal candidate will be computer proficient, have excellent organizing skills, be personable, flexible, and have

a strong commitment to housing and economic justice,

several years prior experience working as a community or labor organizer (preferably within New York City),

an ability to communicate complex ideas in a clear and accessible way,

strong oral and written communication skills, and

the ability to work in a fast-paced environment and effectively handle multiple projects at the same time.
Hours include evenings and some weekends.
Location: The Housing and Community Organizer will be based primarily in our main office in Lower Manhattan; the organizing work takes place in Crown Heights, Brooklyn.
To apply, please send your resume and cover letter with two references to organizingjobs@uhab.org.
UHAB is an equal opportunity employer. Women and people of color are strongly encouraged to apply.
WHEN APPLYING: Be sure to indicate that you saw this information at UNIONJOBS.COM.