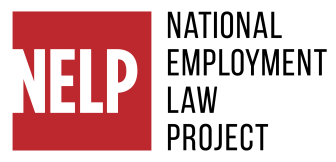 Finance Associate – Part Time
New York City, NY

The National Employment Law Project (NELP) seeks an experienced Bookkeeping and Finance associate to work with our Senior Finance & Administration Specialist. This individual will assist with the day-to-day accounting and administrative functions for this national organization. This position is a part time position, 20 to 25 hours per week.
Who We Are
A national non-profit with offices in New York, Washington (DC), Seattle and Berkeley, NELP promotes federal, state and local policies to create good jobs, strengthen workers' upward mobility, enforce worker rights, and improve benefits and services for the unemployed. In collaboration with national and grassroots partners, NELP advances its work through research, advocacy, litigation support and technical assistance designed to raise wages, end wage theft and workplace violations, strengthen unemployment insurance, ensure employer accountability for workers in contract employment, encourage fair chance hiring practices, and promote a comprehensive policy framework to build a good jobs economy. For more information, see www.nelp.org.
What You Will Do
As our Finance Associate, you will play a central role in ensuring the efficiency and accuracy of our finance and administrative operations.
While certainly not an exhaustive list of responsibilities, your job will include:
Working with our Managing Director and Senior Finance & Administrative Specialist to produce supporting schedules for our annual budget and will enter budgets and other financial information into FundEZ.

Reviewing and processing vendor invoices. You will prepare accounts payable reporting and print checks.

Reviewing and processing expense reports and corporate credit card reporting.

Preparing and making bank deposits using a remote deposit system and record deposits in the accounting system. You will work with our database associate to ensure that donation tracking in the accounting system reconciles with tracking in our Salesforce database.

Monthly, assisting in performing account reconciliations for bank accounts, credit card accounts and investment accounts, and preparing month end close journal entries.

Ensuring that NELP maintains complete financial records and an organized filing system.

As part of the finance team, you will help prepare for and support the annual audit.

Ordering and organizing office supplies.

You may be called upon, from time to time, to help with various office administration functions such as assisting with meeting logistics.
Who You Are
You have 3 to 5 years of accounting and financial reporting experience. Ideally, you have experience working in a nonprofit environment.

You enjoy working as part of a team and working with people from different parts of the organization to help them access and understand organizational financial information. You are comfortable working with different levels of employees and with external vendors.

You count among your strengths organization and attention to detail.

You enjoy using analytical skills and analytical tools, such as Excel, to better understand financial data and trending information and to problem solve as needed.

You are comfortable working with monthly, quarterly and annual deadlines and are able to prioritize effectively.

You have advanced Excel skills and have experience working in accounting software (FundEZ or similar system). Ideally you have had the opportunity to work with a relational database, such as Salesforce.

You have a Bachelor's Degree (associate degree and equivalent work experience) with a concentration in Business, Finance, or Accounting.

You are interested in nonprofit financial management.

Ideally, you have an interest in labor law and policy, labor unions, or workers' rights.
Start date and compensation: This position will be based in our New York City office. The position will start as soon as possible and reasonable, given the candidate's current employment. Salary is competitive within the non-profit sector and commensurate with experience and education. Excellent benefits package. The position will require some travel.
To apply: Email cover letter, resume, and three references to jobs@nelp.org, noting "Finance Associate" in the subject line. If you have questions regarding this announcement, please forward those to jobs@nelp.org, noting "Finance Associate Questions" in the subject line. No phone calls or other email inquiries please. We will consider applications on a rolling basis.
WHEN APPLYING: Be sure to indicate that you saw this information at UNIONJOBS.COM.