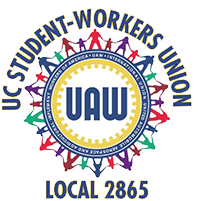 Lead Field Organizer
Based in Los Angeles, CA

Location: Applicants must be based in the Los Angeles, CA area or be willing to relocate.
Deadline: Submit applications to jobsuaw2865@gmail.com by Thursday, Nov 16th.
The UC Student-Workers Union, UAW 2865, is a dynamic, member-driven labor union representing over 16,000 Academic Student Employees (ASEs) – Teaching Assistants, Readers, Graders, Tutors, and others – at the 9 teaching campuses of the University of California.
The UC Student-Workers Union is currently hiring one full-time Lead Field Organizer to organize student workers at multiple UC campuses in Southern California. This position will be directly responsible for organizing activities at their primarily assigned campuses, including leadership recruitment, training members, strategic planning in conjunction with local unit leadership, helping to plan and run local workplace campaigns, and implementation of statewide campaigns. The Union is set to begin contract negotiations starting in January 2018 and the Lead Field Organizer will be responsible for organizing activities to support bargaining.
The Lead Field Organizer will assist with training, development, and support of one or more field staff. This is a non-supervisory lead classification and will not be expected to participate in corrective action or other supervisory responsibilities.
Candidates who identify as people of color, working class, queer, trans, women, and/or disabled are strongly encouraged to apply.
Lead Responsibilities:
Provide ongoing training and oversight of one or more Field Organizers, including support and guidance in the development of individual work plans, their implementation, and review of results.

Assist local leaders with the development of campus-specific campaign plans with the goals, strategies and tactics necessary to carry out the plans, including effective coordination of available staff and other resources.

Work with the Statewide Field Organizing Coordinator to prepare and execute statewide organizing plans, specific goals and timelines for priority campaigns.

Working with member and staff leadership, develop training curriculum and conduct training sessions for members at multiple UC campuses.
Organizing Responsibilities:
Work with existing union members to sign up new members and identify and develop new leaders and stewards across departments and UC campuses

Collaborate with union members to develop a broad, representative organizing committee of worksite leaders at each campus, and help train organizing committee members to move worksite organizing campaigns

Assist in member-driven bargaining campaigns and campus and community solidarity efforts to advance social justice at UC and beyond

Conduct and/or coordinate grievance and organizing trainings with new and existing leaders and stewards in our union on each campus at least once per semester

Assist in organizing and coordinating large actions such as pickets, marches, and strikes

Assist leaders in mobilizing for union actions and campaigns through activities such as phone-banking, leafleting, door knocking in departments, holding department meetings, etc.

Assist with outreach to student organizations, community groups, and other allies

Support the development of our other UC Student-Workers Union staff members

Perform administrative tasks necessary for organizing (such as maintaining databases, producing materials and correspondence)

Take direction from elected union leaders on the Joint Council (the union's statewide body of elected leaders) and the Staff Supervision Committee in crafting their work plan

Any other duties/tasks as assigned
Required Experience and Characteristics:
A demonstrated commitment to union democracy, bottom-up member-driven organizing, social justice, anti-oppression, and social movement unionism.

At least two years of experience as a full-time organizer and/or field representative for labor unions.

Ability to lead and inspire other field organizers to carry out plans and implement goals.

Excellent oral and written communications, including the ability to develop clear written organizing plans and work plans.

Experience building strong internal union organization with majority membership and stewards/leadership across a diversity of departments/worksites.

Ability to develop and run union organizing skills trainings for union members and staff.

Strong coalition-building and facilitation skills across a diverse set organizations and constituents.

An ability to manage multiple tasks and projects simultaneously and meet established deadlines is required.

Willingness to respond promptly to e-mails, phone calls, and other forms of communication is required.
Preferred Experience and Characteristics:
One year of experience supervising or coordinating one or more field staff.

Familiarity with the political landscape of California and the University of California

Experience handling representational matters such as grievances, Weingarten meetings, contract negotiations, and enforcement of labor law.

Experience with organizing academic workers, public sector employees, and/or student workers.

Experience organizing workplace strikes with broad participation.

Bilingual or multilingual (especially Spanish, Mandarin, Cantonese, and Hindi).
Scope and Nature of Supervision:
The Lead Field Organizer reports directly to the Statewide Field Organizing Coordinator (staff leadership) and the Hiring Committee/Staff Supervision Committee (member leadership). Like all local union staff, the Lead Field Organizer is ultimately accountable to and is employed by the union membership as a whole, which is represented by the Joint Council and the Executive Board. These democratically-elected bodies have the authority to hire, fire, and issue corrective action based on recommendations and evaluations by the Statewide Field Organizing Coordinator and the Staff Supervision Committee.
Additional Requirements:
Willingness to work long, irregular hours, including some nights and weekends.

Willingness to travel between campuses (travel expenses will be covered by the UC Student-Workers Union)

Must possess a valid California driver's license, auto insurance with adequate coverage, and an automobile for business use.

Must possess an email-capable cell phone for business use.

Must possess a laptop, iPad, or comparable portable computing device for business use.
This position offers:
A competitive salary, starting at $57,000/year depending on experience, skills, and abilities.

A monthly automobile allowance and paid mileage, in addition to the base salary.

Full health, dental, and vision coverage, including coverage for eligible dependents.

Paid vacation and sick leave.
Instructions for Applying
Interested applicants should submit a resume/CV, 2-3 references, and a cover letter with the subject line "[Your Name] Lead Field Organizer Application" to the hiring committee at jobsuaw2865@gmail.com by November 16, 2017. The hiring committee will review applications on a rolling basis after Nov 16th.
WHEN APPLYING: Be sure to indicate that you saw this information at UNIONJOBS.COM.