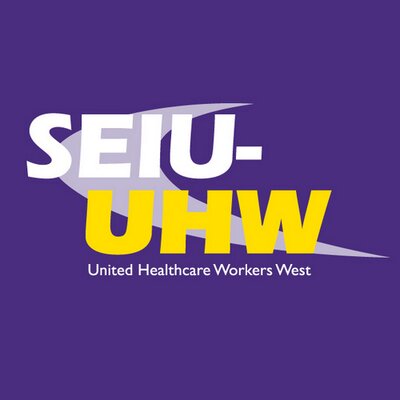 Deputy Political Director
Government Relations
Based in Sacramento, CA

Classification: Full-time, Exempt
SEIU United Healthcare Workers-West (UHW), with more than 90,000 members, is one of the largest healthcare unions in California. We are caregivers from every sector of the industry, united to win better care for our patients and better lives for our families and ourselves. For further information about UHW, please visit our website: www.seiu-uhw.org.
Position Summary:
Leads SEIU-UHW's governmental advocacy program with members of the California Legislature, members of Congress and other elected officials to persuade them to support or oppose legislation or regulation on behalf of SEIU-UHW. Responsible for overseeing all aspects of major projects and programs within the department. Responsible for directing the work of multiple staff, contractors and member leaders in support of objectives. Reports to Political Director and works with senior staff them in the overall development and implementation of the department's strategic organizational plan.
Essential Job Functions:
Responsible for overseeing programs in support of the goals and strategic organizational plan for the department.

Developing the legislative and regulatory approaches to achieve strategic goals of SEIU-UHW.

Offering strategic advice to SEIU-UHW on legislative and regulatory issues.

Building and maintaining organizational relationships with key governmental and non-governmental stakeholders.

Develops recommended budgets, allocates resources effectively and plans and implements program activities as appropriate.

Building and maintaining advocacy coalitions of stakeholders, allies and elected officials in support of the governmental advocacy program of SEIU-UHW.

Responsible for working with staff from other divisions to integrate various elements of the program or campaigns.

Responsible for the review and evaluation of the legislative campaigns and related program work.

Writing legislative language, support/oppose letters, comments on proposed regulations, press releases, and reports.

Tracking legislation related to healthcare, labor, public finance and other matters relevant to members of SEIU-UHW and reporting on that legislation to appropriate members of the leadership team.

Testifies as expert witness before various agencies and legislative committees.

Attending events such as political fundraisers, briefings, stakeholder meetings and committee hearings.

Coordinating activity related to filing and qualifying ballot initiatives with the Legislative Analyst Office, Attorney General and relevant stakeholders.

Tracking information sources produced by the Legislative Analyst Office, State Auditor, the Executive Branch, public policy foundations, government departments, non-government organizations (NGOs) and think tanks.

Providing SEIU-UHW with information about policy and political developments in the fields of healthcare, labor and public finance.

Responding to information requests.

Communicating with relevant official bodies

Liaising with civil servants, elected officials, regulatory bodies and local government staff.

Works with SEIU-UHW members on legislative advocacy campaigns.

Representing SEIU-UHW at coalition tables.

This position is based in Sacramento.

Other duties as assigned.
Qualifications:
Five years of experience in the field of governmental relations or working in the Legislature or equivalent body.

In depth knowledge of relevant subjects including health policy, the California State Budget, legislative processes and procedures, California regulatory processes and California politics.

Knowledge of union, health care workers and health care workplaces

Good writing, research and analytical skills.

Interpersonal skills, including an ability to be effective in a multi-cultural and diverse organization like SEIU-UHW and also in the complex environment of California government.

Superior communication skills, both writing and speaking.

IT skills include working knowledge of computer programs including Word, Excel, e-mail, accessing the Internet, and databases.

Initiative

Diplomacy

Discretion

Work long and varying hours including weekends, nights and holidays; Driving long distances for extended periods of time; Traveling statewide and out of state with overnights and periods away from home may be required.
Tools:
Required to have a valid driver's license, automobile insurance and a working automobile.
Physical Demands:
Able to drive, sit, stand, and walk for long periods of time. Ability to work long and irregular hours including nights and weekends.
Relationships:
Works closely with and interacts with government officials, officers, other staff, staff from other labor organizations, grassroots organizations, trade associations, union members, workers and employers.
Compensation
SEIU-UHW offers a competitive salary, commensurate with experience, and a generous benefit package.
Application
SEIU-UHW is an affirmative action employer and encourages applications from all qualified candidates regardless of gender, race, ethnicity, age, sexual orientation, marital status, religion, or disability. Please submit cover letter, resume and at least 3 references to our candidate portal at http://seiuunitedhealthcareworkers.appone.com/. Contractors and temporary candidates okay to apply.
WHEN APPLYING: Be sure to indicate that you saw this information at UNIONJOBS.COM.