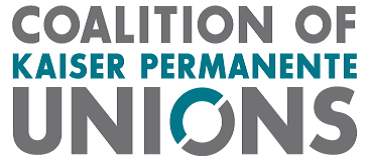 National Program Coordinator for Research

Based in Oakland, CA

The Coalition of Kaiser Permanente Unions seeks an experienced individual to fill the position of National Program Coordinator for Research. Travel required.
The National Program Coordinator for Research represents the Coalition of Kaiser Permanente Unions inside all levels of the Coalition. In this capacity the incumbent provides high-level strategic analysis of finance, healthcare, and development of various initiatives and strategies of Kaiser Permanente central to the Partnership with the Coalition.
Key Responsibilities
Manages and supervises projects and provides technical expertise in financial costs analyses and benefit related topics.

Assists Program Director in the planning and development of Coalition infrastructure and initiatives.

Interacts and communicates successfully with Kaiser Permanente Leadership and OLMP Leadership in the mutual interest of the Partnership.

Coordinates projects in the Kaiser strategic areas including economic viability, legislative initiatives, marketing and other major initiatives.

Performs and oversees contract costing and financial analysis activities.

Serves as point person on Coalition and OLMP Leadership teams responsible for the preparation, presentation and oversight of analytical data.
Qualifications
Minimum 5 years of experience in financial research.

Advanced degree in Economics, Business, or other Social Science discipline. Professional work experience with labor unions is required. Accounting and financial analysis experience is required.

Ability to organize time efficiently and work accurately under tight deadlines.

Extensive experience with advanced research techniques including computerized information gathering and ability to interface professionally and build relationships with company leadership, financial and industry advisors, consultants, and experts. Mastery of complex computer applications and extensive mathematical and computations skills required, as are project management skills, from development through final execution.

Ability to clearly and succinctly write, prepare and edit under tight time restrictions. Excellent oral communication skills that include public speaking. Good interpersonal skills.

Must exercise discretion involving interrelationships among Kaiser Leadership, OLMP staff, International Unions and Coalition local unions and members

Ability to function effectively under stress and with multiple and simultaneously occurring project deadlines.

A driving commitment to the mission of Kaiser Permanente's Labor Management Partnership to better the living standards of workers in the health care industry is essential to succeed in this position.
Location: Oakland, CA
Application Information:
Interested persons should submit a resume and a letter of application that describes their qualifications for the specific position to: resumes@unioncoalition.org. Please include "National Coordinator, Research" in the subject line.
WHEN APPLYING: Be sure to indicate that you saw this information at UNIONJOBS.COM.