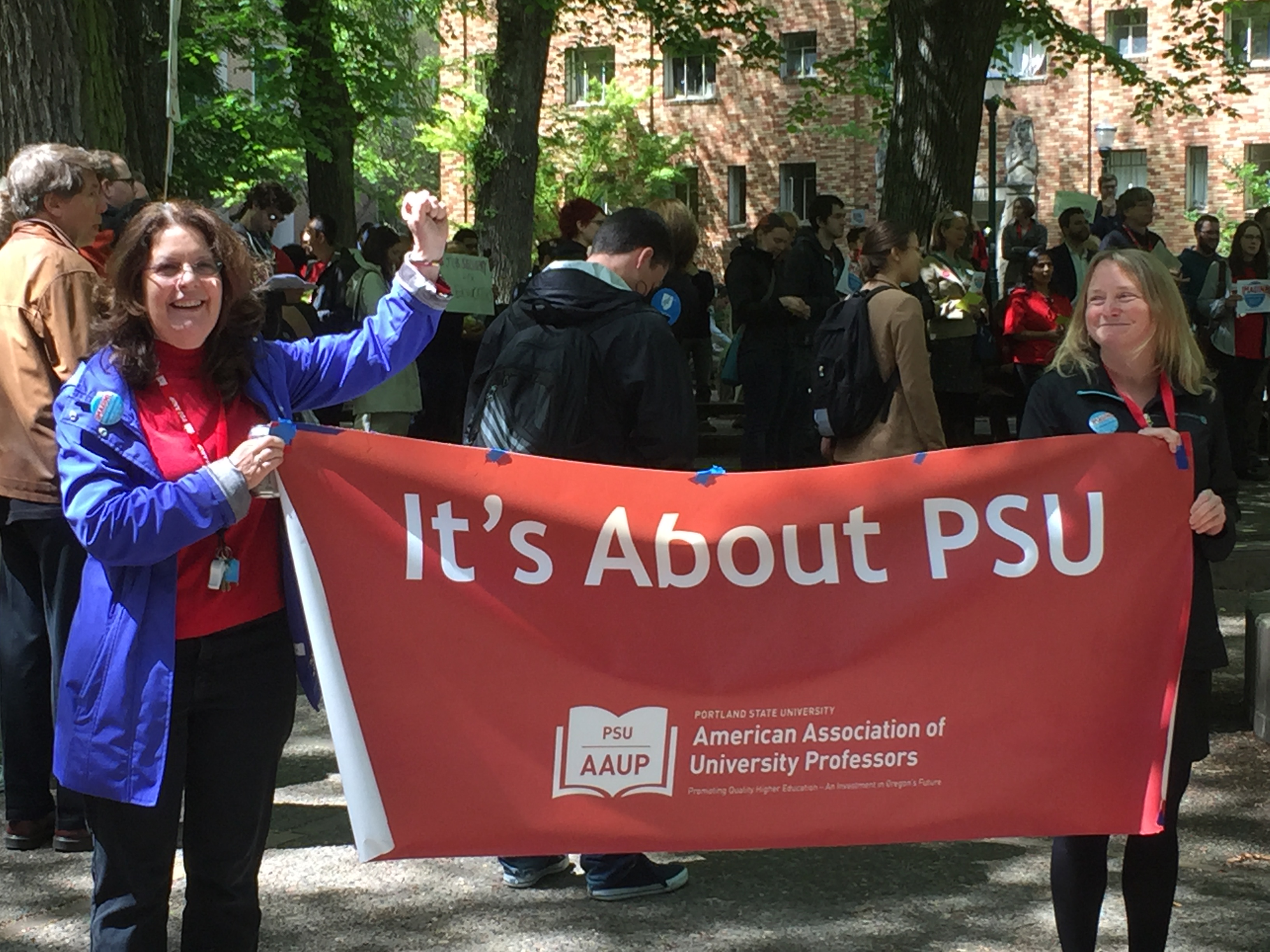 PSU-AAUP Internal Organizer Position (Full Time Exempt)
Portland State University, Portland, OR

PSU-AAUP Internal Organizer Position (Full Time Exempt)
Posted March 13, 2017. Position closes March 31, 2017
Since 1978, the Portland State University Chapter of the American Association of University Professors (PSU-AAUP) has been the professional association and labor union representing full-time academic workers at PSU: more than 1,250 employees in total. This includes professors, instructors, researchers, academic advisors and more.
Our Association is about making sure academic workers have a voice at PSU. Every two to four years, we bargain with the PSU administration. We negotiate improvements on key issues such as fair pay, healthcare benefits, job security and workers' rights. We're passionate about quality education, and we know that our working conditions profoundly influence students' learning conditions.
With high rates of membership and participation, our union has become a community for PSU faculty and a strong, irreplaceable voice on our campus. In addition to our work at PSU, we are affiliated with the American Association of University Professors (AAUP) and the Oregon Conference of the AAUP. We advocate on behalf of higher education faculty statewide and nationally.
We are looking for an experienced full time internal organizer to join our small staff for the long term who loves people and has a passion for field work and meeting new people to activate them to strengthen their union.
Purpose of the Position:
To build and activate the membership of PSU-AAUP and sustain a high level of activism.
Overarching Goals for the position
Re-establish and maintain a face to face organizing network with an effective reach that meets the expectations of the Executive Council Strategic plan

To establish and maintain a culture of AAUP membership and AAUP activism in all units with bargaining unit members

Sustain a high level of membership
Main Job Duties:
On a daily basis act as an organizer and initiate contact with PSU-AAUP members and fair share fee payers with objective to promote activism; build and sustain a culture of AAUP membership; sustain membership in units where it is high, and build membership where it is not

On a daily basis conduct site and office visits

Support Action team (member activists engaged in effecting and maintaining reach) through meetings, training, recruitment, and assistance with setting and achieving goals

Support Unit Rep network: do unit rep trainings, recruit new unit reps, assist unit reps in effecting reach targets in their units; assist unit reps at activating members

Provide backstop organizational and training support to members involved in internal organizing and contract action; be a leader and mentor to member activists

With the administrative coordinator, continue development and maintenance of the organizing member Access database; provide member leaders and the organizing team with needed reports

Update and then maintain assessment of bargaining unit members on PSU-AAUP proprietary scale of support for the union

Recruit new members from both new and current employees

Encourage attendance at PSU-AAUP events

Identify and establish relationships with faculty opinion leaders to mobilize action

Refer members to AAUP resources to resolve work issues

Attend staff meetings, Executive Council meetings, and other meetings as assigned

Plan and support programs with member leaders that further the PSU-AAUP agenda

Be in regular contact with supervisor; do daily contact reporting to be submitted weekly, and monthly activity reporting on organizing activities and hours worked.

Be accountable for outcomes assigned and time worked

Create and disseminate flyers and organizing materials to support AAUP events and activities as assigned

Collaborate with leaders of other unions and student leadership in creating events to support activism and solidarity in the Together 4 PSU coalition, and other coalitions as assigned

Responsible for implementing projects, programs and campaigns as assigned

Maintain the Association organizing office

Provide reports to the Executive Council on a regular basis on progress on projects, programs and campaigns

Represent PSU-AAUP and AAUP responsibly

Related duties as assigned
Expected Distribution of Effort
80% Field work to include the following:

50% in the field doing general outreach to members and fair share fee payers;

15% targeting individuals for contact/outreach in the field

15% inviting and scheduling current activists to join in field work/ building and reinforcing member network with current leaders.

20% administrative work

reporting, communications via email and phone, and interfacing with other PSU-AAUP staff.

attendance at required meetings, other support functions. Other duties as assigned.
Job Requirements:
Be a motivated self-starter, with a strong work ethic. Ability to work independently to produce expected results with general supervision and limited support

Personal commitment to the mission and goals of PSU-AAUP and AAUP

Previous experience and demonstrated success as a labor organizer required

Experience as an internal organizer preferred

Experience as an organizer with higher education faculty preferred

Experience in higher education as a faculty member or academic professional a plus

Experience organizing a strike a plus

Demonstrated ability to recruit new members and activate membership

Excellent written and verbal communication skills

Excellent time management skills

Demonstrated ability to respond to all emails, phone calls and requests within 24 hours

Ability to be accountable to produce desired outcomes from short, intermediate, and long term goals

Ability to work collaborative and productively with member leaders and staff from PSU-AAUP and other partner organizations

Be an articulate, intelligent, confident individual that presents well and relates easily with higher education faculty

Be adaptable and can work with changing priorities as assigned

Ability to take direction and correction from supervisor and member leaders

Intermediate level proficiency in Microsoft Access, Microsoft Excel, Microsoft Outlook and Microsoft Word. Must be able to pass an intermediate skills test in Access and Excel

Be able and willing to learn new software programs as needed to facilitate organizing work

Troubleshoot assigned Association computers and equipment as needed and arrange repairs when authorized

PSU is an 18 hour/day operation. Ability to schedule time on campus as necessary to seek contact with faculty members as they are available, and to work odd and sometimes long hours as assigned by supervisor

Ability to learn quickly the boundaries of the position

Willing to have background check (conviction of a crime is not an automatic disqualification for consideration)

Willingness to commit to position long term

Knowledge of media outlets; ability to write press releases; and proficiency with social media preferred

Oregon Driver's License and Excellent Driving Record preferred
Reports to: Executive Director
Location, Hours and Compensation:
Hours, Compensation and Benefits: This is a 12 month, full time exempt position. Initial contract to be for 12 months. Hours of work to be set weekly in collaboration with Executive Director around organizing activities; Member contact activities will be between 8am and 10pm, usually Monday to Friday. Weekend work as needed to connect with members not accessible during the week. Salary is between $48,000 to $63,000 annually based upon experience.
Level of Supervision: The position will operate with general supervision with specific reporting requirements about time worked and contacts made. The position has considerable independence.
Benefits: paid sick time; paid vacation time; paid holiday; retirement program; medical and dental insurance; short and long term disability insurance; heath care reimbursement account; phone allowance. Employer provided monthly tri-met (public transportation) pass. Moving expense reimbursement up to set amount.
Location: Most work to be performed on the Portland State University campus in downtown Portland. Organizer will work out of the PSU-AAUP Organizing Office on the PSU Campus (for as long as it is available). Occasionally events may be scheduled at other locations in Portland, other University campuses in Oregon, at the State Capitol in Salem, or other locations. Organizer is expected to work full time on campus and be available throughout the day via phone, text, Skype or Face Time, and email daily as requested by supervisor.
How to Apply:
Please send a letter describing why you believe you would be a strong candidate for the position, with a resume and contact information for 3 references, who we will call in advance, to: Internal.Organizer@psuaaup.net
No phone calls please.
Qualified Candidates will be asked to fill out an application. An incomplete application, or an initial letter/resume without references will not be reviewed.
PSU-AAUP is an Equal Opportunity Employer.
About Portland State University
Portland State University (PSU) is Oregon's only urban research university and offers more than 200 degree programs for approximately 28,000 students – approximately 22,500 undergraduates and 5,500 graduate students. The university has approximately 7,000 employees, including research and instructional faculty, academic professionals, managers, and staff and administrators. There are five employee organizations, the largest being PSU-AAUP.
For more information about Portland State University, click here: http://www.pdx.edu/aboutpsu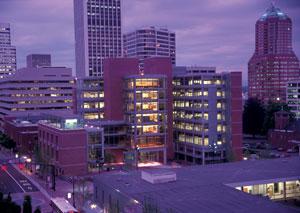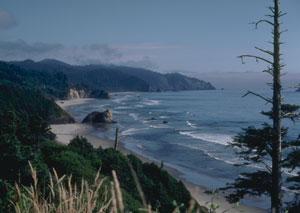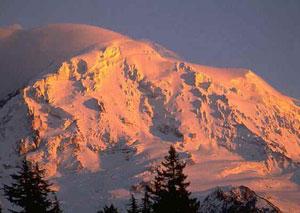 About Portland
Big city excitement and small town charm make Portland, known as "the City of Roses" one of the most popular cities on the west coast. Situated approximately 70 miles from the Pacific Ocean where the Columbia and Willamette Rivers meet, Portland enjoys a magnificent setting, combining sparkling waterways with lush greenery rarely found in urban settings. Portland is home to approximately 610,000 residents and the population of the surrounding metropolitan area is approximately 2.35 million. Portland is widely recognized in national surveys and rankings as one of America's most livable cities. Click here to learn why metro Portland has become a top national tech destination: http://www.techtownportland.com/
Portland's historic old town, many galleries and museums, Saturday Market, Waterfront Park and an abundance of fine restaurants keep residents and visitors busy and satisfied. The performing arts in the area offer classical music, jazz and blues as well as theater and dance. Portland is just a short distance from the spectacular Columbia Gorge and Multnomah Falls, windsurfing at Hood River, valley wineries, skiing at Mt. Hood, and the drama of the Oregon coast.
Portland is known for its extensive park system of more than 200 parks. These encompass such areas as the elm shaded South Park Blocks in the downtown area and Washington Park, home of the Rose Gardens and the Japanese Gardens. Portland's Forest Park, at nearly 5,000 acres, is the largest park within a city in the U.S. and has nearly 50 miles of walking trails.
Portland's award winning mass transit system is one of the most extensive and advanced in the U.S. and includes buses and the MAX, an urban light rail line, as well as a downtown transit mall.
WHEN APPLYING: Be sure to indicate that you saw this information at UNIONJOBS.COM.