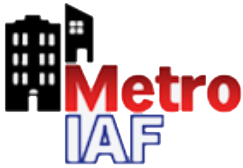 Organizers
Metro Washinton, DC Area

Organizer Jobs with METRO IAF
CURRENT OPENINGS:
We seek organizers for several positions in the DC-MD-VA region, as well as around the country (NYC, Midwest, New England, etc.). Successful candidates will participate in an organizer training period before being offered a longer term position. IAF trainees and associate organizers are full time, salaried positions with benefits. We are looking for associate, senior and lead organizers.
We are hiring people who have a drive to address injustice and work with community leaders - around a variety to issues- not just a single issue. That said we are currently hiring with an eye toward the following campaigns:
LABOR COMMUNITY ALLIANCES:
To revitalize public transportation for poor and middle income people, while defending union family sustaining jobs from threats of corporate privatization.
Building alliances of teachers, paraprofessionals, parents, students and community to revitalize our public schools.
ORGANIZING IN MOSQUES & MUSLIM INSTITUTIONS
ORGANIZING WITH IMMIGRANTS: bilingual applications encouraged to apply. especially speakers of Spanish, French, Amharic, Arabic, other languages common among immigrants in the region.
ORGANIZING WITH RETURNING CITIZENS: around criminal justice reform and access to jobs.
WHAT IS METRO IAF?
With a 75+ year history Metro IAF organizations build is a multi-racial, jurisdiction-wide power organizations that last and win. Our organizations are made up of congregations, community organizations, and unions organizing poor, working and middle class families on issues like union family sustaining jobs, affordable housing, criminal justice reform, public transportation, health care, community safety, youth investment, and immigrant rights. We have a track record of winning, and building power to the people that lasts, and developing skilled leaders and organizers.
WHO ARE WE LOOKING FOR?
Metro IAF seeks to recruit, train, and develop the next generation of organizers. We are looking for people seeking their first career or looking for new meaning in a second career. Successful organizers have come from a many educational and workplace backgrounds from labor, military, law, business, education, youth work, seminary, ministry, etc.
Qualities of a Successful Organizer:
ANGER AND EDGE

–

not temper, not ideological fervor, but a clear sense of what's wrong, impatience in the face of that wrong, and a drive to address it. An insatiable drive to turn the world as it is closer to the world as it should be.

CAN RELATE TO PEOPLE

–

ESPECIALLY ACROSS RACE AND CULTURE

– ability to build deep trust with people, especially people unlike oneself, people of other races, classes, orientations, faiths, etc.. We are looking for candidates who don't just love "the people" but candidates who enjoy spending time with actual real life people in all their complexities and contradictions.

NATIVE INTELLIGENCE

–

Both book smarts and street smarts- not necessarily degrees. The ability to think reflect, analyze, communicate, challenge the conventional wisdom, make judgments in complicated situations, and show flexibility.

A TRACK RECORD OF SUCCESS – some evidence, school, community or workplace of attempting to relate to people and to respond to situations that seemed to demand responses; and some success in whatever field or career or endeavor has occupied the individual's time.
A SENSE OF HUMOR

–

Life is short, the struggle for justice is long. We need to be able to laugh at ourselves and with each other along the way.
FOR MORE INFO ABOUT METRO IAF:
Check out the following about Metro IAF and our affiliate organizations:
INTERESTED?
Please send a 1-page or less story of self that tells us why you want to be an organizer or why you became an organizer and a short (1pg or less) resume. Include your contact information (address, email, mobile number). Please put ORGANIZER JOBS in the subject line. Email to: vrunoiaf@gmail.com
WHEN APPLYING: Be sure to indicate that you saw this information at UNIONJOBS.COM.