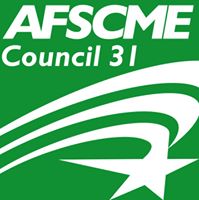 Regional Director
Based in the Chicago metropolitan area, IL

AFSCME Council 31 is one of Illinois' largest and most active unions, representing nearly 100,000 active and retired public service workers in over 300 affiliated local unions. Council 31 is a dynamic and progressive union which plays a key role in the state's labor movement, as well as in the political and legislative arenas. It has pioneered new strategies for organizing the unorganized, winning tough contract fights, and developing innovative programs to improve workers' lives.
AFSCME Illinois Council 31 is seeking an experienced, highly skilled and dedicated trade unionist to serve as Regional Director based in the Chicago metropolitan area. The Regional Director helps to develop the union's overall strategic direction, participates in developing goals and strategy for local unions in his/her region, maintains relationships with elected officials, other unions, and community groups, oversees union political action programs, and provides hands-on oversight of first contract campaigns, strikes, and other major union battles in the area. The Regional Director supervises 5-8 field staff (Staff Representatives) who are responsible for the overall development of local unions assigned to them, including member education and mobilization, contract negotiations, membership communications, and arbitration of grievances. The Regional Director reports directly to the Council 31 Executive Director.
Description of Duties:
Provide guidance and supervision to Staff Representatives in implementing the union's goals and objectives

Assist in the development of strategic plans for local unions

Participate in the development and delivery of education and training programs for staff, local leadership and activists

Evaluate local union structure and programs to help ensure that locals are progressing in meeting the union's goals

Participate as member of Council 31 staff leadership team in the development and implementation of union strategy and programs

Guide and assist staff in critical negotiations, strikes or other challenging situations

Serve as liaison to elected officials, other labor unions, and community groups in the area

Serve as lead spokesperson and/or liaison for key standing committees, labor-management meetings and other forums
Desirable Qualifications:
Extensive experience in, knowledge of, and commitment to organized labor

Experience in negotiating collective bargaining agreements

Experience in supervising and directing the work of others

Experience in union organizing campaigns

Strong speaking and writing skills

Demonstrated ability to manage large-scale campaigns

Excellent interpersonal, communication and problem-solving skills

Demonstrated ability to build teams and work effectively in a team environment in both a lead and support role

Demonstrated ability to work effectively in politically sensitive and high-pressure environments

Ability to resolve conflicts while maintaining important and effective relationships

Effective time management skills, including prioritizing and managing multiple tasks
Competitive salary and benefits. Candidates should submit resume and cover letter to Minnie Perez at mperez@afscme31.org.
WHEN APPLYING: Be sure to indicate that you saw this information at UNIONJOBS.COM.