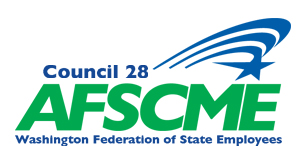 Field Services Director
Olympia, WA
WFSE Headquarters

Who We Are:
The Washington Federation of State Employees (WFSE) has a long history of fighting for workers' rights and employee benefits while tackling social justice issues with passion and energy. The WFSE, Council 28 has been operating in the state capital for over 72 years. Our staff fight for fairness and equality as well as ensuring the hard working men and women of state government, higher education institutions, and public service workers get better pay, better health care, better retirement, and a healthy work environment. Recently, our team negotiated the biggest across-the-board raises in our history for over 40,000 members and we're not looking back! There's more to accomplish, and with the right personnel, we believe we can accomplish it. Come join our team and be a part of a larger mission that will make an impact for years to come. Learn more about who we are at: wfse.org.
What We're Looking For:
Are you passionate about fighting for workers' rights? Making your voice heard for fair and equitable wages, health care, and working conditions for public service employees? Are you looking to apply your labor background and leaderships skills in a dynamic way? If so, the Washington Federation of State Employees (WFSE) is recruiting to fill the Director of Field Services position. This position reports to the Deputy Executive Director and collaborates with WFSE management and staff to carry out the operational duties of the Field Services Division. As part of the Executive Leadership Team, this position is a vital link in the mission of the WFSE connecting Field Services to the other divisions in the organization and contributing to the success of the union. This position sets the strategic goals of the division and works with field staff to ensure members are receiving the highest level of representation while driving organizing initiatives.

As the head of the Field Services Division, this position has operational oversight and authority over all field offices; Strategic Campaigns; Labor Education; and eventually the Member Connection Center. Collectively, these areas represent, negotiate, educate, and campaign for approximately 41,000 members and fee-payers. The incumbent in this position has full awareness of these units and has authority to make recommendations regarding budget and expenditures, staff and member grievances, unfair labor practices, contract negotiations, and application of union policies. This requires the highest level of leadership, accountability, community and organizational awareness, and the ability to develop and maintain successful and vibrant relationships with our stakeholders.
The Director of Field Services exercises independent judgement and has direct supervision over, assigns work to, and reviews the performance of the Field Supervisors, Strategic Campaigns, and Labor Education, and makes recommendations on organizational design and operational effectiveness. Serves as primary and/or backup staff person for statewide union/management meetings and participates in staff union contract negotiations. This position is critical in its recommendations to the Council 28 budget process representing field services to maximize representational efforts and ensure proper staffing levels occur to support the membership of the WFSE.
Additional duties include:
Participates in the development, implementation and enforcement of WFSE policies.

Staffs Executive Board Committees, assigns work to appropriate personnel, ensures field activities are coordinated, and troubleshoots for Policy committee meetings.

Attends conventions, conferences, and other large meetings representing Field Services outlining the vision and direction while responding to inquiries and potential risks associated to the field.

Designs performance measures and analyzes the data from field staff to ensure that the staff performance is meeting the representational and internal organizing goals of the organization.

Ensures that annual staff feedback is completed and goals are being met.
Required Qualifications:
Eight (8) years of experience in labor relations, union organizing and staff supervision.

Excellent oral and written communication.

Thorough understanding of Washington State employment law, labor practices, and labor movement.

Experience managing budgets and the ability to construct and assemble the appropriate resources to manage the division effectively.
Desirable Qualifications:
Bachelor's degree in business administration, labor law, or related field.

Ability to: work with people, convey instructions to others, and supervise staff.

Skills: Good written and oral communication, negotiation, grievance handling, organizing.

Knowledge of: public sector rules and laws, the union.

Eight years demonstrated experience in labor relations, which includes time as a paid professional.
Special Note:
This position is overtime exempt and will be required to work some weekends. Travel is normally limited to the assigned area of responsibility. Must have a valid driver's license, use of personal vehicle, and valid vehicle insurance. Release of driving record required prior to interview. Out of state candidates must provide drive record at the time of interview. Benefits include annual and sick leave, $150 cell phone allowance, medical/dental, life, and long term disability insurance, and holidays. Salary range is $110,000 to $125,000 and will be determined commensurate with experience.
How to Apply:
To be considered for this position(s), applicants must submit a resume, letter of interest, and at least three (3) professional references to: resumes@wfse.org. Your letter of interest should clearly explain how your experience, training, and education make you a viable and competitive candidate for this position.
This position is open until filled; however, first round of application assessments will be conducted fourteen (14) days after the initial job posting date. It is to the applicant's advantage to apply as early as possible.
The Washington Federation of State Employees is committed to providing equal employment opportunity and equal access in a non-discriminatory manner to its programs and services for all persons without regard to race, creed, color, marital status, gender, sexual orientation, religion, age, national origin, political affiliation, honorably discharged veteran or military status, or the presence of any real or perceived sensory, mental, or physical disability.
Persons requiring accommodation in the application process or for an alternative format may contact the recruiter Ben McDonald at (360) 352-7603 or benm@wfse.org. Persons of disability or those who are deaf or hard of hearing can call the Washington Relay Service by dialing 7-1-1 or 1-800-833-6388. The WFSE complies with the employment eligibility verification requirements of the Federal Form I-9. The selected candidate must be able to provide proof of identity and eligibility to work in the United States consistent with the requirements of that form on the first day of employment.
WHEN APPLYING: Be sure to indicate that you saw this information at UNIONJOBS.COM.