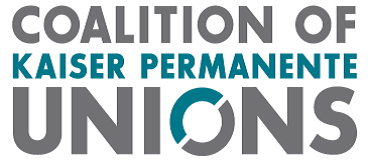 CKPU
Coalition of Kaiser Permanente Unions

National Coordinator
Washington State
For covering Washington
Summary:
The Coalition of Kaiser Permanente Unions was organized in 1996 by thirty local unions to win better contracts through united action. To win the strongest voice for workers in the industry, the Coalition proposed a labor-management partnership giving workers unit-based workplace democracy, a voice in strategic decisions at the highest levels, a growth strategy that has almost doubled the size of our membership, the best wages and working conditions in health care – and the best health care for Kaiser Permanente members and patients. Our strategy is seen as a model for unions in today's economy where the union is a strong voice for workers and also for high performance and the public good. Our Coalition represents more than 85,000 workers in California, Oregon, Washington, Hawai'i, Colorado, Maryland, Washington, DC and Virginia. To learn more about our work, visit www.lmpartnership.org and www.unioncoalition.org.
The Coalition of Kaiser Permanente Unions seeks an experienced individual to fill the position of National Field Coordinator in Washington state. Travel is required.
Provides leadership to regional and local union leaders within Washington state. Works with local union leadership to advance the strategy and goals of the organization. At the direction of the Executive Board and day to day operational oversight by the Coalition Executive Director and Coalition Staff Director, assists in developing, implementing and overseeing administration of national initiatives. Implements annual action plans to meet these objectives. Assists in developing programs, structures and training to support union participation. Works with local union leaders, KP Partners, and regional executive corporate management on various program issues/initiatives. Applies broad administrative, organizing and negotiating experience/expertise in a union environment.
Key Responsibilities:
Advance the goals and principles of the Coalition, its local unions and the Labor Management Partnership
Drive implementation of the National Agreement and Employment and Security Agreement and coordinate consistent implementation across Kaiser Permanente regions
Mobilize union members behind the national agreement to provide a rising standard of living for health care workers while embracing change, quality and our shared mission
Advance organizing campaigns that align with goals of the National Agreement
Implement priorities identified by the Coalition, local unions, and the annual work plan, and coordinate consistent implementation across Kaiser Permanente regions
Support program-wide work teams commissioned to implement partnership program activities and coordinate technical assistance as needed
Advocate for full participation of union members in partnership activities, give guidance to union members in advancing the partnership, and assist with the development of programs, structures, and training to support union participation
Establish collaborative working relationships with union leaders, staff, and members, and with Kaiser Permanente managers and staff to support the partnership
Organize and coordinate the participation of local unions in partnership activities
Assist with the planning, monitoring, and evaluation of partnership activities
Represent the Coalition of Kaiser Permanente Unions in joint labor management forums.
Coordinators are based primarily in a region, but have regional, cross-regional and national/program-wide responsibilities.
Qualifications:
The National Field Coordinator job is a senior position, requiring:
Strong commitment to social justice and cultural diversity
Strong planning, organizational and independent judgement skills
Ability to work in a multi-union environment with a broad knowledge of all levels of the union community
Skilled in communication, collaboration, teamwork, and partnership
Extensive program management experience, preferably in a health care environment
Excellent analytical and problem-solving skills
Location: Washington state
Application Information:
Interested persons should submit a résumé and a letter of application that describes their qualifications for the specific position to: resumes@unioncoalition.org. Please include "National Field Coordinator – Washington" in the subject line.
WHEN APPLYING: Be sure to indicate that you saw this information at UNIONJOBS.COM.