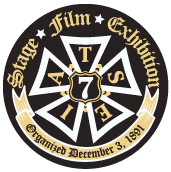 IATSE Local #7
Denver Theatrical Stage Employees Union

Part-Time Union Organizer
Based in Denver, CO
(may involve travel within the region)
About IATSE Local #7:
IATSE Local #7 was established in 1891 and represents skilled professionals working in various technical and backstage roles, including stagehands, riggers, AV Professionals, and a variety of other crafts and skills in the Live Event and Motion Picture Industry. IATSE #7 is dedicated to the principles of trade unionism, and strives to unite all workers within our jurisdiction to improve their working conditions, advancing their economic, social, and cultural interests; engaging in activities that strengthen the labor movement and extend the process of collective bargaining throughout all trades and industries.
Job Description:
This position will report to the Business Representative of IATSE #7. This position is part-time and the hours will vary depending on the needs of campaigns and projects. The right candidate will work collaboratively to help grow the organization through strategic organizing campaigns. This position has the responsibility of successfully managing all aspects of an organizing campaign.
Key Responsibilities:
Conduct Broad and intensive outreach
Build One-on-one relationships
Identify, recruit, and develop leaders and other volunteers
Conduct individual and group meetings to move organizing campaigns forward
Engage, motivate, and mobilize entertainment workers to take action
Plan and implement actions and events to support organizing efforts
Comprehend the challenges, needs, and motivations of stagehands throughout the various sectors of the entertainment industry
Familiarity with Collective Bargaining and the IATSE
Be well versed in labor law specifically related to regulations governing union recognition.
Perform basic campaign research, including probing, list building and worksite mapping
Facilitate meetings effectively.
Opportunity to work with a tight-knit team of organizers, as well as communications, research, legal, political and contract staff
Develop skills in public speaking, entertainment specific needs, and campaign execution
Requirements and Skills:
Strong commitment to the labor movement and a genuine passion for advocating workers' rights.
Excellent communication and interpersonal skills (verbal and writing) to effectively engage with members, potential members, and industry professionals.
Strong ability to connect and communicate with people of diverse backgrounds in pursuit of a common goal
Capability to think critically to manage conflict and adversarial situations
Knowledge of labor laws, collective bargaining agreements, and the entertainment industry is a plus.
Ability to work independently, manage time effectively, and meet organizing goals.
Ability to quickly incorporate feedback and direction from your supervisor
Must be able to prioritize multiple tasks in a fast-paced environment
Must have a valid driver's license
Ability to potentially travel for assignments
Proficiency with Microsoft Suite
Proficiency with Google products such as Gmail and Google Drive (docs & sheets)
Recognizable interest in the work and the membership and a desire to advance the organization.
Ability to juggle multiple responsibilities and handle fast-paced settings, multiple projects and tight deadlines.
Critically evaluate one's own performance, incorporating feedback into improving performance.
Develop one's own skills, acquire knowledge and proactively seek opportunities to learn.
Effective and appropriate communication with potential members, staff, administrators, and supervisors.
Willingness to work flexible hours, including evenings and weekends as needed.
Entertainment Industry Experience preferred, but not required
Previous experience in labor organizing or related fields is preferred but not required.
Maintain accurate records of organizing activities and member engagement.
Education: High School diploma or equivalent. Other certificates of training or education are considered.
Wages: This position is represented via a Collective Bargaining Agreement between IATSE #7 and OPEIU Local 30. The starting wages are based on the CBA and is currently $28.74. Wage increases collectively bargained.
Job Conditions: Part Time. Guaranteed 20 hours per week, with additional hours when necessary. This position will require in person work at various work sites, at the IATSE #7 office, and from home when able or necessary. This position will require a flexible schedule. Due to the nature of work in the Entertainment Industry, it may be necessary to work nights and weekends to facilitate the objectives of the position and the organization. Regular interactions with many people will be required. This work is covered under a collective bargaining agreement with OPEIU Local #30, and subject to additional conditions therein.
Benefits: All Benefits are collectively bargained and contained within the Collective Bargaining Agreement with OPEIU Local #30. Included are Sick Time, Vacation, Paid Time Off, Bereavement Benefits, and overtime when required.
Application Submission:
Submit cover letter and résumé to: clerk@iatse7denver.org. Please submit with the subject "Part Time Organizer".
Closing Date and time for Accepting Résumés: 1:00 p.m. Monday, December 4, 2023.
WHEN APPLYING: Be sure to indicate that you saw this information at UNIONJOBS.COM.