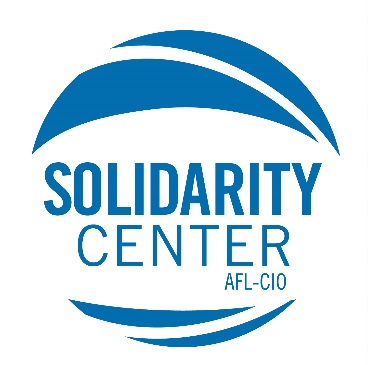 Solidarity Center

Accounts Payable Specialist
Finance
Based in Washington, DC



(Hybrid)
Location: Washington, DC
Application Deadline: When filled
*Please Note: Solidarity Center staff enjoy a hybrid telework/in-person schedule. All candidates applying for this role will be expected to work in the Washington, D.C. office a minimum of three days per week unless an ADA or health-related exemption is approved.
Summary
Solidarity Center seeks an Accounts Payable Specialist to join a diverse team working internationally to advance worker rights worldwide. This position is responsible for processing Solidarity Center disbursements - including accounts payable vouchers, wire transfers, and credit card payment processing. The Accounts Payable Specialist is also responsible for account coding, inputting all vouchers into the Deltek Costpoint accounting system, processing checks, and maintaining the Accounts Payable filing system. This individual validates vendor invoices and investigates/resolves discrepancies. This position also maintains positive vendor relations and addresses escalated vendor issues in a timely and professional manner.
Qualifications
The Accounts Payable Specialist must have a working knowledge of accounting theory and government grant regulations including 2 CFR 200 (formerly A-122 and A-110). This individual must be able to work independently in order to complete assigned tasks, be detail-oriented, and produce accurate work.
Bachelor's degree in accounting or Bachelor's degree in business with twelve credit hours in accounting courses
Three years' experience in accounting
Prior experience with non-profit organizations (highly desired)
Intermediate skills in Excel, proficiency in Microsoft Word
Working knowledge of Deltek Costpoint accounting software
Supervisor: Controller
Specific Duties:
Review and process all accounts payable vouchers to ensure that invoices and check requests have been properly authorized and supported by proper documentation;
Review and process wire transfer requests for SC country offices, sub-grantees, vendors, and other third parties;
Ensure all disbursements are within the authorized grant periods, and review project codes for accuracy prior to processing into the system;
Proactively safeguard against fraud;
Reconcile Accounts Payable ledger to General Ledger accounts;
Process ACH payments and checks weekly including mailing signed checks on a timely basis and maintaining vendor files;
Prepare journal entries for all wire transfer transactions for input into Deltek Costpoint;
Prepare monthly AP settlement;
Assist in the calculation of drawdowns required to cover weekly disbursements (checks and wire transfers);
Serve as first approver for all new vendors and vendor updates;
Receive paperwork for all new vendors and vendor updates and perform the following tasks: review to determine W9 tax classification, validate address, confirm ACH bank information, and enter into Deltek for approval;
Enter wire models in Citibank and/or other banking software for the Controller or their designee
Research vendor payments/accounts as required;
Prepare annual 1099's for all vendors/consultants as required;
Perform other related duties as assigned by Department Managers.
In compliance with federal law, all persons hired will be required to verify identity and eligibility to work in the United States and to complete the required employment eligibility verification document form upon hire.
This is a collective bargaining unit position, generously compensated with a gross annual salary starting at approximately $72,000 USD based on experience. A robust benefits package includes fully paid health insurance, a retirement plan and pension, life insurance, and ample paid time off for holidays, vacation, and medical leave. Pre-tax deduction programs are also available for commuting, dependent care, and health care expenses. In addition, we offer opportunities and funds for professional development.
About Us:
The Solidarity Center cultivates the values of diversity, equality, and inclusion among its staff and partners. It does not discriminate on the basis of race, color, religion, sex, sexual orientation, gender identity, national or ethnic origin, age, marital status, disability, veteran status, or any other status protected under applicable law. Candidates from traditionally underrepresented groups are strongly encouraged to apply. If you are a candidate with a disability and require reasonable accommodations to apply for this position, please contact us at information@solidaritycenter.org.
For Candidates Applying from the AFL-CIO: Solidarity Center works in partnership with the AFL-CIO on recruiting and filling positions. Our policy is to notify the AFL-CIO prior to interviewing any of its current employees.
Apply HERE!
WHEN APPLYING: Be sure to indicate that you saw this information at UNIONJOBS.COM.