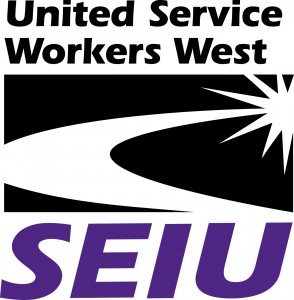 SEIU USWW
United Service Workers West



Lead Internal Organizer


Security
Based in Los Angeles, CA
About SEIU USWW: The Service Employees International Union (SEIU) is our country's fastest growing labor union with more than 2 million members. We have been on the cutting edge of building the power of low-wage workers in service industries and in leading the fight for social justice on issues such as health care, immigration, racial equity, gender equity, and the environment. SEIU United Service Workers West (SEIU-USWW) represents over 45,000 property service workers across California. Our union brings together janitors, security officers, residential, stadium, arena and airport workers. Our mission is to lead the way to a more just and humane society; building power for all service workers by developing member leadership and activism, winning strong contracts, organizing unorganized service workers, building political and community power, and engaging in direct action that demonstrates our strength and determination to win.
POSITION SUMMARY & RESPONSIBILITIES: Working under the direction of the LA Security Division Coordinator & Southern California Staff Director, this individual will be part of the LA Security Division which represents security officers throughout LA and Southern California, including contract enforcement and member engagement to make gains in the workplace and to address larger social/political issues in their communities.
Examples of Duties:
Develop & Lead staff to effectively organize workers, identify workplace issues and execute worksite actions.
Plan & Coordinate major campaigns with division drivers, a team of organizers, researchers and members.
Design & implement trainings and development plans for organizing staff and member leaders.
Train and assist staff to Identify, recruit and develop member leaders, stewards and member-led committees.
Maintain database with accurate and detailed information on worksites, individual workers and assignments.
Advanced case management, preparation for board of adjustment, arbitration or legal action on worker issues.
MINIMUM QUALIFICATIONS & SKILLS: Graduation from an accredited college or university in relevant field with at least three (3) to six (6) years of related work experience or equivalent experience in labor and community organizing that would provide for the following knowledge of, skills and abilities.
At least 3 years of experience in member representation, contract negotiations and worker organizing.
Ability to effectively plan, implement work and manage time for a team of up to 5 organizers and individually.
Proven commitment to social and economic justice and improving the lives of working people.
Ability to build a team and effectively coordinate the work of other staff.
Experience planning and running comprehensive organizing and contract campaigns.
Excellent interpersonal skills and ability to work in fast-paced and diverse team environment.
Ability to drive work independently, manage assignments, stay organized and meet tight deadlines.
Demonstrated ability to clearly convey information and ideas both verbally and in writing across audiences.
Computer proficiency in MS Word, Excel, PowerPoint, Gmail, social media platforms, database & teleconferencing.
ADDITIONAL REQUIREMENTS:
Ability to travel in California, ability to work extended and irregular hours, and work offsite.
Valid drivers' license, use of a car for work, and specified automobile insurance coverage are mandatory.
All employees are required to be fully vaccinated and report their vaccination status as a condition of employment.
All employees must abide by USWW Safety Guidelines, including the required use of face covering while working.
SALARY & BENEFITS:
Salary is competitive and negotiable based on experience. (Based on Staff Union Contract)
Full benefits package including health insurance, dental, vision, a pension plan and paid time off.
This position is open until filled; however, the posting/acceptance of applications may close at any time.
Apply HERE!
WHEN APPLYING: Be sure to indicate that you saw this information at UNIONJOBS.COM.