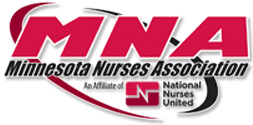 Minnesota Nurses Association
345 Randolph Avenue #200, St. Paul, MN 55102
Fax: 651-695-7000 Web: www.mnnurses.org

Administrative Assistant
Based in St. Paul, MN
POSITION TITLE: Administrative Assistant
DEPARTMENT: Field Operations
ACCOUNTABLE TO: Manager of Labor Administrative Assistants
AVAILABLE: Immediately
PRIMARY OBJECTIVE OF POSITION: Provide designated staff with administrative support services.
DUTIES & RESPONSIBILITIES:
Provides designated staff with requested information, files, AV equipment or other materials required for upcoming meetings, phone calls, correspondence, etc.
Expected to have mastery of Microsoft Office Suite, demonstrate proficient use of PCs and must have agility with web-based databases (UnionWare).
Familiarity with various online programs such as Formstack, Survey Monkey, and MailChimp.
Processes incoming mail for designated staff.
Maintains working knowledge of Association issues in order to handle inquiries and referrals to the appropriate staff.
Edits correspondence, memos and other communications/projects using a variety of computer software programs and reviews finished work for neatness, accuracy and completeness.
Receives and screens telephone calls.
Arranges appointments and meetings.
Makes travel and/or lodging arrangements for staff and others as directed.
Prepares and organizes agendas, minutes, correspondence, website and other related materials for various activities.
Coordinates with MNA workroom to ensure materials are ready for meetings/events as requested.
Organizes and maintains files, projects, contact lists and data bases for designated staff.
Keeps designated staff and/or others informed of important matters which require immediate action or attention.
Keeps the Manager of Labor Administrative Assistants informed of important matters which must be known to effectively manage the overall office support functions in the Association.
Staffs and supports convention related activities as requested.
Attends external meetings and events as support when requested.
Is flexible in job assignments as illness/vacations require.
Relieve receptionist as requested.
Is willing to trouble shoot minor computer or software problems for staff they support.
Supports preparations of materials, ballots, election guide and timelines for local elections per MNA policy.
Organizes, sets up and maintains a system for notification of contract openings and insures necessary notices are sent.
Prepares MNA contracts according to established procedures and arranges appropriate distribution.
Performs minor calculations with regard to wage schedules or other documents in coordination with field staff.
QUALIFICATIONS:
Education: Associate's Degree preferred. Equivalent work experience will be considered.
Experience: Knowledge of labor unions. Required proficiency in Microsoft Office Suite including mastery of Excel, Outlook and Access or similar database. Excellent communication skills, both verbal and written. Demonstrated ability to manage priorities and to diligently input data into database. Highly organized individual with high level of attention to detail required.

Salary: Salary range is $46,987-$85,467 with initial placement on the wage scale depending on experience and qualifications. Step increases per collective bargaining agreement.
MNA is an EEO/AA Employer.
Contact: Send cover letter and résumé to Wesley DeBerry, Human Resources Manager, at wesley.deberry@mnnurses.org.
WHEN APPLYING: Be sure to indicate that you saw this information at UNIONJOBS.COM.