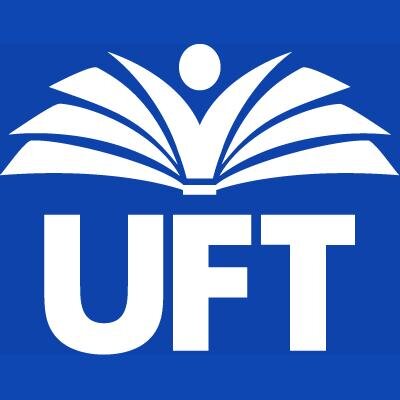 United Federation of Teachers
A Union of Professionals

Digital Content Strategist
Based in New York City, NY
The United Federation of Teachers, an 195,000-member union of New York City public school educators and other professionals, seeks an experienced Digital Content Strategist who is committed to public education and the labor movement to join the union's communications team. The content strategist will be responsible for managing the union's social media operations; helping to develop digital campaign and event promotion plans that will engage members; and then collaborating with a team of staff members to ensure that these plans are executed well and on schedule.
How to Apply:
Submit a résumé, a cover letter and three samples of your work on social media at: www.uft.org/strategist-job. No résumés will be considered without a cover letter.
Candidates must be willing to report in person to the union's Manhattan headquarters at least three days a week and be available on evenings and weekends to do time-sensitive work remotely when it cannot be scheduled in advance.
Responsibilities:
Coordinate the efforts of the union's communications, graphics and organizing teams to ensure the UFT has lively and compelling content to share across all of its social media platforms.
Manage the union's social media accounts and supervise the social media specialist and the social media member engagement specialist.
Create content in collaboration with the graphic designers.
Help plan and organize the digital component of the union's issue campaigns and event promotion. As part of that work, develop and maintain forward-looking content calendars, event promotion plans and campaign timelines that include social media, text messaging and emails.
Serve as the point person for the firm that produces the union's paid social ads.
Manage union's response to people who comment on the union's posts or send direct messages to its social accounts.
Manage a repository of digital assets for social media and campaign work, including social media graphics, online petitions and shared project-management documents;
Develop and implement digital strategies to spur member engagement in the union's campaigns in support of public education and labor.
Conceive and implement click-to-call, text messaging, petitions and email lobbying campaigns to put pressure on elected officials and increase member participation.
Manage partnerships with internal stakeholders, other unions and partner organizations to expand the reach and impact of the union's campaigns and initiatives.
Oversee the union's official social media policies and make sure they are updated when necessary.
Work with the social media specialist to ensure the union's satellite accounts have the content and support they need to ensure that unionwide messaging is accurate and consistent across all accounts.
Lead three meetings a week with a group of staff to discuss social media work and hold a weekly meeting with the graphics director.
Support the Retired Teachers Chapter in its social media work.
Qualifications:
Ability to develop and execute multi-faceted plans to promote a union campaign or large event.
Knowledgeable about the issues and battles in public education in New York City.
Proven organizational and project-management skills.
Ability to create compelling and creative digital content.
Excellent writing, communication and proofreading skills.
Ability to provide clear creative and message direction in briefs to graphics team.
Experience leading teams, delegating tasks and working cross-functionally with diverse internal stakeholders.
Well-versed in digital organizing tools; and willing and able to learn how to use the union's various tech tools.
Knowledgeable about best practices for social media and digital trends, including, but not limited to creating dynamic call-to-action messaging, use of infographics and differentiating content for each platform.
A track record of using social media analytics to drive future decision-making and strategy.
Ability to navigate sensitive and complex topics in rapidly evolving situations through strong interpersonal and leadership skills.
Experience handling questions and complaints that arrive in comments and direct messages.
Experience/Education
Bachelor's degree required, preferably in liberal arts.
At least eight years' professional experience in social media with at least three years' experience helping to lead digital and/or social media campaigns, preferably for a nonprofit member organization, a political campaign, an advocacy group or a labor union. Experience in journalism is also an asset.
The ideal candidate will have some experience as an educator in New York City public schools.
Salary: $85,000 – $100,000, depending on experience.
WHEN APPLYING: Be sure to indicate that you saw this information at UNIONJOBS.COM.