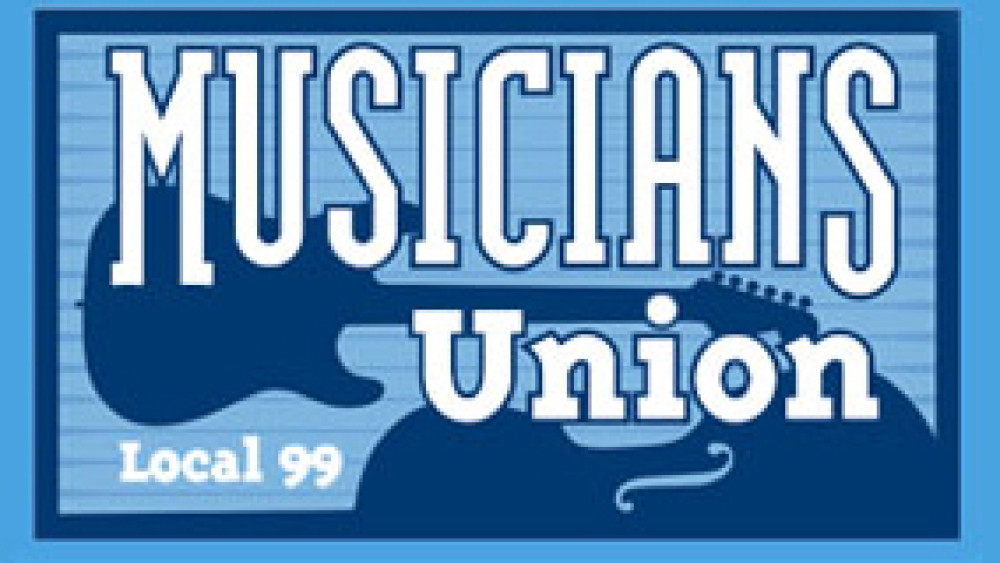 American Federation of Musicians,
Local 99

Full-Time Organizer
Based in Portland, OR
American Federation of Musicians Local 99 seeks a Full-Time Organizer. Our organizing challenges are complex and fascinating; we are looking for an experienced organizer to help build an organizing culture in our union and implement winning strategies in multiple sectors.
About our union: Local 99 of the American Federation of Musicians has approximately 550 members, who work in orchestras, theaters, recording studios, clubs, schools, senior centers, and elsewhere. Our jurisdiction comprises the northern half of Oregon—from Idaho to the Pacific Ocean—and southwest Washington, though the vast majority of our members are in the Portland metro area. Local 99 has CBAs with twelve employers, but only one is even close to full-time employment (the Oregon Symphony). Most of our members' work is extremely part-time; many of our members have a dozen or more musical employers in a year (others have non-musical income streams). Because of this, many of our organizing targets are workplaces where our members already work (technically violating our union's bylaws).
Many of these small performing arts organizations (primarily non-profits) chronically misclassify their performing employees as contractors. This chronic misclassification is an organizing challenge—musicians are accustomed to the "freedom" as well as the contractor mindset, and are encouraged by tax laws that incentivize contracting by excluding performing arts workers from many tax write offs that contractors can access. (We are working to remedy this.)
In the club/freelance scene, the NLRB ruled in 1982 that club musicians were not employees of the clubs, but rather of the bandleader–overnight this blew up every contract that the AFM had with clubs, hotels, casinos, etc, followed by a decades-long exodus of freelancers from our union and, unsurprisingly, a stagnation of pay and working conditions in those areas. (Club musicians literally earn less per night today than they did 40 years ago, not even accounting for inflation.) The organizing that needs to happen in this sector is not traditional, at least not in the card-check/election sense—our efforts require massive and sustained buy-in by the freelancers, potentially including the "weekend warriors" that think it's okay to give away their work in clubs, as long as they're getting drink tickets and having a good time.
As far as internal organizing goes, our union does not have any robust or energized committees. We have not had a contested election for Local 99 office in over twenty years.
ORGANIZING JOB DESCRIPTION
Purpose of Position:
To design and implement organizing goals for Local 99, including leadership identification and development

To recruit and retain organizing committee members and volunteer organizers

To design and implement external organizing campaigns in three main sectors:

Orchestras and musical theater companies

Recording musicians

Club musicians (historically independent contractors)

To lead these campaigns, including mobilizing support among musicians, community partners, labor, and media.

To train Local 99 officers, staff and members in assisting with these campaigns and with internal organizing
Duties and Responsibilities:
Design and manage organizing campaigns

Work with staff to coordinate all aspects of the campaign, including vision, strategy, timelines, communication, community outreach, and politics

Coordinate and direct campaign mobilization

Develop and implement programs for staff and musicians during the campaign for skills development

Ability to take initiative and work independently while showing a high level of judgment

Oversee management of the campaign database, lists and cards

Assist with development and monitor the campaign budget

Perform other duties as required by the union

Must be available for travel and long irregular hours
Supervision:
Must be able to act and organize time independently

Must work with elected leaders, worker leaders and staff in complex situations

Will coordinate work with the Local's President and Secretary-Treasurer
An ideal candidate would have:
3-5 years of work in union organizing and/or community organizing

Demonstrated experience in developing and leading organizing campaigns

Previous experience with the labor movement or other advocacy organization

An understanding of some aspect of the music economy (though Local 99 staff will educate and assist any organizer in the intricacies of our industry)

Excellent writing, verbal and analytical communication skills

Thorough knowledge of organizing and political campaigns strategies

Ability to develop and train musician leaders in the skills needed for the campaign

Knowledge of organizing campaign database management tools

Skills in the use of Microsoft Office and/or Google Workspace

Ability to write and proofread campaign communication materials

Ability to perform basic research
Application Requirements:
A cover letter is required for all applications. Your cover letter should explain your organizing philosophy, your reasons for wanting to work for Local 99, and an example of how you demonstrated success in a similar position. Please send the cover letter and your résumé to our Secretary-Treasurer, Mont Chris Hubbard, at: afm99st@gmail.com. You can also call (503-235-8791 x5) or email with questions.
Starting wage: $22/hr
Hours: 40 hours per week with flexible hours. (Must be available to work on weekends.) For the right fit, we are open to a part-time schedule.
Benefits: Medical/dental insurance (Kaiser Platinum), generous holiday and vacation policy*, and 6% pension (AFM-Employers Pension Fund).
* You can find this policy in our employee handbook here: Local 99 Office Policies
WHEN APPLYING: Be sure to indicate that you saw this information at UNIONJOBS.COM.