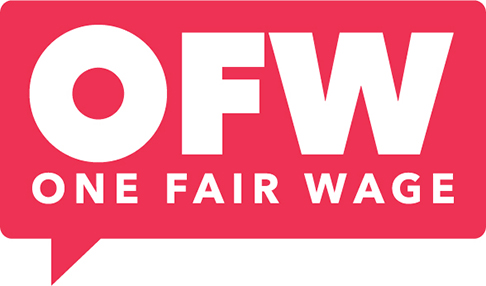 One Fair Wage

California Lead Worker Organizer / Campaign Manager
Based in Los Angeles or San Francisco, CA
One Fair Wage is an organization seeking to raise wages, enhance working conditions in the service sector and end all subminimum wages in the United States.
With the Great Resignation, millions of workers are refusing to work for subminimum wages, employers are raising wages to recruit staff, and the political landscape to advance policy to raise wages has changed dramatically. Given the historic moment, One Fair Wage has launched an ambitious campaign to advance bills and ballot measures in 25 states nationwide to raise wages and end subminimum wages in the US - and through the process, engage millions of unlikely, low-wage worker voters politically. One Fair Wage is thus advancing policy, voter engagement, employer engagement, and culture shift activities to ultimately lift millions of tipped workers out of poverty nationwide and engage them in the political process that governs their lives.
The Opportunity
One Fair Wage is hiring a CA Lead Organizer to supervise worker organizing and worker voter mobilization in CA in support of 2024 ballot measures to raise the minimum wage and end subminimum wages for tipped workers, workers with disabilities, incarcerated workers, and youth. The CA Worker Organizer would report to the National Co-Organizing Directors.
The ideal candidate for this position is strategic, energetic, and innovative, and has experience in both worker organizing and organizer supervision. The candidate will bring strong organizational, worker relationship management, and planning skills to this role and will serve as a driving force behind the ballot measure campaigns in these states. This could either be a full-time position or part-time position, depending on the candidate. Candidates seeking other types of arrangements are welcome to apply. This candidate should be based in either the Bay Area or Los Angeles, California.
Duties and Responsibilities:
Move our OFW policy in California.
Lead monthly legislative events in Sacramento and other strategic locations with workers.
Recruit and develop workers from and outside of our list into members and leaders.
Conduct regular in-person local worker meetings, press events and actions and engage worker leaders in leading and participating in these meetings and events.
Identify worker spokespersons for in-person press events and meetings and to represent the campaign.
Oversee regular phone banking programs to supplement the outreach, and track phone banking metrics using our EveryAction database.
Attend scheduled organizational meetings and trainings.
Hold in-person member meetings with new members and key leader members on a weekly/bi-weekly basis
QUALIFICATIONS:
3-5 years experience in organizing for labor and/or social justice movement organizing, with strong understanding of offline and online leadership development
1-5 years organizing experience, especially worker organizing
Experience with computer software, team management apps, and social media platforms, including Google Suite, Microsoft Office, Zoom, VAN, EveryAction, Asana, Slack, Facebook, Instagram, Twitter, etc.
Maintenance of a professional attitude and strong ethical practice and a willingness to learn and grow; ability to consistently represent OFW publicly, professionally online and in person
Self-starter, motivated to get work done in an aggressive but supportive team environment
Strong supervision, communication, time management, and team leadership skills, including active listening, empathy, well structured agendas, delegation, facilitation skills, documentation of work and strong writing skills
Ability to work nights and weekends, with strong boundary and self-care skills, ability to manage up and work independently as well as collaborate, coordinate, and prioritize multiple tasks while meeting deadlines.
Demonstrated ability to develop and maintain strong relationships and partnerships across organizations
Ability to work under high pressure and short deadlines
Commitment to racial, social, and economic justice; and significant experience working collaboratively with persons of diverse racial and ethnic backgrounds, socioeconomic status, ages, and sexual orientations
Willingness to travel
Not an office job
A valid driver's license, access to a vehicle and auto insurance coverage when driving are needed
Experience as a tipped worker or restaurant worker preferred
Fluency in a Spanish & English preferred
One Fair Wage can offer based on experience with the range of $63,000-$75,000 for full time, and half for part time..
We are an equal opportunity employer and value diversity at our organization. We do not discriminate on the basis of race, religion, color, national origin, gender, sexual orientation, age, marital status, veteran status, or disability status and will provide reasonable accommodation to participate in the job application or interview process, to perform essential job functions, and to receive other benefits and privileges of employment.
LOCATION: Los Angeles, CA or Bay Area, CA
TO APPLY:
Please email a résumé and brief cover letter to: maricela@onefairwage.org, with this email title, "CA Field Campaign Manager: [input your name]"
WHEN APPLYING: Be sure to indicate that you saw this information at UNIONJOBS.COM.