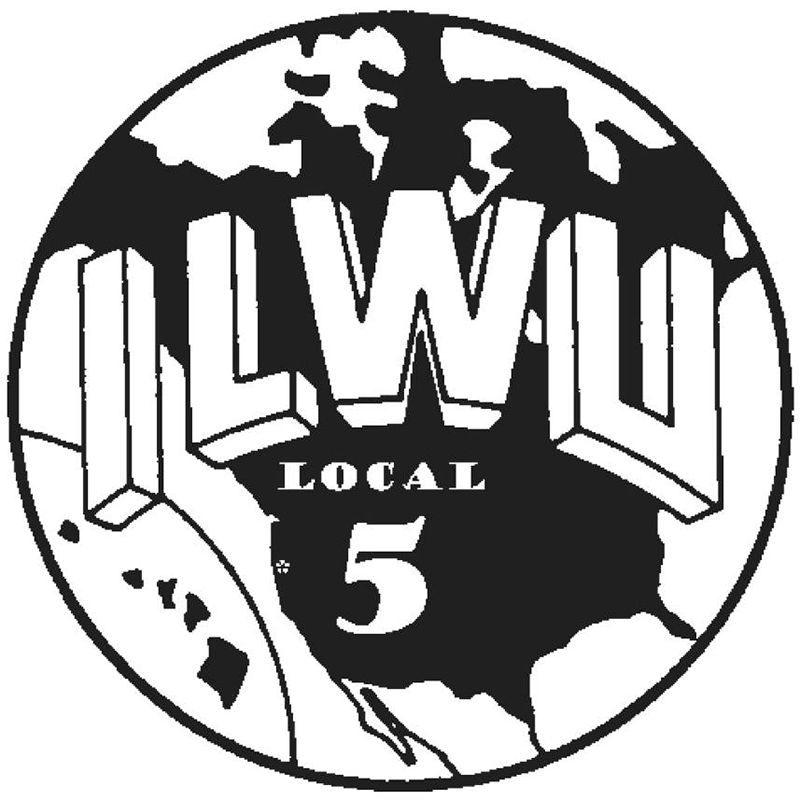 ILWU Local 5

Internal Organizer
(full-time, exempt)
Based in Portland, OR
A Bit About Local 5:
ILWU Local 5 is based in Portland, Oregon, and currently represents workers in Retail, Warehouse, Museum, Food Service, Veterinary Medicine, and Early Education. We are dedicated to fighting for economic justice and building a society in which all individuals are respected and allowed to thrive. Our culture is rooted in a bottom-up democracy where the membership is afforded every opportunity to guide the direction of the Local. We recognize the history of the labor movement is dominated by traditional power brokers (white men) and we seek to disrupt that culture by fostering non-traditional leadership and encouraging this next wave of labor leaders to interact with old guard unionism.
We are Looking for Someone Who:
Is committed to building a society where working people can thrive
Embodies the spirit of collaboration, with a willingness to learn new skills and troubleshoot seemingly impossible problems, and an endless font of creativity — remember, there are no bad ideas in brainstorming!
Has an open heart in working with diverse communities to develop and execute community organizing, dues paying membership, legislative, and electoral programs
Has strong communication skills, both in person (verbal, non-verbal) and online (written, visual, social media), with a willingness and ability to connect with people of all backgrounds and experiences
General Description of Duties:
The Internal Organizer will report directly to the Local 5 Executive Board, with reports on activities being submitted weekly. They will work with the Union Representative on a daily basis to ensure all representational and organizing matters are being properly administered; this includes activities such as: assisting with contract administration and maintaining the contract administrative files, assisting with negotiation activities, grievance processing, training, and other duties the Executive Board deems necessary to the functioning of the Local.
Primary Focuses
Building Relationships
Identify leaders and build their organizing and leadership skills
Activate leaders to commit to improving workplace standards and conditions
Actively recruit new members through outreach, one-on-one conversations, and connecting members to issues they care about in their workplace
Motivate and inspire workers to support the growth of the organization
Build and maintain deep relationships with members through organizing conversations and leadership development
Communication
Create regular oral and written reports about the organizing work
Attend administrative meetings as directed (including General Membership, Bargaining Unit, Executive Board, and Stewards' Council)
Develop materials as needed, such as written materials, graphics, and social media content
Qualifications and Requirements
Strong written and verbal communication skills
Organizing experience gained through community advocacy, work with labor unions, electoral campaigns, and/or other relevant organizing experience
Organized, reliable, and committed to working as Internal Organizer for ILWU Local 5 for at least the next 3 years
Genuine understanding of the need to build a bottom-up democratic union — a militant rank and file is the ONLY way forward
Currently own or are able/willing to purchase a passenger vehicle (which will be used to conduct business)
Prior experience in the Veterinary industry strongly preferred
Willingness and ability to work irregular hours, including weekends and evenings
Excellent computer skills, including proficiency in Google Docs, image editing, and internet technologies
Ability to be a self-starter, and to work independently and as part of a team toward agreed upon goals
A strong ability to motivate people, coordinate volunteer activity, and delegate responsibilities
Salary & Benefits (Current)
Salary for this position is $2820/month at 120 billed hours. ILWU Local 5 offers a cash "benefit stipend" in the amount of $600/month for full-time employees to purchase market options for health or life insurance and retirement plans. Local 5 also provides $300/month for a travel stipend for positions that require travel outside of the Portland Metro Area. Vacation/Sick time (120 hours/year) is provided. Opportunities for additional training are available.
Salary & Benefits (3 Year Projections, based on membership vote)
The ILWU Local 5 membership votes on the organizational budget in December of each year. Provided the budget is approved, the Internal Organizer will receive wage increases as recommended by the Executive Board at the beginning of each year. As ILWU Local 5 organizes more new units and gains contracts, the position will become true full-time, increasing monthly salary to $3760. There are no anticipated increases for stipends at this time. After 3 full years of continuous employment, the Internal Organizer will accrue 160 hours/year of Vacation/Sick time.
To Apply
Email your résumé and cover letter to: jobs@ilwulocal5.com.
Application Deadline: Tuesday, December 20, 2022
Projected Start Date: Mid-January or February of 2023, depending on applicants schedule
WHEN APPLYING: Be sure to indicate that you saw this information at UNIONJOBS.COM.