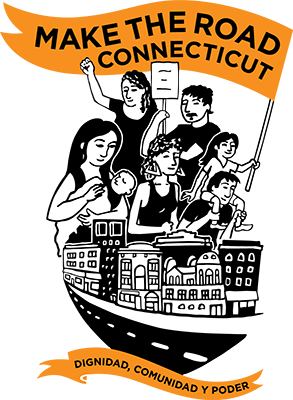 Make the Road Connecticut

Senior Economic Justice Organizer
Based in Hartford, CT
The Organization:
Make the Road Connecticut is a statewide organization that builds power of immigrants and low-income Latinx in Hartford and Bridgeport to achieve dignity and justice. We do this by community organizing, legal and survival services, transformative education, and policy innovation. We tackle the issues that directly impact our communities of color: immigration reform, economic justice, education equity, womxn's justice and youth justice. Make the Road Connecticut is a project of Make the Road States Inc. Make the Road States Inc. is a 501c3 tax exempt status.
Make the Road Action (MRA), a 501(c)(4) organization is committed to building power for justice in immigrant and low-income working-class communities of color. MRA operates in five states - New York, New Jersey, Connecticut, Nevada, and Pennsylvania. We work to create social change, connect voters to the candidates and issues that are most important to them, and work hands-on in a fast-paced environment to create long-term impact in the communities that need it most.
The Role:
The Senior Economic Justice Organizer position is a leadership position that will drive local and state; strategy, campaign development and execution in demanding a just economy, focusing on worker justice, housing equity, and other economic justice policies impacting BIPOC communities in Connecticut. The Senior Economic Justice Organizer will be tasked with developing an economic justice committee in Hartford and setting the foundation for a similar committee in Bridgeport. They will develop and execute strategies that empower our members to achieve concrete campaign victories in areas such as fair workweek, unemployment insurance transformation, excluded worker fund, housing equity policies, elevate tenant unions and worker-led enforcement, while building power for an economy that prioritizes low-wage workers. The Senior Economic Justice organizer is a mid-level supervisory position and can supervise up to 3 field organizers or more. They will supervise our Housing Equity Organizer. Position will begin January 9, 2023. Salary will be based on experience. Salary Range: $59,113-$70,113.
Key Responsibilities include, but are not limited to, the following:
Able to fulfill senior level organizer goals such as recruitment, mobilization, leadership development, etc.
A deep understanding of the inner workings of the legislative process and grassroot lobbying.
Organizing and/or digital campaigning experience, with a sophisticated understanding of organizing flow, raps, relationship building, committee development, and leadership ladders;
Grow and manage the story bank for warehouse, retail or restaurant workers.
Mid-level supervisor and will supervise up to 3 field organizers to win campaigns.
Provide coaching, training, communications coordination, and work planning and implementation guidance to our housing equity organizer and base-building around economic justice issues.
Responsible for leading general meetings in Hartford in collaboration with the leader's council and local staff.
Shadow the organizers that they supervise through 1-1s to give real time feedback.
Will be part of the organizing team and will work to meet goals for; team events, actions or various activities that will move the organizational vision forward and make a positive impact on the organizational health.
Build, coordinate, and facilitate our political education curriculum, training, and materials.
Build and maintain communication and partnerships with unions, coalitions, community organizations, worker centers, other national networks and campaigns, and governmental institutions.
Create and lead a scaled organizing strategy through EveryAction, MiniVan, Facebook, Slack, Hustle, and other social media platforms, that engages workers in organizing conversations and into a leadership development pipeline.
Build a foundation for Bridgeport Economic Justice work by coordinating, engaging and implementing campaigns through training, planning, action research, coordinating campaign events, press work, and alliance work for their own committee.
Work with the Organizing Director to increase dues paying membership drive in Hartford.
Qualifications:
Eligible to work in the US.
Bilingual- English and Spanish is a necessity for this position.
Required to be fully vaccinated with COVID-19 vaccine prior to employment at MRCT/MRStates.
A minimum of five years of experience in community, labor, or other relevant organizing fields.
Experience in leading and winning issue campaigns or other related campaign experience.
Demonstrated commitment to social justice, community organizing, leadership development and the elevation of directly impacted and marginalized people to create change.
A car and driver's license is required.
Be open to working evenings and weekends.
Ability to manage simultaneous projects in a fast-paced environment at a growing organization.
Ability to travel between Hartford and Bridgeport when necessary.
Experience working within coalitions and collaborating with diverse stakeholders;
Strong database management skills to inform analysis of the base and strategy;
Salary & Benefits:
Starting salary is based on a scale set by a democratically-elected personnel committee and will depend on factors such as experience and education. MRStates offers an excellent benefit package including health insurance, 401K, and generous paid vacation, sick, personal days. The salary range for this position is from $59,113 - $70,113.
How to Apply:
Please attach cover letter/résumé and submit all documents to the Make the Road States Career Center at https://workforcenow.adp.com/mascsr/default/mdf/recruitment/recruitment.html?cid=a688d1c3-aa45-4a4d-bb51-a8e9a1803e70&ccId=1586553140135142_6503&jobId=449412&source=CC2&lang=en_US.
MRStates is an equal opportunity employer and is committed to a diverse staff. Women, LGBTQ, people with disabilities and people of color strongly encouraged to apply. All qualified applicants will be afforded equal employment opportunities without discrimination because of race, creed, color, national origin, sex, age, genetic information, disability or marital status.
WHEN APPLYING: Be sure to indicate that you saw this information at UNIONJOBS.COM.