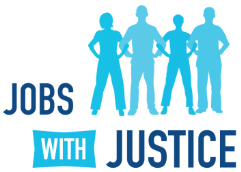 Jobs With Justice

Temporary Communications Organizer
Based in Washington, DC
(willing to consider remote work arrangements)
Position overview:
Jobs With Justice is hiring a Temporary Communications Organizer to join our team and make a difference in the lives of working people. This person is responsible for monitoring news, developing and executing online campaigns. As well as managing Jobs With Justice's outward communications, the Temporary Communications Organizer manages and develops and manages the organization's social media and digital advertising. The Temporary Communications Organizer works closely with other members of the JWJ team and staff to create compelling content that educates, inspires, engages and informs a broad range of audiences about our programs and campaigns. This position is based in our Washington, D.C. office, though we are open to remote work. The position will be supervised by the Development Director.
Timeline: November 2022-May 2023 (6 months)
Primary responsibilities:
Monitors the news and tracks editorial coverage of core labor issues within the media while looking for opportunities to include Jobs With Justice's work within the headlines.
Works with JWJ partners and consulting firm on earned media strategies
Preps the Executive Director, as well as other staff, for news interviews.
Creates and executes communications strategies to support departmental work, such as new research reports and organizing efforts.
Leads and manages Jobs With Justice's social media content for various digital platforms including Twitter, Instagram, Facebook, etc.
Creates content for our campaigns, research publications, website, staff speaking engagements, and events.
Drives digital strategies
Website management
Triages communications needs with implicated vendors (ex. copy-editing, graphic design)
Provide communications-based technical support to JWJ coalitions
Detailed areas of work currently include:
Manages rapid response efforts in response to major events, solidarity requests.
Prepares staff for media interviews and develops talking points.
Manages Jobs With Justice's daily social media content and develops long term social media campaigns to increase engagement and amplify the organization's campaigns.
Implements digital solidarity campaigns
Implements digital fundraising campaigns
Manages day-to-day website updates for JWJ main website and supplemental campaign and project websites
Compile daily clips relevant to JWJ audience, using Critical Mention platform
Qualifications:
3 years of relevant job/ fellowship experiences.
Communications experience in local, state or federal legislative, regulatory, or workplace organizing campaigns.
Experience using media tracking software such as Critical Mention, or Meltwater
Experience creating or executing digital campaign strategies, including experience with software such as Action Network
Excellent communicator who has ability to research and produce content under short deadlines on a range of topics and adjusting to a range of styles and voices.
Good research and fact checking abilities.
Comfortable juggling multiple projects at a time and working in a fluid, fast-paced environment.
Experience with social media platforms and effective uses of Twitter and Facebook for campaigns and organizations.
Self-starter with ability to work independently and take initiative.
Ability and desire to collaborate and establish rapport with staff, colleagues and individuals from a wide variety of backgrounds.
Comfort in a team environment, and experience working in both a lead and support role.
Interest or experience in and knowledge of workplace and economic issues, labor, social justice, organizing, and/or progressive policy and advocacy issues.
Flexibility to travel as needed in performance of duties.
Previous relationship to the labor movement and/or the Jobs With Justice network a big plus!
How to Apply:
Submit résumé, relevant writing/digital samples, references, and cover letter/letter of interest to info@jwj.org.
Jobs With Justice Education Fund is an affirmative action employer and strongly encourages people of color, women, l/g/b/t/q individuals, those with disabilities, and those with working class backgrounds to apply.
Salary and benefits: The Temporary Communications Organizer is a full-time position, protected by the organization's Collective Bargaining Agreement with some exceptions. The starting salary is between $60,600 and $66,660, depending on experience.
About Jobs With Justice:
Jobs With Justice is a national network expanding people's ability to come together to improve their workplaces, their communities and their lives. We create solutions to the problems working people face by leading campaigns, changing the conversation and moving labor, community, student and faith voices to action. We win real change at the national and local levels by challenging corporate greed and demanding an economy that works for all. Learn more at www.JWJ.org.
Important notice for applicants:
Only candidates selected for an interview will be contacted. Please follow the job application instructions specific to the position you are applying for. Incomplete applications will not be considered. No phone calls or direct solicitations please.
WHEN APPLYING: Be sure to indicate that you saw this information at UNIONJOBS.COM.