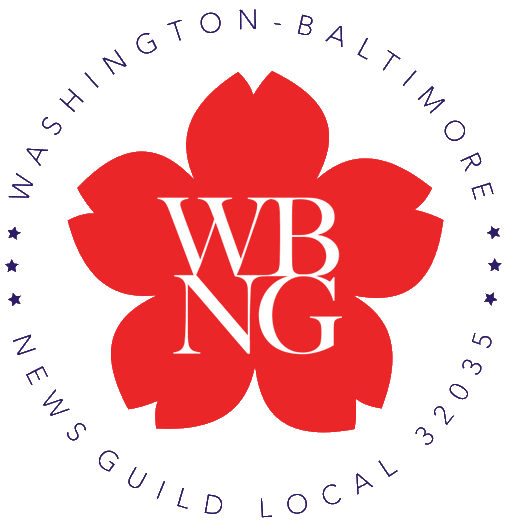 Washington-Baltimore News Guild
TNG-CWA Local 32035

Union Representative
Based in Washington, DC
The Washington-Baltimore News Guild, TNG-CWA Local 32035 is seeking a full-time Union Representative to join its staff in Washington, D.C. Our Local represents news organizations, staff unions and non-profits, and we're looking for someone who is committed to building a member-led movement and can balance their time in the face of multiple priorities.
WBNG has a long history of organizing, and in recent years, has grown significantly by successfully organizing several newsrooms and large non-profits. Winning strong first contracts is an essential element of effective organizing; this position will develop and support member-driven contract campaigns with escalating collective actions tied to bargaining.
The ideal candidate for this job has a minimum of 5 years of experience in union work, preferably in the news information industry, and is skilled in contract negotiations, representation, training, recruitment, organizing and implementing internal issue campaigns.
Our members are leaders in their fields, and Guild representatives must be comfortable taking on tough national employers such as The Washington Post, Tribune Publishing Company and Bloomberg.
The Washington-Baltimore News Guild is an equal opportunity employer with members that care deeply about building an inclusive, diverse and equitable working environment.
Job duties and requirements include:
Bargaining: Providing contract analysis and bargaining expertise to members to bargain and win strong contracts, including serving as chief negotiator, when necessary, consistent with requirements of the TNG constitution and WBNG bylaws
Internal and external organizing: Working with members and workers to develop and execute campaigns for first contracts, issue organizing and renewal contracts in support of the Local's internal and external organizing goals
Leadership development: Recruiting and training committees of workers, officers, and stewards to build strong, democratic leadership infrastructures within each unit
Contract administration: Preparing and presenting grievances and arbitration as the principal union advocate
Identify violations of labor law and, where appropriate, recommending and filing unfair labor practices
Regularly coordinating News Guild staff to set goals, track progress and work through challenges
Must have a demonstrated ability to organize and mobilize workers, as well as a
commitment to building power for working people
Must have experience with private-sector contract campaigns and associated federal law including, but not limited to, labor law
Experience with organizing open shops within the context of Right to Work strongly desired but not required
Must have experience assisting members in developing contract proposals and in
conducting effective negotiations
Excellent communication, organization and computer skills are crucial
Ability to manage multiple tasks simultaneously
Ability to exercise sound judgment and discretion in complex situations, including emotionally-charged or high-profile conflicts
Nights and weekends are regularly required.
This job is covered by a collective bargaining agreement. The salary range for this position begins at $80,000 depending on experience. Benefits include excellent health insurance and secure retirement.
To Apply:
Please email a cover letter describing your experience and approach to the job as well as a résumé to the Search Committee at: cparks@wbng.org. Please put "WBNG staff rep application" in the subject line.
WHEN APPLYING: Be sure to indicate that you saw this information at UNIONJOBS.COM.