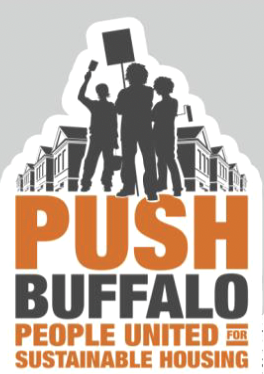 PUSH
People United for Sustainable Housing

Human Resources and Staff Development Director
PUSH Buffalo
Based in Buffalo, NY
Title: Human Resources and Staff Development Director – PUSH Buffalo
Reports to: Executive Director
Department: Executive
Status: Full-time, Exempt
Union Position (Yes/No): No
About Us
The mission of PUSH Buffalo is to mobilize residents to create strong neighborhoods with quality, affordable housing; to expand local hiring opportunities; and to advance racial, economic and environmental justice in Buffalo, NY. Our theory of change revolves around community control, community ownership of resources and the Just Transition Strategy framework for transformative structural change rooted in the lived experience and leadership of everyday people.
About the Position
PUSH Buffalo is seeking a Human Resources and Staff Development Director committed to deeply investing in the growth and health of our organization. This person will lead the development and implementation of systems, structures, and practices that recruit, retain, and develop staff. They will also lead and shape a values based, highly effective, diverse, inclusive, and positive work environment where our talented staff can thrive. In addition, this person will ensure compliance with employment laws. The ideal candidate is results oriented and willing to take initiative. This position is based in Buffalo, NY and reports to the Executive Director.
Key Responsibilities
Design and implement career planning for staff by assessing training and development opportunities. Ensure that staff on all levels can access adequate training and development opportunities in accordance with their job descriptions and the organization's budget.
Monitors personnel performance and development throughout the organization. Communicates performance expectations to staff and provides ongoing performance feedback. Ensure job descriptions are up to date. Maintain personnel files and confidentiality.
Work with a union representative, participate during union negotiations, and act as HR representative around union issues
Annually reviews staff job descriptions and pay scale to ensure staff are paid fairly and equitably.
Manages benefits coordination including researching new service providers, liaising with service providers, managing open enrollment process, and providing information to staff around benefits and insurance.
All HR planning and assessment reviews by updating the recruitment policy to keep current and equitable, ongoing evaluations of the recruitment process, and liaising with current HR consultants.
Keeps up-to-date the onboarding process and new hire orientation, manages the employee separation process, manages the annual evaluation process, and ensures the handbook is in compliance with the organization's goals and values.
Continually improves employee relations by working with staff to resolve workplace conflict, looks for ways to continue to improve workplace culture for employee advocacy and retention.
Assures PUSH Buffalo's compliance with staff contractual agreements.
Assumes final responsibility for any personnel decisions involving dismissals and hiring.
Other duties as assigned
Qualifications
Must-Haves
7 or more years of experience in HR, staff development, or closely related roles (e.g. community accountability, restorative justice practices). Knowledge of Human Resources and employment law; while HR experience is valued, SHRM Certification preferred but not required
Knowledge and experience working with unions, knows or willingness to learn union bylaws
Experience with change management on the organizational level alongside strong project management skills.
Proven ability to multitask and prioritize in a dynamic, collaborative environment
Experience and commitment to working in a racially diverse, working-class organization and building strong relationships with diverse groups of people
Demonstrated ability to take ownership of new initiatives and build capacity
Highly developed interpersonal and relational skills. Effective oral and written communication skills
Nice-to-have
Bilingual a plus; preferably in Spanish, French, Arabic, Somali, Bantu, and/or Burmese
Prefer 3 or more years of experience working at progressive non-profit organizations that focused on grassroots organizing, labor organizing, or advocacy
Salary Range and Benefits
$70,000 – $79,000 annually, depending on experience. Plus a generous benefit package: Competitive, comprehensive benefits package including health, dental, vision, with employer contributing significant portion of premium. Up to 6 weeks of paid time off, 12 paid holidays, PUSH offices are closed between December 25th through January 1st, and employees are paid for this period.
Work Environment
This is a hybrid position with a minimum requirement of 3 days in the office and ability to meet with staff, being located in the Buffalo, NY area. A relocation stipend is available.
About Our Culture:
Supportive, stimulating, and collaborative environment with passionate colleagues dedicated to building community, equity, and justice
Opportunities for professional growth and development
How to Apply
Application deadline is August 29th. Applications will be reviewed on a rolling basis until the position is filled. Applications should include a letter of application, résumé, and contact information for two professional references; Proposals will only be accepted by email with the subject line "PUSH Buffalo HR & Staff Development Director" should be sent to: Tony Nguyen at: tony@movementtalent.org.
The letter of application will be a critical document for determining who will be interviewed for this position; the letter should summarize relevant experience and skills. Please include answers to the following questions below:
Questions:
What excites you about PUSH Buffalo and this role?
Tell us about a successful policy that you created and implemented.
As a new position at PUSH Buffalo, what is your vision for this role?
PUSH is an Equal Opportunity Employer
PUSH recruits, employs, trains, compensates and promotes regardless of race, religion, color, national origin, sex, disability, age, veteran status, and other protected status as required by applicable law. At PUSH, we have a clear vision: to be the place where a diverse mix of talented people want to come, to stay and do their best work. Our organization runs on the hard work and dedication of our passionate and creative employees.
This search is being conducted in partnership with Movement Talent.
WHEN APPLYING: Be sure to indicate that you saw this information at UNIONJOBS.COM.