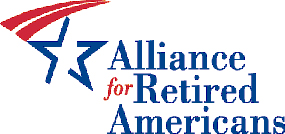 Alliance for Retired Americans



Legislative Representative
Based in Washington, DC
The Alliance for Retired Americans is seeking candidates for the position of Legislative Representative. The Alliance is a national grassroots advocacy organization with 4.4 million members nationwide that works to ensure a secure retirement for all Americans. This is a full time exempt bargaining unit position in the Washington, DC office with competitive salary and benefits. The salary range is $74,000-86,000 depending on experience. The benefits package includes employer-paid health, vision, and dental insurance, employer-paid defined benefit pension, employer-paid life and disability insurance, up to $1000 employer match on 401(k) contributions, pre-tax transportation benefits, and paid vacation, holidays and sick leave.
Overview of Responsibilities:
The Department of Government and Political Affairs advances the Alliance's policy and legislative agenda before Congress, executive branch agencies, and state and local governments. This work includes advocating for the preservation and expansion of the Social Security and Medicare systems; affordable health care for older Americans including lower prescription drugs prices; long term care; and a sound retirement system, including pensions.
Working under the supervision of the Executive Director, the Legislative Representative is responsible for developing, communicating, and implementing the Alliance's political and legislative programs. This requires close collaboration and coordination with other Alliance departments, state and local Alliance leaders and members, and allied organizations.
Description of Duties:
Skills
Research legislation on a variety of retirement security issues including Social Security, Medicare, Medicaid, pensions, long-term care as well as other issues impacting retirees and older Americans.
Respond to requests for information and provide assistance to Alliance officers and members, the media, Alliance organizations, Members of Congress and staff, and the general public.
Develop written materials that advance the Alliance legislative program, grassroots lobbying and political action, including policy letters, fact sheets and position papers, voting records, candidate questionnaires, and legislative updates.
Liaison
Represent the Alliance in a variety of public settings including conferences, meetings with Members of Congress and staff, government agencies, and allied organizations.
Coordinate with other Alliance departments, state and local Alliance leaders and members, Alliance organizations, and allied organizations.
Deliver remarks on retirement security issues and the Alliance's policy positions as required.
Reporting
Inform the Executive Director regularly on issues affecting legislative, lobbying, and outreach activities.
Prepare and submit regular and ad hoc reports on activities as required.
Other
Performs other duties as assigned.
Qualifications:
A bachelor's degree in a field related to aging issues or the legislative and political process with knowledge of the workings of the legislative and political processes.
Work on issues relating to retirement issues is strongly preferred.
Experience working in or substantive interaction with a legislative body or government agency in a field related to retirement issues is strongly preferred.
Ability to effectively articulate policy positions and negotiate the resolution of issues.
Demonstrated ability to effectively interact with a wide range of people.
Demonstrated excellent written and verbal skills including public speaking.
Demonstrated ability to perform in politically sensitive, high-pressure environments.
Ability to work independently within the context of a plan.
Flexibility to travel as required within performance of duties.
To apply for this position:
Submit a cover letter and résumés to alliancejobslegis@retiredamericans.org. Subject Line: Legislative Representative
The Alliance for Retired Americans is an equal opportunity employer.
Please note that the Alliance requires all staff to be fully vaccinated against COVID-19 unless granted a medical or religious exemption as set forth in EEOC guidelines.
WHEN APPLYING: Be sure to indicate that you saw this information at UNIONJOBS.COM.