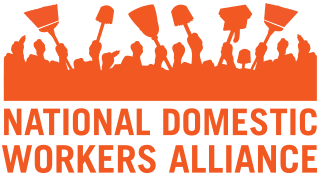 National Domestic Workers Alliance

Enforcement Program Manager
Based out of New York City, NY



(temporarily remote)
Job Title: Enforcement Program Manager
Job Type: Full-Time
FLSA Status Exempt
Salary: $70-72,000
Work Location: New York Office, Temporarily Remote
Position Open Until Filled
BACKGROUND & POSITION SUMMARY
The National Domestic Workers Alliance (NDWA) is the leading national voice for dignity and fairness for domestic workers in the United States. Founded in 2007, NDWA works for the respect, recognition, and inclusion in labor protections of domestic and home care workers across the country. NDWA is winning improved working conditions while building a powerful movement rooted in the human rights, dignity and equality of domestic workers, home care workers, immigrant women and Black women.
NDWA was founded in 2007 by domestic workers and organizers from around the country. Our national alliance has grown from this founding group of 13 organizations to now more than 60 affiliate organizations, plus local chapters developed by NDWA in Atlanta, Durham, Washington DC and New York City, and individual members from states without affiliates or chapters to join. To date, the Alliance is comprised of more than 70,000 nannies, housekeepers, and home care workers in 44 cities and 20 states.
The Enforcement Program Manager for the NY Chapter is a role that engages domestic workers to enforce their worker rights under NY state and NYC city law. The ideal candidate will have knowledge of NY Labor law as it relates to domestic workers and will have knowledge of various enforcement processes.
PRIMARY ROLES & RESPONSIBILITIES:
Onboarding worker advocates

Conduct the selection process for each cohort of worker advocates.
Review the curriculum on systemic outreach, education and enforcement of domestic worker labor protections and re-write or update as needed.

Outreach

Design and engage in each enforcement outreach strategy and follow-up processes, supervise worker advocates when they are in the field and work alongside them in cultivating new worker contacts.
Help develop worker leaders who are interested in enforcement, especially those who are engaged in the legal clinic process.

Legal clinic

Coordinate and host monthly legal clinics for domestic workers.
Supervise organizer/Groundbreaker(s) - case management, continued training.
Data analysis for grant reporting as necessary.

Strategy development

Maintain and analyze enforcement data, and include it in the NY research report.
Collaborate with the Division of Paid Care to pilot the Alternative Dispute Resolution (Mediation) clinic and continue building a local co-enforcement model.
Regularly evaluate NY policies and enforcement strategies with NDWA State Policy Director.
Engage in national enforcement strategy spaces - NESRI, CA Domestic Worker Coalition.

Manage our Domestic Worker Led Labor Enforcement Program

Hire and train Domestic Worker leaders to participate in the Worker Rights Enforcement Program that conducts, outreach, education and recruitment of domestic workers to file workplace violation claims.
Support in updating the education and outreach training curriculum for domestic worker rights.
Train Domestic worker leaders to conduct outreach, intakes, organizing and case management support.
Lead the Enforcement Program in outreach and enforcement efforts.

Affiliates

Coordinate with local affiliates for local enforcement of domestic workers.

NY Chapter

Reports to the NY Director.
Support monthly meeting coordination.
Attend weekly team check-ins.
Support in mobilizing NY Chapter campaigns and events.
Represent the NY Chapter in enforcement related conversations and presentations.
QUALIFICATIONS:
Minimum 3-5 years of experience in grassroots community organizing, with an emphasis on labor organizing, racial justice, immigrant rights, and base building.
Experience with enforcement mechanisms for low wage workers.
Experience supervising and professional developing organizers by having demonstrated leading successful campaigns, and base building growth. Has shown success in developing new organizers from the base.
Understanding of issues facing low wage workers, immigrant and African American communities, and other communities of color in New York.
Strong facilitation skills.
Flexible work schedule with the ability to work nights and weekends.
Experience with supervision.
Experience with database management, record keeping, proficiency in Microsoft Office required and Google Suite preferred.
Ability to work independently and a willingness to collaboratively with a team.
Excellent interpersonal skills and ability to work with people from diverse backgrounds and cultures.
Ability to work and collaborate with diverse staff, majority women of color-led organization, in person.
Knowledge and understanding of issues directly affecting and unique to Black domestic workers nationally and locally.
Bilingual in English / Spanish is a plus.
Position requires travel throughout the New York City area (following NDWA COVID-19 protocols).
How to Apply:
Please send résumé, cover letter, and writing sample to https://domesticworkers.bamboohr.com/jobs/view.php?id=209 Applications will only be accepted electronically, and solicitations to individual staff are unlikely to be responded to.
Women, people of color, people living with disabilities and LGBTQ people strongly urged to apply. Applications will only be accepted electronically. This position is included in a collective bargaining unit represented by a labor union, and specific employment terms and conditions may be subject to a Collective Bargaining Agreement.
WHEN APPLYING: Be sure to indicate that you saw this information at UNIONJOBS.COM.