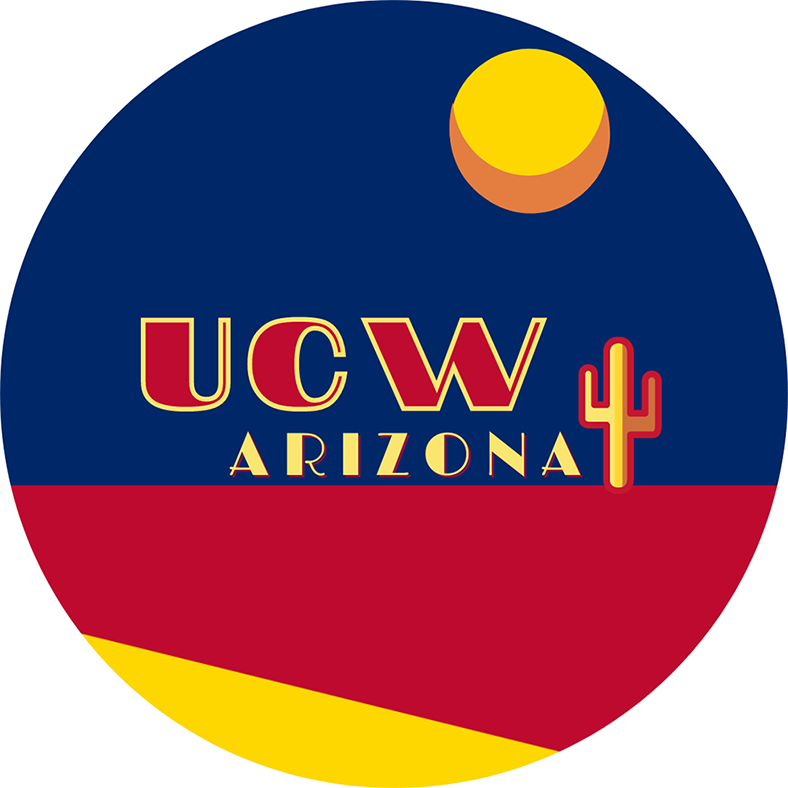 United Campus Workers of Arizona
CWA Local 7065

Field Organizer
Based in Phoenix, AZ
Position Title: Field Organizer
Location: Phoenix, Arizona
Start Date: January/February 2022
UCW-CWA Local 7065 Arizona is an equal opportunity employer. We actively seek to promote diversity within our organization, and we encourage women, LGBTQ, people of color, and disabled individuals to apply.
United Campus Workers of Arizona - CWA Local 7065 seeks a full-time organizer with a passion for social justice to help organize a wall-to-wall union in the University of Arizona and Arizona State University systems.
UCW Arizona unites Arizona's diverse public university workforce–including part-time and full-time staff, faculty, students, and student workers–to address the critical issues we all face. Our mission is to champion and defend the interests and well-being of all university workers, as well as to build and sustain social and economic justice in our workplaces and communities.
The full-time Field Organizer will be accountable to and supported by the union steering committee, the membership at large, the full-time UCWA organizers, and the campaign organizers that work for the Communications Workers of America. In this position, the organizer will be responsible for organizing workers throughout the Arizona University systems by developing recruitment and canvassing strategies. The organizer will coordinate and manage issue campaigns that improve material conditions for all rank-and-file members, and build unity and solidarity amongst all workers across campuses and job titles.
On-the-job training for this position is provided. In addition to normal comprehensive trainings, you will have the potential to collaborate with national UCW campaigns, and (hopefully soon) attend conferences relevant to the responsibilities of the position.
Responsibilities:
Recruit new members to the union in collaboration with current members and the Organizing Committee
Communicate with membership and potential members through one-on-one's, emails, phone calls, Slack, text messages, and other digital platforms
Implement organizing strategies and help develop campaign plans
Support research and development of potential organizing projects
Manage access to all relevant documents and union communication to ensure that member information is kept private and secure
Support the Steering Committee and other leadership
Build coalitions and maintain relationships with local activist organizations
Plan, coordinate, and attend organizing events and direct actions
Plan, coordinate, and attend regular membership meetings with the Steering Committee
Design and create flyers, posters, and other forms of advertising, in collaboration with the Communications Committee
Coordinate canvassing campaigns with existing membership
Conduct worksite visits of all employment positions eligible to join the union
To succeed in this role, we suggest applicants possess the following skills:
Ability to work a flexible schedule, including some nights and weekends
Strong commitment to social justice and the labor movement
Written and verbal communication skills, such as:

Empathic listener
Persuasive Speaker/Strong Presentation Skills
Proven adaptability to differing cultural environments
Enjoy working as a team member as well as independently

Proficient with technology including but not limited to Slack, Word, Zoom, Excel, email, text messaging, OpaVote, Canva Pro, and ActionBuilder, or the ability and willingness to learn these platforms
Ability to work as team member, as well as take individual initiative with minimal supervision
Strong time-management skills and the ability to self-motivate
Driver's license and reliable access to car or public transportation
Previous union and/or community organizing experience
Skills in supporting leadership development
Some understanding of legislative or policy advocacy
Priority consideration will be given to applicants who possess the following skills:
Basic knowledge of labor laws and union organizing efforts in Arizona
Previous experience organizing workers on a university campus
Knowledge of university financial systems and governance or willingness to learn
Fluency in Spanish
Compensation:
This position has a starting salary of $48,000 – $50,000. Benefits include health, dental and vision insurance, 3% matching contribution to 401k, 2 weeks paid vacation, sick leave, and reimbursement for phone and internet bills.
How to Apply:
Submit a cover letter, résumé, and contact information for three references to Eshuku@cwa-union.org by Dec. 20, 2021.
Please email the same address with questions. We encourage anyone considering applying to reach out to us if they have any questions about the position. If you are uncertain of your qualifications, please reach out to us and we will be happy to clarify our expectations.
WHEN APPLYING: Be sure to indicate that you saw this information at UNIONJOBS.COM.