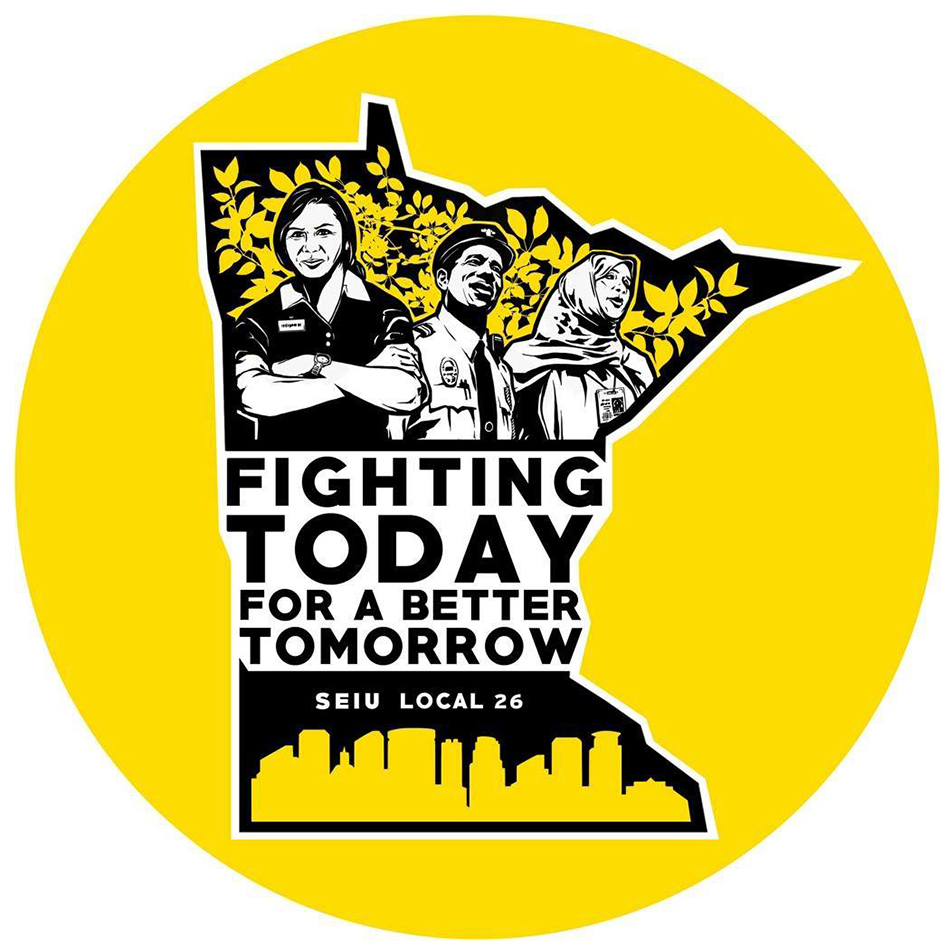 SEIU Local 26

Director of Member Resource Center
Based in Minneapolis, MN
Background:
SEIU local 26 is a dynamic union of over 8000 janitors, security officers, and airport workers in Minnesota, the people who clean and protect some of largest corporate headquarters in the world and who have a proud history of militant fights for social and economic justice.
Local 26 members were some of the first security officers in the country to go on strike and engaged in acts of strategic civil disobedience to win their contracts, to raise standards within their industry across 2000 suburban and downtown officers.
The 4000 janitors of the union, a multilingual bargaining unit made up of Latin American, East African, and American-born workers, created an alliance in 2009 with environmentalist allies to win some of the first Green Cleaning language in the country, and later struck in February 2020 to reduce climate change emissions in our industry.
Local 26 in the past 5 years has led fights for racial justice that resulted in organizing over 1000 workers at MSP airport (raising pay for the mostly east African workforce from $9 to $15 over that time) and created the first retail store cleaners master contract in the country (raising pay from $9 to $14.50 over that same period).
Description:
This position will direct the Member Resource Center (MRC), which is responsible for contract enforcement for our members in the Twin cities. This leadership position requires strong legal and advocacy skills, effective inter-personal skills, good team-work (as you must work closely with the rest of the staff to resolve often complicated issues), and a deep dedication to justice. Strong language (Spanish and English) and computer skills, and experience with case management and supervising other staff highly recommended. Law degree is preferred.
Duties may include, but are not limited to:
Leading all aspects of member advocacy and contract enforcement, including member intake, grievance investigation and filing, processing grievances through arbitration, negotiations with employers and Labor management meetings, and processing of other relevant city, state or federal charges as needed (NLRB, EEOC, DOL, etc.)
Directing the work of all staff in the MRC department (including staff development, mentorship, hiring and firing, in consultation with the Secretary Treasurer and President, as constitutionally defined.)
Maintaining a database that captures the work of the department, using it to analyze patterns based on data, and developing plans/campaigns to address problems that are occurring across multiple worksites.
Coordinating work and communication with the MRC and other departments of the union (such as "internal organizers", "external organizers" and stewards in the worksites.)
Developing training opportunities for staff and stewards and the membership more broadly to deepen their understanding of contract enforcement and other laws protecting workers.
This position will give a report monthly to the executive board of the union, including relevant metrics. This also includes long term planning to develop more creative ways to integrate the MRC into the mission of the union, such as giving members the tools they need to resolve issues themselves in their own worksites, engaging more members in the union's organizing campaigns, expanding services to include needs outside the worksite (such as immigration, housing, food shelf services).
This position also consults on legal strategy for the local and will prepare and handle arbitrations.
Pay and Benefits:
This is a full-time position, beginning January of 2022. Pay is negotiable based on experience and includes a full package of healthcare, pension, and other benefits. A Car and driver's license is required. Location: Minneapolis MN.
To Apply:
Interested applicants should email résumé to: bmendez@seiu26.org.
WHEN APPLYING: Be sure to indicate that you saw this information at UNIONJOBS.COM.