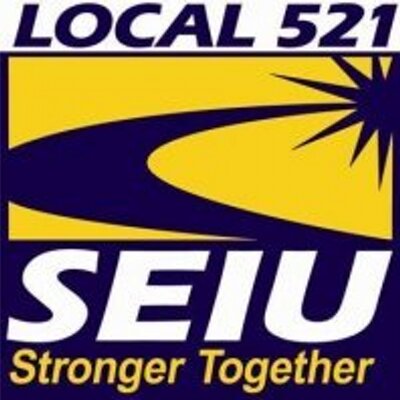 SEIU Local 521

Strategic Organizing Coordinator
Based in San Jose, CA
SEIU Local 521 was founded in 2007 when 5 local unions came together in the Bay Area, Central Coast and Central Valley to form one larger, more powerful union. Together our members are building a true 21st century union fighting to empower and improve the lives of our members. We represent over 50,000 public service workers in cities, counties, courts, schools, private non-profits, special districts, and public health care.
AT SEIU LOCAL 521:
Our mission is to provide our members with a voice in the workplace, in their union and in the larger community. Through our actions, we intend to create a more just and humane society. We are committed to protecting and improving the lives of workers and their families. We will work to improve and protect the services we provide to our communities. We believe that by working together as a united front, we can win better contracts and build industry power in our region.
Strategic Organizing Coordinator under the direction of the Localwide Field Director and in coordination with Regional Directors, External Organizing, Communications, and Database, works to enhance SEIU Local 521's strategic organizing capacity that builds a strong union and COPE membership culture.
RESPONSIBILITIES: All duties listed are required but may not be continuously performed or ongoing at any specific time. This list is not necessarily all inclusive.
Develop and implement Member Organizer Program including but not limited to developing curriculum, facilitating and ongoing mentoring of members who go through the program.
Develop and implement organizing training program for Interna/External Organizing Staff
Develop and maintain regular membership and cope dashboards local-wide, in coordination with Database
In coordination with the Area Directors identify member leadership development opportunities and develop plans.
In coordination with the Area Directors identify membership/cope growth opportunities based on strategic data analysis and develop and support directors with executing these plans.
Plan and carry out, in conjunction with Regional Directors, Communications, Database, and Community/Political Organizing departments the data component to strategic campaigns being carried out by the Local.
Develop and implement processes throughout the local to improve the quality and completeness of the member contact information contained in the Local's database.
Create member outreach techniques to ensure that the Local meets and exceeds its organizational outcomes around membership, cope, leadership development, and mobilization. In coordination with the Communications Department Utilize member data to generate targeted lists of members to activate around various membership activities (internal union engagement, political engagement, social engagement, etc.) that lead to membership sign-ups.
Work with Database department to

Roll out data based organizing tools to organizers, including training organizers on the use of the tools, working with database to upgrade tools based on field trials, and training members on the use of member focused data-based tools.
Broaden the scope of the data kept in the Local's databases to improve targeting of members for activation around issue campaigns, political campaigns, and organizing campaigns.

Coordinate large scale member outreach through various digital communication tools including auto predictive dialer phone banks, email, text message, phone survey, tele-town halls, robocalls, as well as non-digital member outreach such as paid media and direct mail.
In coordination with the Communications Director stay up to date on the latest trends around statistical analysis, strategic trend analysis, use of social networking, digital organizing, member engagement technology.
LEADERSHIP STANDARDS:
Shared unity of purpose
Openness to questions and willingness to learn
Acting with the courage of our convictions
Working together with accountability
Commitment to equity and inclusion
Servant leadership as a value
MINIMUM QUALIFICATIONS:
5 years of full-time paid experience in labor or community organizing.
Experience with SEIU membership and political databases (PDI, VAN, Unionware, ULink, and, MemberLink).
Experience working with Internal Organizing, External Organizing, Community/Political Organizing/Communications/Database departments, understanding the basic functions of each and how each department utilizes data in its work.
Strong analytical skills
High level ability to communicate orally and in writing.
Ability to work under pressure and with minimal supervision.
Ability to plan strategically, follow a plan and be accountable to a team carrying out the plan.
Dedication to building power for workers and a willingness to participate in a wide variety of field activities toward this objective.
Driver's license, automobile, and insurance.
Freedom and willingness to work irregular and long hours and attend required evening and weekend meetings.
Bilingual (Spanish, Tagalog, Vietnamese, Chinese) preferred
ADDITIONAL REQUIREMENTS:
Must possess a valid California driver's license; must pass a DMV check and have a good driving record; must have auto insurance that covers business driving (minimum of $100,000 per person/$300,000 per incident bodily injury liability/$100,000 property coverage); and must possess an automobile for business use.
COMPENSATION AND BENEFITS:
Salary commensurate with experience. SEIU Local 521 employees enjoy top notch benefits including fully employer-paid family health, dental and vision insurance; a generous leave package; fully employer-paid defined benefit pension plan; 401(K); flexible savings accounts for annual health and childcare expenses; $200,000 life insurance plan; and other benefits outlined in the policies of SEIU 521.
TO APPLY:
Send email with cover letter and résumé to: jobs@seiu521.org. Reference Strategic Data Organizing Coordinator in subject line.
This position is open until filled; however, the posting/acceptance of applications may close at any time.
AFFIRMATIVE ACTION EMPLOYER
Local 521 is an affirmative action employer and encourage applications from all qualified candidates regardless of race, ethnicity, age, sex, sexual orientation, marital status, religion, or disability. Local 521 works to ensure fair treatment of applicants and employees and actively enforces policies against discrimination and sexual harassment.
WHEN APPLYING: Be sure to indicate that you saw this information at UNIONJOBS.COM.