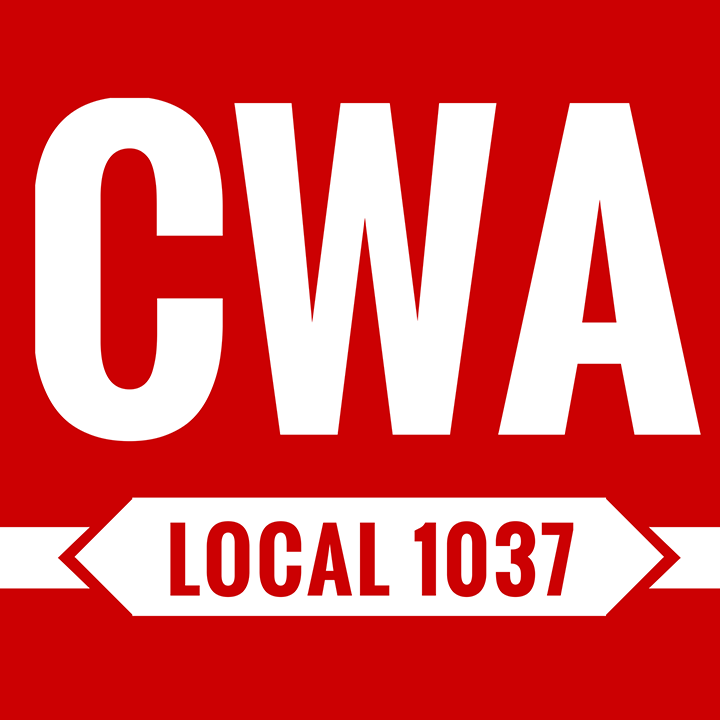 CWA Local 1037
Communications Workers of America

Staff Representative
Based in Newark, NJ
CWA Local 1037 is seeking a Staff Representative who will work to build the union's capacity to effectively mobilize, organize, and educate our members to engage in collective action at the worksite and in the community. The ideal candidate should be able to work both independently and in teams and handle multiple assignments meeting quality standard and specific deadlines.
We are an organization of workers, led by elected Shop Stewards, where members understand that we, collectively, are the Union. We organize together and are actively engaged in contesting for power at our workplaces and in our communities. Our Union is an active part of the broader movement for workers' rights and for the advancement of the working class. We fight to protect services that make our communities stronger, in alliance and solidarity with those individuals and organizations with whom we share common goals.
We represent public workers employed by the State in Bergen, Essex, Hudson, Hunterdon, Mercer, Middlesex, Monmouth, Morris, Ocean, Passaic, Somerset, Sussex, Union, and Warren Counties as well as the NJ Water Supply Authority, the Palisades Interstate Park Commission, and the Passaic County Board of Social Services. We also represent in-home childcare providers, childcare center workers, community care residential providers and workers at direct care and other non-profit organizations across the state, such as Bergen's Promise, Essex County ARC, and New Jersey Performing Arts Center (NJPAC).
To Apply:
All candidates must submit a cover letter, résumé, list of three professional references. Only qualified candidates need apply. Please send materials to the attention of:
Ken McNamara, President
CWA Local 1037
Email: info@cwa1037.org
Fax: 973-623-3777
Responsibilities
Represents workers in assigned areas.
Conducts regular worksite meetings to educate and organize members around workplace issues and current and upcoming campaigns.
Mentors and trains Shop Stewards and member-activists to sign up non-members, develop an internal organizing plan, and engage in collective action at the worksite and in the community.
Educates and mobilizes members to support the Local's political and legislative program, including recruiting members to participate in political action and grassroots lobbying efforts.
Represents members in grievance meetings, disciplinary hearings, and Civil Service appeals.
Leads Local programs such as health and safety, mobilization, internal organizing, or other functions determined by the Local President.
Attends new worker orientation meetings.
Other related duties.
Qualifications
Must have a valid driver's license.
BA or BS in relevant field. Equivalent experience may be submitted.
At least one (1) year experience in representing/organizing workers is required.
Excellent written and oral skills.
Knowledge of the National Labor Relations Act and/or the NJ Employee/Employer Relations Act.
Commitment to, and understanding of, labor, social justice, and other related movements.
Ability to work independently or collaboratively in a team.
Comfortable speaking before groups.
Ability to work under tight deadlines and manage multiple tasks/campaigns at one time.
Ability to work long and extended hours including weekends.
Proficiency with MS Office Suite.
Preferred
Spanish fluency
Familiarity with public sector unionism, politics, and labor law in New Jersey
Compensation
Commensurate with experience. Generous benefits.
CWA Local 1037 is an equal opportunity employer committed to creating an environment that represents a variety of backgrounds, cultures and perspectives. We believe the more diverse we are, the stronger we are.
WHEN APPLYING: Be sure to indicate that you saw this information at UNIONJOBS.COM.