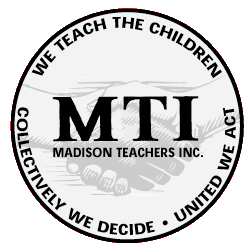 Madison Teachers Inc.

Executive Assistant for Labor Relations
Based in Madison, WI
Do you see opportunity in times of challenge? Do you believe in public education, workplace democracy and union democracy? Are you interested in helping to build our member led labor movement?
Madison Teachers Incorporated (MTI), a Union of educators in the Madison Metropolitan School District (MMSD), is seeking a full-time Executive Assistant for Labor Relations to work with our Union in Madison, Wisconsin. The successful candidate for this position will have a deep commitment to eliminating racism, advancing social justice and member led democratic unionism, the full funding of public education, and the organizing model of unionism. They will be values-driven, self-motivated, resourceful, and able to empower member leaders to take successful action(s) in the workplace.
POSITION SUMMARY: This position works under the direction of the Executive Director and will work with MTI staff, the elected leadership of our Union, school district administration, and the members of MTI. This position will complement, and be supported by, our existing team of staff representatives and elected leaders and will share responsibilities for internal organizing; assisting and advising members on workplace rights, benefits, and issues; providing representation, support, and resources for members in strengthening workplace committees, resolving disputes; grievance handling; and organizing strategies.
DESIRED QUALIFICATIONS:
Strong commitment to fighting for equity, anti-racism, social justice and building our labor movement.
Progressively responsible experience working as a Union staff member or elected leader.
Strong interpersonal and communication skills (written and verbal), including authoring professional letters, newsletters, internal workplans, Union By-Law revision(s), Employee Handbook language, and dispute Settlement Agreements.
Demonstrated capacity to establish and cultivate relationships with people from diverse backgrounds.
Proven experience and ability recruiting and training worksite leaders (Faculty Representatives and Building Leaders), assisting and leading members in successfully resolving problems on the job through Collaborative Problem Solving (CPS), Employee Handbook, rights enforcement, and direct action.
Skill and ability to develop, plan and implement strategies to involve Union members in activities that build a Union's capacity to effectively represent members including internal communication and member mobilization.
Strong advocate for the principles of member led democratic unionism and public education.
Ability to collaborate with leadership, staff, members, and employer representatives.
Ability to work independently and in a team environment.
Ability to handle a demanding workload, with regular evening commitments.
Passion, enthusiasm, and a willingness to learn and grow.
Experience with Community Coalition building and/or Government Relations.
Fluency in Spanish is a plus.
Bachelor's Degree required; Master's Degree in Industrial/Labor Relations preferred
Must have a car, driver's license, and automobile insurance. MTI provides an excellent salary and benefit package as part of its collective bargaining agreement with the Professional Staff Union of MTI.
APPLICATION INFORMATION:
A complete application must include a one-page cover letter, résumé, and three one (1)-page letters of reference. Each reference must describe their direct knowledge of the work experience of the candidate. Letters must contain the references' contact information including name, position, mailing address, e-mail address and phone number.
TO APPLY:
Submit cover letter, résumé, and references to Vicky Bernards, Executive Assistant to Edward Sadlowski, Executive Director, via e-mail to bernardsv@madisonteachers.org no later than 5:00 p.m. CST, March 5, 2021.
MTI IS AN EQUAL OPPORTUNITY EMPLOYER
WHEN APPLYING: Be sure to indicate that you saw this information at UNIONJOBS.COM.