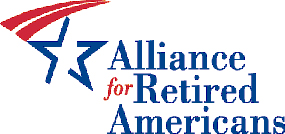 Alliance for Retired Americans

North Carolina Field Consultant
For covering North Carolina
Objective:
Work in North Carolina with the Alliance for Retired Americans National Field Staff and North Carolina Alliance leadership to grow the North Carolina Alliance financial base through organizing and fundraising activity.
Work with the existing Alliance for Retired Americans State Chapters and National Field Staff to carry out all aspects of the Alliance for Retired Americans Field / Political Program for 2021.
Term: Feb 1, 2021 to December 31, 2021 with option for renewal.
Location: North Carolina
Estimated Time Requirement: 25 hrs./wk.
Pay: $3000/m
Building for Action:
Make significant and tangible gains in the membership of the State Alliance, working with the existing North Carolina Alliance chapter, labor organizations, seniors, community and retiree leadership and other leaders in the assigned state.
Assist National Alliance staff in the planning and implementation of mobilization efforts including, but not limited to rallies, town hall forums, rapid response events, and press conferences in key areas of the state.
Assist National Alliance staff in generating earned media pieces, such as letters to the editor and op-eds.
Working with National Alliance staff, syndicate weekly newsletter in North Carolina
Design and implement educational presentations for use in outreach to State Alliance membership and the general senior community.
Work with State and National Alliance leadership to identify and recruit activists in the assigned state.
Use media events, town halls and other local actions to raise awareness of the State and National Alliance, especially for seniors, legislators and the media.
Participate in weekly conference calls with the National Alliance Field Mobilization Department.
Participate in weekly conference calls with programmatic partners
Promote Legislative Agenda:
Work with State Alliance leaders and interested individuals to: organize and coordinate meetings, rallies, lobby days, demonstrations and press events; visit, write or call legislators; and speak publicly about the importance of the National Alliance's legislative agenda.
Assist in drafting press releases, talking points, letters to the editor, opinion editorials official statements work to get items placed in the media and promote State Alliance activities to the media.
Work with National Alliance to educate members on federal legislation advocacy efforts.
Assist National and state staff in researching and drafting articles for the State Alliance newsletter along with special publications relating to: Federal and State specific election education activities; voter protection issues; and Federal and State legislative issues.
Operations Management:
In coordination with National Alliance staff and the assigned State Alliance, assist with general administrative tasks, organizational mailings, Facebook updating, and contacting affiliates by phone and through mail.
Fundraising:
Promote and build State Alliance membership and chapter affiliation.
Engage State Alliance leadership in organizing and promoting grassroots fundraising opportunities including, but not limited to special events, ad books, raffles and other activities.
Identify and secure new and lasting funding streams through a variety of sources. Work with National Alliance Grant Consultant to create a fundraising strategy and submit proposals to potential funders.
Perform other duties as assigned
Requirements and Qualifications:
Experience with organizational fundraising at the state and local level required.
Extensive experience with coalition building required. Experience organizing within the labor community preferred.
Basic knowledge about senior issues and experience with community organizing and legislative advocacy preferred.
Computer competency including email, social media, and Microsoft Office required.
Frequent local travel and occasional extended travel throughout the assigned state will be required.
Organization Information:
The Alliance for Retired Americans is a national membership-based organization of union retirees and other seniors with more than 4.4 million members. The Alliance has more than 53,000 members in North Carolina. The Alliance for Retired American's mission is to ensure social and economic justice and full civil rights for all citizens so that they may enjoy lives of dignity, personal and family fulfillment and security. The Alliance believes that all older and retired persons have a responsibility to strive to create a society that incorporates these goals and rights and that retirement provides them with opportunities to pursue new and expanded activities with their unions, civic organizations and their communities.
To Apply:
Please send your résumé with a cover letter to: AllianceOrganizing@retiredamericans.org, with the subject line 'North Carolina Field Consultant' by January 30th. Please include a line describing from where you learned of this position.
Applicants will be considered on a rolling basis with interviews beginning in January.
WHEN APPLYING: Be sure to indicate that you saw this information at UNIONJOBS.COM.