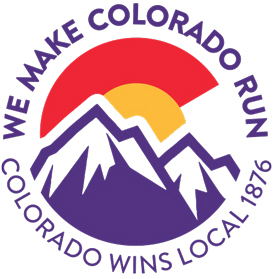 Colorado WINS

Organizing Coordinator
(two positions available)
For covering Denver and other locations in Colorado
Organizing Coordinator: Two positions available
Annual Salary: Between $60,000 and $70,000/YR
Location: Colorado (Denver and other locations in Colorado)
Be part of making organizing history in Colorado. Colorado wins is seeking two energetic organizers to become Organizing Coordinators. The organizing coordinators will be responsible for assisting the organizing director in carrying out and helping to manage major elements of the local's organizing program.
Background:
Colorado WINS is a joint affiliate of the Service Employees International Union (SEIU) and the American Federation of Teachers (AFT). We are fighting for a just society where all families and communities can thrive, and where we leave a better and more equitable world for generations to come. Our union is leading the work for all people to have unions, no matter the job that they do. We are state employees who come from every walk of life, every political party, every background, every faith. We provide essential public services.
Colorado just joined the ranks of 36 states that have collective bargaining right for public employees. Colorado WINS is looking to build a statewide team to organize 28,000 state employees in a game-changing campaign to win new investment in public services and the workers who provide those services. We need two- energetic organizing coordinators to lead an organizing team that will work to organize 28K state employees, and help to build membership and leadership in Colorado WINS. For more information about Colorado WINS, visit our website: coloradowins.org
Position Description and Primary Responsibilities:
We are seeking candidates from traditionally-subjugated communities as they know firsthand the ways society has failed and how to address what's broken through building a better system for workers. While we strive for healthy work-life balance, tearing down systemic racism and building power for working people is more than a 40- hour commitment. The position is permanent full- time and there is room for innovation and advancement as Colorado WINS continues to grow and capacity build.
The Organizing Coordinator, a bargaining unit employee, reports to the Director of Organizing and will assist the OD in supporting good organizing skills development and strategically moving worksites to majority membership density as Colorado WINS members negotiate their first contract.
Supervise, lead, assign and evaluate staff, including developing individual work plans with staff and overseeing their implementation and evaluation.
Design and implement staff training and development plans and programs.
Recruit, interview and recommend hiring staff.
Formulate and administer organizing plans and campaign budgets including strategic planning, budget development and office administration.
Authorizes expenditures within the campaign budget.
Integrates organizing plans with all local union programs.
Maintain day-to-day contact with SEIU leadership; works independently to integrate strategies.
Perform other duties as assigned in support of the work of the local.
Qualification Requirements:
At least two (2) years of supervisory experience and three (3) years of related work experience required. Experience gained through work in a union environment preferred.
Ability to train and develop new organizers.
Thorough knowledge of labor organizing planning and development. Knowledge gained through work in a union environment preferred.
Knowledge of strategies and tactics used to organize and lead workers, including managing data, organizing reports, and organizer turf.
Knowledge of unions and their issues. Knowledge gained through work in a union environment preferred.
Ability to communicate effectively, both orally and in writing; ability to make formal presentations, and write advocacy papers.
Ability to work with people from diverse backgrounds and cultures.
Ability to handle multiple "priority" projects and meet established timelines.
Ability to work effectively with elected leaders and members in complex, political situations.
Ability to conduct training sessions.
Ability to communicate political and policy priorities to members.
Salary and Benefits:
Salary range is between $60k to $70k per year, including a generous benefits package that includes full employer funded medical, vision, and dental insurance. A car allowance, phone stipend, and other expense reimbursements as required to support the work of building a statewide union are also provided.
Application Requirements:
To be considered for this position, please provide the following:
A current résumé reflecting qualifications for this position.
A Letter of Application which specifically addresses the reason for wanting to work for Colorado WINS (to include an example of a demonstrated success in a similar position) and a description of how this position fits into the applicant's long-term career plan.
To Apply:
All materials must be sent electronically to the following:
Margolies Potterton and Associates, Union Search LLC,
Colorado WINS Search Consultants
patjohnson@unionsearch.org
For all questions regarding this search, including confidential inquiries, please contact:
Debra Schwoch-Swoboda
debra4654@gmail.com
414-217-5160 (Eastern time zone)
APPLICATION DEADLINE: The position is open until filled. The next review of applications will be March 5, 2021 at 5:00 pm (MST.)
Colorado WINS is an Equal Opportunity Employer.
WHEN APPLYING: Be sure to indicate that you saw this information at UNIONJOBS.COM.