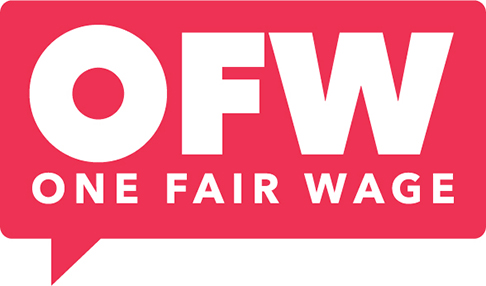 One Fair Wage



Lead Organizer
Covering Massachusetts
ABOUT ONE FAIR WAGE
The One Fair Wage campaign is a national campaign to eliminate the subminimum wage for 6 million tipped and other subminimum wage workers across the country through state and federal law. Originally founded by the Restaurant Opportunities Centers (ROC) United, a national restaurant workers' organization, as the majority of tipped workers work in restaurants, the campaign has spun off into a broader, separate entity that is fighting for a full, fair wage for all tipped and subminimum wage workers, including tipped delivery workers and drivers at app-based companies. Today, One Fair Wage legislation is moving multiple states and in Congress.

We are looking for a Full-Time Lead Organizer to bring together restaurant and other tipped workers and their representatives and allies to demand One Fair Wage policy. The Lead Organizer will work with tipped worker leaders and local organizations that represent them to conduct outreach, leadership development, and mobilization of tipped workers in support of the One Fair Wage policy campaigns in MA, as well as represent One Fair Wage to other allies and funders.

One Fair Wage MA Lead Organizer Responsibilities:
Base-Building: Help build a base of tipped workers in MA in support of One Fair Wage; list of restaurant workers to work from.
Leadership Development: Educate and train workers; identify potential worker leaders, develop their leadership skills provide opportunities for to lead.
Mobilization: Organize public demonstrations related to corporate and elected targets to demonstrate worker power to win One Fair Wage -- at times as part of nationally coordinated plan.
Campaign Coordination: Lead and re-engage the local coalition of organizations representing various tipped worker sectors, support the development and implementation of a legislative targeting strategy, and support local press events and other communications efforts, and more. Some lobbying.
Other: Some press work; possible GOTV work; adapt existing MA strategic plan as necessary pending political and environmental shifts with Covid-19
Ideally, the Lead Organizer will have experience as a tipped worker, and have networks with other tipped workers. The person in this position will report directly to the National Policy Campaign Director.

Qualifications:
3-5 years experience in labor/ community member organizing and base building experience. Understanding of member leadership development
3-5 years organizing experience related to policy campaigns and coalition building;
3-5 years organizing experience in the areas of labor rights, immigrant rights, housing rights, and/ or educational, land, or environmental justice
Maintenance of a professional attitude and strong ethical practice and a willingness to learn and grow
Self-starter
Strong communication time management, and group leadership skills, including active listening, empathy, pop'd agendas, delegation and facilitation skills
Commitment to racial, social, and economic justice; and significant experience working collaboratively with persons of diverse racial and ethnic backgrounds, socioeconomic status, ages, and sexual orientations
Willingness to travel when/if safe, mostly in MA, and periodically elsewhere in the country. A valid driver's license, access to a vehicle and auto insurance coverage when driving are needed
Knowledge of computer software and apps, including Google Suite, Zoom, SmartVAN, EveryAction, Asana, Slack, Facebook, Instagram, Twitter, etc
Readiness to reach qualitative and quantitative goals
Experience as a tipped worker or restaurant worker preferred
Fluency in oral and written Spanish language preferred
Salary: $55- $60,000 negotiable based on experience, plus our standard benefits package.

Women, people of color, and immigrants strongly encouraged to apply.

To Apply:
Please send résumé and cover letter to John O'Keefe at johnpokeefe@hotmail.com
O'Keefe Search
336-350-8337
johnpokeefe@hotmail.com
O'Keefe Search is dedicated to building strength in progressive organizations and to helping social justice, labor, and other activists find the right job.
John O'Keefe has specialized in recruiting for positions in the labor and progressive movement for over fifteen years.
Prior to spending five years as Recruiting Director for 1199 SEIU United Healthcare Workers East, the largest and one of the most progressive local labor unions in the United States, he spent many years helping high tech companies grow and was acknowledged as one of the top recruiters in the United States. Besides running a highly successful search firm, he served as the President of the Texas Association of Personnel Consultants, the largest state association in the industry and as President of the Pinnacle Society, an organization of the top 75 recruiters in the United States.
WHEN APPLYING: Be sure to indicate that you saw this information at UNIONJOBS.COM.