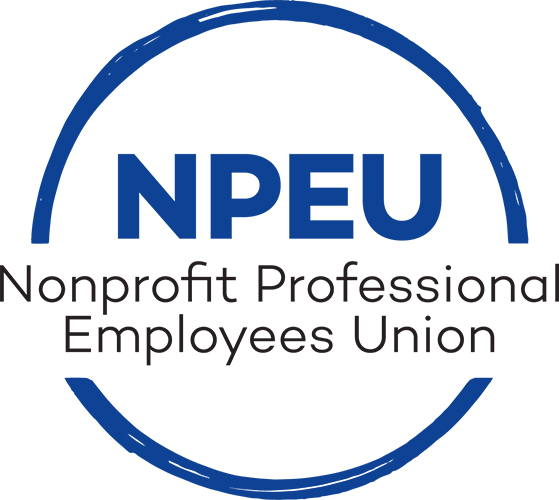 Nonprofit Professional Employees Union
IFPTE Local 70

Field Representative
Based in Washington, DC
Who We Are:
The Nonprofit Professional Employees Union, IFPTE Local 70, is a fast-growing, dynamic and member-led union representing more than 25 bargaining units at progressive nonprofit organizations in Washington, DC and beyond. Our members work at local and national research, advocacy and community organizing groups and are known locally and nationally for their policy expertise, research prowess, organizing skills and dedication to advancing the missions of our organizations and holding them accountable to their core social justice missions.
We are looking to hire a highly-motivated Field Representative to take our union's member representation and bargaining program to the next level. This position will be our union's first full-time staff person, working as a team with our part-time organizer and volunteer elected officers to help continue our exponential growth while bargaining precedent-setting contracts and representing our members effectively and with respect.
Core responsibilities:
Play a lead role in negotiating collective bargaining agreements and coordinating bargaining teams while taking direction from unit members. Track the expiration status of contracts throughout the union to prepare for bargaining.
Provide advice and training to stewards and other union members to effectively handle grievances and other representational matters while maintaining a culture of member-driven, social justice unionism.
Interpret collective bargaining agreements, local laws and other ordinances that impact member workplaces to provide guidance to the membership.
Collaborate with elected union officers to plan social, educational and solidarity activities for union members and recruit members to serve on union committees and in other leadership roles.
Follow up with organizing leads and support new organizing campaigns, as needed.
Maintain regular communication with members and respond promptly to member requests.
Create and update your own workplan, calendars and timecards.
Other duties, as assigned, by the President and other elected officers of the union.
Job Requirements:
This position requires at least 3 years of experience as an organizer, representative or other professional staff member at a union or other labor organization, including at least one year of experience negotiating collective bargaining agreements. Substantive experience in rank-and-file union leadership roles may be substituted in lieu of work experience.
In addition, a great candidate will have most of the following skills, experiences and qualities:
Experience working with, training, and empowering diverse groups of individuals to take action in their workplaces and communities.
Experience utilizing a wide range of digital tools in organizing, including Google Drive and social media and email platforms, as well as the ability to learn new tools, as needed.
A strong commitment to social justice and building the labor movement.
A self-starter attitude and natural self-motivation toward tasks and areas of responsibility.
The ability to work within timelines under pressure and with minimal supervision.
The ability to exercise sound judgment in complex situations.
Strong public speaking skills.
Strong written communication skills and the ability to write and edit contract language, editorials and other communications for internal and external audiences.
Experience in the non-profit sector, either as staff, as a union representative, or in another capacity.
This is a work-from-home position based in Washington, DC. Though regular business hours are anticipated, this position will require evening hours on occasion and offers the flexibility to schedule work around employee obligations. Under ideal circumstances, this position will require regular travel to employer offices around the Washington, DC area.
For candidates who meet all the required qualifications, the salary range for this position will be $65,000 - $75,000. NPEU will also provide 100% paid health and dental coverage, retirement contributions, a minimum of four weeks of vacation time, compensatory time, and unlimited sick time.
To Apply
Email a cover letter and résumé to: info@npeu.org, with "Field Representative" included in the subject line. Please submit applications by 10 pm ET on June 5.
NPEU is an equal opportunity, fair chance, affirmative action employer, committed to building a diverse and inclusive workforce. All qualified applicants will be considered for employment without regard to race, color, creed, national origin, sex, age, disability, marital status, sexual orientation, military status, prior record of arrest or conviction, citizenship status, or caregiver status.
WHEN APPLYING: Be sure to indicate that you saw this information at UNIONJOBS.COM.