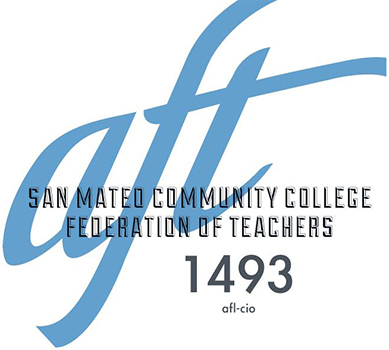 San Mateo Community College Federation of Teachers
AFT Local 1493

Executive Secretary
Based in San Mateo, CA
Summary:
American Federation of Teachers Local 1493, which represents approximately 800 faculty across the three-college San Mateo Community College District, is seeking an executive secretary. The Executive Secretary of the local is primarily responsible for organizing the membership, supporting the work of the executive committee, and navigating grievances, complaints and disputes.
Duties and Responsibilities:
The essential duties of the Executive Secretary are to:
Design and manage membership campaigns.
Compose campaign literature and design basic flyers
Design and conduct contract surveys.
Assist in negotiating collective bargaining contracts
Represent members at hearings, file grievances and unfair labor practice charges with assistance from legal counsel, as necessary.
Assist in get-out-the vote and related political activities.
Ensure that the local is in compliance with national and state affiliate constitutional obligations.
Provide coordination and support to the work of Chapter Chairs on each campus
Support the local in day-to-day activities through troubleshooting, brainstorming and other technical assistance
Coordinate communications with the membership including social media, Action Network, Email, the aft1493.org website and the publication of The Advocate newsletter.
Advise the local on grievances, arbitration, negotiations, budgets and concerted activities.
Conduct training sessions for the local members
Prepare and attend monthly meetings of the Executive Committee
Attend bi-weekly meetings of the SMCCD Board of Trustees, held on Wednesday evenings.
Represent the local at various governance bodies (Community College Bay 10, San Mateo Labor Council, CFT, and so on).
Participate in the CFT training program
Work up to five (5) days to assist the CFT, other locals, and/or organizing committees at the request of the CFT.
Minimum Qualifications
Demonstrated understanding of collective bargaining
Prior involvement in organized labor and/or community organizing
Ability to transport self to multiple campuses in San Mateo County
Excellent computer skills including use of the Internet, Microsoft Word and Excel
Excellent oral communication skills--ability to communicate with a variety of interest groups including members, District administrators and other members of the labor community
Ability to advise and support members and representatives in potentially contentious circumstances (e.g., discipline, negotiations, grievance hearings)
Excellent written communication skills--ability to compose persuasive, cogent Emails, social media posting, original articles and editorials, and other formal and informal communications
Excellent organizational, office management, data management and record keeping skills
Excellent conflict resolution skills
Demonstrated sensitivity to and understanding of the diverse academic, socioeconomic, cultural, disability, gender identity, sexual orientation, and ethnic backgrounds of community college students, faculty, and staff
Desirable Qualifications
3 years minimum Community College or other teaching experience
Demonstrated success in one or more of the following: negotiated a collective bargaining agreement; ran a membership campaign; organized a campaign at the grassroots level
Ability to cultivate equanimity and a positive attitude in challenging circumstances
Experience with developing and managing a budget
Understanding of California Education Code and labor standards
Collaborative spirit, ability to build community, and cultivate a supportive, collegial work and meeting environment
Salary and Benefits
Beginning salary ranges from $67,872 to $92,052 depending on experience and placement on the full-time faculty salary schedule
Sick leave: ten days per year, including two personal days
All District-recognized holidays, including the District's winter closure and spring break
Two weeks of vacation annually (starting)
Healthcare and retirement benefits comparable to those of the full-time faculty represented by the local
Expectations
Position is 12-months
37.5 hours per week
Based on the CSM campus but travel to Cañada and Skyline Colleges is required
Reports to local union president
How to Apply:
Applicants should submit a cover letter and résumé for consideration to: rivera@aft1493.org. Deadline to apply is May 1, 2020.
The San Mateo Community College Federation of Teachers, AFT Local 1493, is an Equal Opportunity Employer that seeks to employ individuals who represent the rich diversity of cultures, language groups, and abilities of its surrounding communities.
WHEN APPLYING: Be sure to indicate that you saw this information at UNIONJOBS.COM.