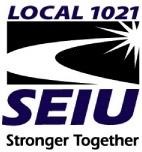 SEIU Local 1021

Special Assistant to Executive Director Team
Covering Northern California

SEIU Local 1021 was founded in 2007 when 10 local unions came together in northern California to form one larger, more p1owerful union. Together our members are building a true 21st century union fighting to empower and improve the lives of our members. We are 54,000 strong—organizing and representing public service workers in cities, counties, courts, schools, private non-profits, special districts, public health care, and nursing. We are looking for energetic, hard-working staff who are committed to real change, who believe in the value of work and the value of public services, and who want to be part of the team that wins for workers, their families, and their communities.
LOCATION: Northern California
Responsibilities: Works at the direction of Head of Operations and Lead Director to provide executive administrative leadership and key project oversight and may supervise various administrative staff.
JOB CHARACTERISTICS: Under supervision of and reports directly to the Lead Director. This is a management level exempt position. Position requires ability to work with people. This position must exercise continuous independent judgment in fulfilling job responsibilities in a fashion consistent with general policies and guidelines of the union. Candidate should be well organized and detail oriented and willing to work long and unpredictable hours.
EXAMPLES OF DUTIES:
Projects
Project oversight and implementation of various field/program projects

Work as part of a team coordinating local wide elections and union convention

Work with the Assistant to the Board in overall coordination of work of the Lead Director and the Board

Project management

Other projects and work as assigned by the Lead Director

May represent the lead or deputy director in various HR related functions such as workplace accommodation meetings
POLICIES/PROCEDURES:
Working with the local's board policy committee recommends and develop various union policies such as hiring policies, strike fund policies etc

Maintain file of non-personnel local-wide policies and procedures adopted by the board

Update policies/procedures on website

Provide staff assistance around enforcement and implementation of board policies and procedures

Staff's the local's policy committee

Meets with Sr. Level management, legal, and other consultants providing input in the development of various union policies and guidelines

Committees: May staff various staff and or e-board committees
CHAPTER BYLAWS:
Assess compliance of chapter bylaws and recommend needed changes

Provide staff assistance to Chapter Bylaws Review Committee

Maintain master file of all chapter bylaws

Review chapter/bargaining unit bylaws for conformity with 1021 constitution, SEIU constitution, and chapter bylaws template

Serve as liaison between chapters and committee.
ARBITRATIONS/LEGAL ACTIONS:
Work with key board officers in developing and maintaining grievance tracking

Meet with Sr. Level management and union attorney's strategizing legal approaches to various issues

Receive/review copies of all correspondence from law firm

Check correspondence regarding arbitrations and legal actions against log of approved arbitrations/legal actions

Notify directors of unapproved arbitrations, legal actions

Review/approve all law firm, arbitrator, court reporter invoices and forward to AP for processing subject to the board's expenditure approval process

Maintain file of DFR, DFEH, NLRB, etc. charges

Handle Subpoena's Issued to the Local Oversight/Tracking of legal correspondences and cases.

Deal with processing subpoenas.
ARBITRATION APPEAL PROCEDURE:
Staff arbitration appeal panel.

Maintain panel contact information.

Receive all appeals submitted by members.

Schedule/arrange hearings with appellant, panel, and legal counsel.

Send appellant materials to panel in advance of hearing.

Prepare all materials for panel.
MEMBER COMPLAINT PROCEDURE:
Oversee member charges procedure (correspondence, hearings, etc.).

Receive/follow up on member charges (charges are to be formally submitted to secretary).

Ensure steps in the procedure are followed.

Schedule/arrange hearings with member(s), hearing panel, and legal counsel.

May investigate or mediate member and or staff complaints.
STAFF COMPLAINT PROCEDURE:
Oversee staff complaint procedure (correspondence, etc.)

Receive/follow up on member complaints against staff.

Ensure steps in the procedure are followed, including follow up with field director/president.
MEMBER COMPLAINTS TO SEIU:
Receive/follow up on member complaints forwarded by SEIU.

Forward complaint to relevant director to draft response; copy president, forward presidents' response to SEIU.
MISCELLANEOUS:
Editing of various reports and materials.

Prepare correspondence as necessary.

Prepare reports as assigned.

Special projects as assigned.

Other duties as assigned.
KNOWLEDGE OF:
Principles, practices and program areas related to project work in a union.

Applicable legal guidelines and standards affecting the administration of the local.

Tracking and understanding of legal issues.
SKILL IN:
Mediation and Problem Solving.

Workplace Investigations.

Planning, organizing, administering and coordinating a variety of large and complex SEIU 1021 projects.

Developing and implementing goals, objectives, policies, procedures and work standards and internal controls.

Analyzing complex issues, evaluating alternative solutions and adopting effective courses of action.

Preparing clear and concise reports correspondence and other written materials.

Establishing and maintaining cooperative working relationships.

Exercising sound, independent judgment.
Preferred Qualifications:
Equivalent to graduation from a college or university or equivalent experience in a union environment.

Two or more years of working for a union or in a union environment.

Legal Background.

Strong Editing Skills.

Meets most of the criteria outlined in the skills and knowledge section.

Proficient in Microsoft office Suite.

Three years of union experience or non-profit experience.
REQUIREMENTS:
Salaried position; may require nonstandard work hours and/or weekend and holiday work.

Extensive travel may be required, primarily within Northern California.

Must possess and maintain a valid California driver's license; must pass a DMV check and have a good driving record; must have auto insurance that covers business driving (minimum of $100,000 per person/$300,000 per incident bodily injury liability/$50,000 property coverage); and must possess an automobile for business use.
TO APPLY:
Mail, fax or e-mail a statement, not to exceed 300 words, telling us why you are the right person for the job. Please include, along with the statement, your résumé, and the name, address, and phone number of three references to Kathryn Ballard, SEIU Local 1021, 447 29th St. Oakland, CA 94609. The fax number is (510) 893-2395, the e-mail address is jobs@seiu1021.org. Please indicate Special Assistant to the Executive Director on your statement. No phone calls please.
This position is open until filled; however, the posting/acceptance of applications may close at any time.
AFFIRMATIVE ACTION EMPLOYER
SEIU Local 1021 is an affirmative action employer and encourages applications from all qualified candidates regardless of race, ethnicity, age, sex, sexual orientation, marital status, religion, or disability. Local 1021 works to ensure fair treatment of applicants and employees and actively enforces policies against discrimination and sexual harassment.
WHEN APPLYING: Be sure to indicate that you saw this information at UNIONJOBS.COM.