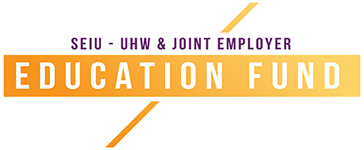 SEIU UHW & Joint Employer Education Fund

Regional Coordinator
Based in Las Vegas, NV

The Education Fund is a joint effort between SEIU-UHW and employers to provide educational opportunities for employees. The mission of the Education Fund is to empower our diverse healthcare workforce to advance in a changing environment through innovative education and training solutions.
Job Title: Regional Coordinator – Las Vegas, Nevada
Classification: Exempt
Department: Career Counseling
Reports to: Director Career Counseling
Principal Purpose of Job: Provides career and education counseling to SEIU members interested in advancing in the healthcare field. Also plans and coordinates implementation of education and training programs for healthcare workers represented by SEIU UHW-West and other union members who are eligible for Education Fund services.
Level of Authority
Performs duties in accordance with Director and organizational policies and procedures.
Work Environment
Work is performed in a complex environment. Will require frequent travel and the need to deal with a diversity of people and tasks.

Will attend or lead frequent meetings with employers, (HR and Department Heads), union leaders and staff, members (learners) and other Ed Fund collaborators.

Possible overnight travel is required.

Must live in Las Vegas, NV.
Essential Job Functions
Responsible for facilitation of Ed Fund programs and services, performance utilization, outcomes, and other topics to a wide audience that includes Ed Fund executives and staff, employers (HR, Department Heads, and staff), and vendors/training providers.

Must develop and maintain relationships with local union leaders, employers, and other program partners/vendors.

Will be responsible for creating and monitoring budgets for programs and services offered within the region.

Responsible for providing Career Coaching and Case Management to a diverse caseload of learners with various barriers to secure successful outcomes.

Will lead the work within the region, by partnering with multiple stakeholders, to prioritize and execute programs and strategies, to drive performance and outcomes.

Responsible for all data entry, for members (learners) in programs, to ensure accurate monthly, quarterly, and annual reporting.

Will create and manage marketing campaigns to drive members (learners) to program/project offerings.
Qualifications and Capabilities
BA/BS degree required.

Familiarity with Project Management concepts

Strong leadership, critical thinking, coordination and organizational skills, are necessary.

Excellent verbal and written communication skills, are a must.

Workforce Development experience, is a must.

Experience with managing budget and performance is necessary.

Experience in a union/labor-management partnership is preferred.

Professional demeanor, with the ability to create rapport with a wide variety of stakeholders.

Must have valid California Driver License, the use of a vehicle, and maintain appropriate level of car insurance.

Proficient use of MS office suite.
To Apply
Please submit a résumé and cover letter with Regional Coordinator in the subject line at:
https://www.paycomonline.net/v4/ats/web.php/jobs?clientkey=0EB134AB3557F08C02F1420664CE7F73
WHEN APPLYING: Be sure to indicate that you saw this information at UNIONJOBS.COM.