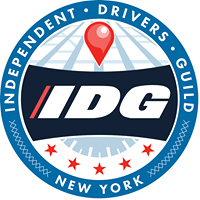 Independent Drivers Guild
IAMAW District 15

Director of Organizing
Based in New York City, NY

Reporting to the Executive Director, the Director of Organizing is part of a cross-departmental team. They participate in senior staff meetings and strategy planning and serves as a coach and mentor for Organizers and Stewards.
The Director of Organizing performs a range of duties, which may vary according to the needs of the overall program, a specific action, or the needs of the IDG.
Responsibilities Include:
Demonstrated commitment to social justice;

Work with staff across departments to develop and drive program;

Drive the recruitment, development and maintenance of Stewards;

Help develop and run organizing meetings and trainings;

Develop and execute their own monthly work plan;

Monitor and mentor Organizers and Stewards on organizing, including community and airport outreach, identifying new member leaders, planning and running actions, etc.; lead by example, setting high standards in work ethic and conduct;

Train and mentor Stewards.
Ability to establish close relationships with people form diverse cultural and economic backgrounds:
Build effective external relationships within the community;

Build and maintain effective relationships with company officials;

Maintain the accuracy of lists, records and databases

Work within the framework and processes of the organization to resolve internal issues;

Other duties as assigned.
Requirements:
An in-depth understanding of worker organizing based on prior work experience; three to five years of organizing experience strongly preferred, including experience leading a team;

The ability and willingness to travel, and to work long hours, including weekend work;

Strong and effective verbal communication and presentation skills;

Advanced writing and computer skills;

Strong interpersonal skills; experience and ability to work with people from diverse background

Fluency in a second language is preferred.
IDG offers a competitive salary and a benefits package.
To Apply
Send résumé to: johnpokeefe@hotmail.com
John O'Keefe
O'Keefe Search
336-350-8337
johnpokeefe@hotmail.com
O'Keefe Search is dedicated to building strength in progressive organizations and to helping social justice, labor, environmental and other progressive activists find the right job.
We work extensively with organizers, campaigners, communicators, researchers and their managers to help match candidates with their ideal jobs.
John O'Keefe has specialized in recruiting for positions in the labor and progressive movement for over fifteen years.
Prior to spending five years as Recruiting Director for 1199 SEIU United Healthcare Workers East, the largest and one of the most progressive local labor unions in the United States, he spent many years helping high tech companies grow and was acknowledged as one of the top recruiters in the United States. Besides running a highly successful search firm, he served as the President of the Texas Association of Personnel Consultants, the largest state association in the industry and as President of the Pinnacle Society, an organization of the top 75 recruiters in the United States.
WHEN APPLYING: Be sure to indicate that you saw this information at UNIONJOBS.COM.