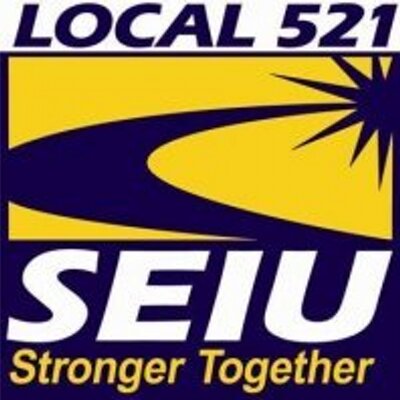 SEIU Local 521

Area Director
Based in San Jose, CA

SEIU Local 521 is a union of 40,000 public- and nonprofit, private-sector workers in Central California. We are committed to building power in the workplace and in our communities to bring about greater justice for workers and for the communities we serve. We understand that the change we seek can only be won by building real organization and mobilizing thousands of members to fight against the entrenched powers that seek to control an ever-increasing share of society's wealth while the majority face deterioration in their standard of living, health, and environment. Whether it is the tech giants of Silicon Valley or entrenched agribusiness in the Central Valley, those are the forces that our members must take on and expose in order to win justice for themselves and the communities we serve. We are looking for energetic, hardworking staff that wants to join this fight and be part of the team that wins for workers, families, and our communities.
LOCATION: San Jose
Overview of the Job
The Area Director will supervise approximately 8-12 union staff members in a region of SEIU Local 521. The Area Director will oversee the union's program on contract negotiations and campaigns, internal organizing, leadership recruitment and development, representation and political mobilization. The Area Director will serve on the staff leadership team of the regional local and work as a team to oversee the implementation of the union's vision and program.
SKILLS, APTITUDE, AND COMMITMENT:
Supervising, training, hiring and developing the internal field staff of the region.

Conduct staff meetings, team meetings and individual meetings with staff to review and plan their work.

Working with a lead staff member in each county to develop their leadership skills and coordinate the work of the union.

Working with the rank and file leadership and staff to create and implement plans to strengthen the union.

Leading and assisting in developing campaign plans around budget issues, contract negotiations and worksite problems.

Serving as the Chief Spokesperson in larger chapter negotiations and assisting staff in contract negotiations in the smaller chapters.

Ensure staff and member participation in the union's organizing and political programs.

Represent the union in the region in its relationships with political, community and labor leaders and organizations.

Serve on the staff leadership team of the regional local and coordinating with other senior staff to run the programs of the organization under the leadership of the rank and file executive board.
EXPERIENCE:
At least five years as a union staff person responsible for representation and program implementation. Experience negotiating collective bargaining agreements and developing and executing contract campaigns. Experience motivating, supervising, evaluating and developing staff and holding them accountable to a campaign & workplan.
Ability to work with a diverse group of rank and file leaders and involve them in every aspect of the union's program.

Strong planning skills, ability to discern priorities and manage multiple responsibilities.

Possess proven leadership and consensus building skills.

Willingness to work long and irregular hours, including weekends and evenings.

Experience in strategic planning for contract and organizing campaigns

Minimum 2-year commitment desired.
Salary and Benefits
Annual salary depending on experience

Fully paid dependent health, vision, dental, disability, and life insurance

Employer paid SEIU pension plan

Liberal vacation, sick and comp time
REQUIREMENTS: Must possess a valid California driver's license; must pass a DMV check and have a good driving record; must have auto insurance that covers business driving (minimum of $100,000 per person/$300,000 per incident bodily injury liability/$100,000 property coverage); and must possess an automobile for business use.
TO APPLY: Send cover letter and résumé to Riko Mendez, Chief Elected Officer
SEIU Local 521
2302 Zanker Road
San Jose, CA 95131
Email: jobs@seiu521.org
Fax: 408-954-1538
No phone calls please.
This position is open until filled; however, the posting/acceptance of applications may close at any time.
AFFIRMATIVE ACTION EMPLOYER
Local 521 is an affirmative action employer and encourage applications from all qualified candidates regardless of race, ethnicity, age, sex, sexual orientation, marital status, religion, or disability. Local 521 works to ensure fair treatment of applicants and employees and actively enforces policies against discrimination and sexual harassment.
WHEN APPLYING: Be sure to indicate that you saw this information at UNIONJOBS.COM.