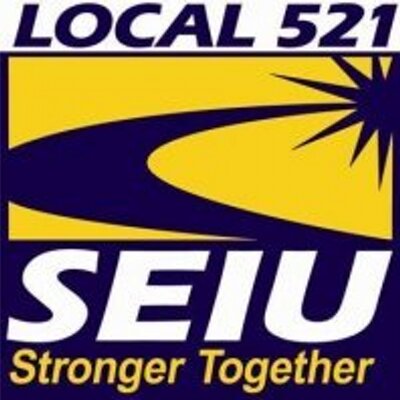 SEIU Local 521

Communications Director
Based in San Jose, CA

SEIU Local 521 is a union of 40,000 public- and nonprofit, private-sector workers in Central California. We are committed to building power in the workplace and in our communities to bring about greater justice for workers and for the communities we serve. We understand that the change we seek can only be won by building real organization and mobilizing thousands of members to fight against the entrenched powers that seek to control an ever-increasing share of society's wealth while the majority face deterioration in their standard of living, health, and environment. Whether it is the tech giants of Silicon Valley or entrenched agribusiness in the Central Valley, those are the forces that our members must take on and expose in order to win justice for themselves and the communities we serve. We are looking for energetic, hardworking staff that wants to join this fight and be part of the team that wins for workers, families, and our communities.
LOCATION: San Jose
Description:
The Communications Director provides the local with strategic leadership in developing and executing a comprehensive communications program that advances the union's goal of building the power workers need to win justice for themselves and the communities they serve. A successful Communications Director will be a leader who can inspire and develop a team of communicators. This team will:
Work with the union's leaders and staff to develop messaging that leads to action in support of the union's campaigns – including organizing, bargaining, and political

Help the union's leaders and staff make the effective use of all communications platforms – from social media and earned media to one-on-one conversations and public speaking
Typical Tasks of the Communications Director
Directs, supervises and develops communications staff.

Engages with campaigners and others to identify strategic goals and develop a communications program that meets the campaign's needs in the most efficient way possible.

Assists in the development of strategies to improve the public image and visibility of SEIU Local 521 and its members.

Provides leadership in developing sophisticated press and media strategies that move public understanding of issues critical to SEIU Local 521 and the communities they serve.

Interacts and coordinate with International Union and State Council communications staff on state and national campaign communications strategies and materials.
The Communications Director will be expected to perform the following tasks themselves from time to time, but more importantly will need to lead and develop a team of communicators who will perform these tasks on a daily basis with guidance from and accountability to the Communications Director.
Write and develop op-eds, background pieces, fact sheets, press kit materials, leaflets, brochures, and other materials as needed for various campaigns.

Write talking points, statements, and letters to the editor, speeches, and other written materials as needed. May be called on to assist in the production of union videos.

Coordinate media event logistics and interviews.

Act and coordinate others to act as official media spokesperson for the Local union and its elected officers.

Maintain ongoing, effective communication with media outlets, including local ethnic and alternative media. Maintain media database. Carry out press releases.

Monitor media coverage of Local union, employers and other related topics, maintain media file, make recommendations on ways to improve media coverage.

Edit and coordinate production of the Local-wide newsletter, Chapter newsletters, and other communications where appropriate.

Train staff and rank-and-file leadership in effective verbal and written communication.

Edit and coordinate Local union website and e-mail communications.

Coordinate translation of local-wide union literature into main languages spoken by the membership.

Maintain database and archive of union literature.

Work with local union Political Director to develop candidate and issue campaign materials.
Requirements
Five or more years' experience in media relations, public affairs or campaign communications. Bachelor's degree in communications-related field preferred. Previous experience with the labor movement or other advocacy group preferred.

Demonstrated experience in performing pro-active media outreach, maintaining good working relationships with journalists and generating positive media coverage.

Excellent writing, verbal and analytical communications skills. Writing test required.

Working knowledge of electronic and/or print media systems; knowledge of advertising techniques preferred.

Familiarity with all aspects of literature production process including layout required.

Familiarity with organizing, political and bargaining strategies preferred.

Knowledge of website maintenance and e-mail communications preferred.

Ability to work independently under limited direction and balance conflicting demands.

Willingness to work long and irregular hours often including evenings, weekends and holidays.

Bilingual in English and Spanish or Vietnamese a plus.
REQUIREMENTS: Must possess a valid California driver's license; must pass a DMV check and have a good driving record; must have auto insurance that covers business driving (minimum of $100,000 per person/$300,000 per incident bodily injury liability/$100,000 property coverage); and must possess an automobile for business use.
To Apply:
Interested parties may apply by submitting a résumé and letter of application stating in detail how the candidate's skills, abilities, and experience qualify them to successfully address the Union's needs as described in the position announcement. The résumé and letter of application should be sent to:
Margolies Potterton & Associates, Union Search Consultants
jpotterton@sbcglobal.net AND Lisagude@gmail.com
For all questions regarding this search including confidential inquiries please contact:
Lisa Gude (West Coast) | Jim Potterton (West Coast)
Lisagude@gmail.com | jpotterton@sbcglobal.net
(312) 315 3443 | (831) 332-9324
This position is open until filled; however, the posting/acceptance of applications may close at any time.
AFFIRMATIVE ACTION EMPLOYER
Local 521 is an affirmative action employer and encourage applications from all qualified candidates regardless of race, ethnicity, age, sex, sexual orientation, marital status, religion, or disability. Local 521 works to ensure fair treatment of applicants and employees and actively enforces policies against discrimination and sexual harassment.
WHEN APPLYING: Be sure to indicate that you saw this information at UNIONJOBS.COM.