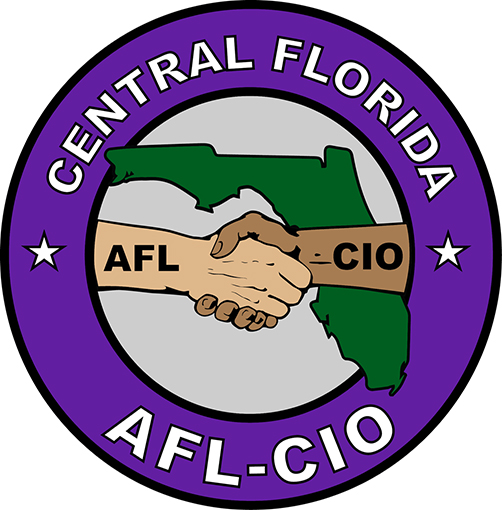 Central Florida Central Labor Council, AFL-CIO

Organizing Director
Based in Orlando, FL

About the Central Florida AFL-CIO
The Central Florida Central Labor Council (CLC), AFL-CIO, representing thousands of working families in Lake, Orange, Osceola and Seminole Counties, is looking for an energetic, creative, well-organized and optimistic colleague who can help build a successful organizing program to drive change and build power for all workers in our area. We are a labor organization that coordinates and executes program across affiliated unions, community organizations, and other allies in Central Florida. The Organizing Director will help envision and implement a new organizing hub model at the CLC to work with our affiliates on growing union membership. If you are someone who would thrive getting in on the ground floor of a new organizing program development and enjoys recruiting and activating volunteers, we need you to apply and roll up your sleeves with us.
Overview of Responsibilities
The Organizing Director reports directly to the President of the Central Florida CLC, AFL-CIO and will work with the affiliated unions of the Central Florida AFL-CIO, and key community allies, to develop and execute a new program focused on increasing union membership in Central Florida. The Director will create regular training for affiliates' staff and members to gain organizing skills will be a major component of the program. The Director will also be expected to work closely with local affiliates on organizing drives by participating and aiding internal and external organizing campaigns.
RESPONSIBILITIES
The Organizing Director will:
Work effectively with CLC leaders to assist in developing and implementing an Organizing Program.

Convene an Organizing Committee of affiliates and community partners to assist in coordinating organizing goals, training and other activities.

Develop and implement regular, in-depth, organizing trainings for affiliates.

Organize and lead components of shop steward trainings for affiliates.

Participate in organizing drives including work site visits and house visits.

Work closely with affiliates who are organizing large actions such as picket lines and civil disobedience.

Perform administrative tasks necessary for worker organizing such as maintaining database, producing materials and correspondence.
BUILD SUPPORT FOR ORGANIZING
Identify shared goals and values with community organizations and work with those organizations in planning and executing support for workers who are organizing in their workplaces/industry.

Assist area unions in achieving their organizing goals by working with area leaders to develop an organizing assistance plan that may include a roundtable, political and community leverage, home visits, multi-language organizers, etc.

Assist affiliated local unions through education and training on mobilizing their membership and building local union infrastructure.

Coordinate assistance to local unions in organizing campaigns, including rallies, traditional and social media communication campaigns and volunteer activities.

Cultivate and maintain relationships with activists from the labor movement.

Assist in coordinating the activities of the CLC Local Organizing Committee.
REQUIRED SKILLS/EXPERIENCE
Live in and work within the Central Florida area, operating from a base of one or more offices.

Strong language skills in a language other than English; Spanish specifically needed. Haitian-Creole desired.

Able to work long and varied hours, including nights and weekends.

5 + years of organizing experience.

Experience in organizing others, building unity among diverse groups and mobilizing others to take action.

Experience with internal organizing generally, and specifically, with signing up new members in a right-to-work state.

Demonstrated ability to develop and drive effective and creative programs, convene and facilitate meetings and balance the interests of various stakeholders.

Ability to establish collaborative working relationships with union leaders, community & constituency groups.

Ability to plan, organize and multitask various projects and campaigns.

Excellent verbal and written communication skills.

Comfortable working in diverse environments.

Self-motivated and willing to adapt to changing circumstances.

Ability to produce basic newsletters and leaflets.

Proficient in the use of Microsoft Word, Microsoft Excel, and Microsoft PowerPoint; Databases, and Social Media.

Possess a valid driver's license and maintain reliable transportation.
REPORTS TO
Central Florida Central Labor Council (CLC) President or designee. When authorized by the CLC President, reports to the Florida AFL-CIO President and/or National AFL-CIO Staff.
LOCATION
The position and the Central Florida CLC office are located in Orlando, FL.
SALARY & BENEFITS
Depends on experience and qualifications

Health plan, retirement plan and vacation/sick leave provided, as well as covered expense reimbursement.
START DATE: Fall 2019
TO APPLY: By September 13, 2019, send cover letter with salary requirements, a résumé and three references to: eclinton@unitehere.org.
WHEN APPLYING: Be sure to indicate that you saw this information at UNIONJOBS.COM.