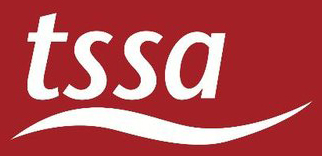 TSSA
Transport Salaried Staffs' Association

Organisers
Based in London, UK
and South of England regions

TSSA represents people working in transport and travel in the UK and Republic of Ireland. Our vision is to be a well-organised and effective trade union where our members are at the heart of everything that we do. We are now involved in an ambitious growth project – our organising teams are focused on building bigger and stronger workplaces, where members have the power to challenge and create change, to ensure they are respected in their workplace and able to address inequalities.
We are always looking for talented and ambitious Organisers to join our teams. We are looking for individuals who will work with us to inspire, support and develop workplace leaders. Is this you?
The Organiser Role: This strategic and flexible role will be to identify, plan and pursue organising and campaigning opportunities within the companies, projects and members that you will be responsible for in our London and South of England regions. You will be able to provide leadership in collective and individual negotiations and represent members to ensure that TSSA wins its bargaining and organising agenda. You will recruit new members into the union as well as develop members, activists and branches so they can play an active role in the union. You will be a leader for promoting equalities within the workplace and in TSSA and work with strategic partners within the community to promote union organising aims as well as our policies on public transport.
The Skills We Are Looking For: You will have excellent leadership skills. You will be a seasoned campaigner with the ability to project plan. You will understand and be able to implement the theory of union organising. We are looking for creative thinkers who are strong team-players who can problem solve and influence others. Your interpersonal skills and self motivation will result in strategic relationships that lead to union growth.
We are particularly interested in hearing from creative and ambitious Trade Union Organisers or Political or Community Campaigners with strong transferable skills to join our friendly and progressive union.
TSSA Organisers starting salary is £45,880.
Our London Organisers are based in our recently refurbished Liverpool Street premises.
TSSA offers all employees a generous annual leave entitlement and defined benefit pension scheme. TSSA is an equal opportunities employer striving to maintain and grow our diverse workplace community. We welcome applications from all sectors of the community. We are a family friendly employer and pro-actively support staff with disabilities. We are proud to be a Stonewall Diversity Champion and have just recently signed the Time to Change pledge.
To Apply
Interested? – Then complete the first stage application form on our website: https://www.tssa.org.uk/en/Your-union/about-us/job/index.cfm, and send to: vacancies@tssa.org.uk. Want to find out more about working for TSSA and the role, then email vacancies@tssa.org.uk.
This is an open advert and as such there is no specific closing date. You must have a work permit/visa in place already.
WHEN APPLYING: Be sure to indicate that you saw this information at UNIONJOBS.COM.