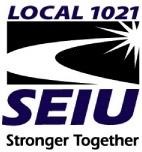 SEIU Local 1021

Administrative Coordinator
Based in Fairfield, CA

SEIU Local 1021 was founded in 2007 when 10 local unions came together in northern California to form one larger, more powerful union. Together our members are building a true 21st century union fighting to empower and improve the lives of our members. We are 54,000 strong—organizing and representing public service workers in cities, counties, courts, schools, private non-profits, special districts, public health care, and nursing. We are looking for energetic, hard-working staff who are committed to real change, who believes in the value of work and the value of public services, and who wants to be part of the team that wins for workers, their families, and their communities.
LOCATION: Work Office will be based in Fairfield, CA. Position will support Region A (North Central) and Region B (North Coast)
RESPONSIBILITIES: Working under the direction of local management, this position is responsible for senior level administrative work in support of various programs and overall organizational needs. This position is a senior administrative level confidential position providing confidential support to local management and may be assigned special projects by management staff, including organizing various components needed to initiate, run and conclude projects. In addition this position may lead/direct clerical staff in various Local 1021 offices.
SKILLS:
Excellent clerical and organizational skills

Familiarity with office equipment and practices

Ability to work effectively with minimum supervision

Ability to effectively handle multiple tasks

Proficiency with Microsoft Excel and Microsoft Office Suite

Excellent data entry skills

Compose and type confidential correspondence

Ability to lead the work of office support

Ability to manage and coordinate overall program areas such as travel, hiring, staff tracking, meeting planning etc.
HOURS: This is a full-time, permanent position, Monday through Friday 8 hours daily (40 hours per week). This position may be required to work evenings and weekends and flex hours to stay within a 40 hour work week and eight hour day.
REQUIREMENTS: Must be proficient in Microsoft Excel and Microsoft Office Suite. This position is required to travel to the various union local offices and other meeting locations. Applicants must successfully complete a clerical skills assessment test.
DRIVING REQUIREMENTS: Must possess a valid California driver's license; must pass a DMV check and have a good driving record; must have auto insurance that covers business driving (minimum of $100,000 per person/$300,000 per incident bodily injury liability/$50,000 property coverage); and must possess an automobile for business use.
SALARY AND BENEFITS: Starting hourly rate is $33.27 per hour. Excellent benefits package. This position is represented by Communication Workers of America (CWA) 9410.
TO APPLY: mail, fax or e-mail a cover letter , detailed résumé and the name, address, and phone number of three references to Kathryn Ballard, SEIU Local 1021; 447 29th St. Oakland, CA 94609, fax to (510) 893-2395 or e-mail your cover letter, résumé and references to jobs@seiu1021.org. Please indicate in your cover letter you are applying for the Administrative Coordinator position.
This position is open until filled; however, the posting/acceptance of applications may close at any time.
***AFFIRMATIVE ACTION EMPLOYER***
SEIU Local 1021 is an affirmative action employer and encourages applications from all qualified candidates regardless of race, ethnicity, age, sex, sexual orientation, marital status, religion, or disability. Local 1021 works to ensure fair treatment of applicants and employees and actively enforces policies.
WHEN APPLYING: Be sure to indicate that you saw this information at UNIONJOBS.COM.