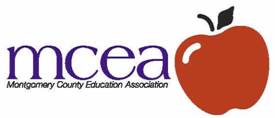 Montgomery County Education Association

Internal Organizer/UniServ Director
Based in Rockville, MD

The Montgomery County Education Association is seeking applicants for the Association's UniServ Employment Pool. Individuals accepted into the UniServ Employment Pool will be considered for full-time positions as UniServ Director/Organizer when positions become available. Thus, individuals who want to be considered for UniServ employment with MCEA should make application through the UniServ Pool procedures. We are currently accepting resumes and cover letters for the UniServ Pool. The Pool will remain open until all of the UniServ Pool openings are filled.
MCEA represents 12,000+ professional educators in the Montgomery County Public Schools system in suburban Washington D.C. MCEA is one of the 15 largest local educator unions in the nation and is an affiliate of the National Education Association. We are committed to educational excellence and social justice, and believe that the future well-being of our members depends on the success of our schools. For more information, go to www.mceanea.org.
Position Description
MCEA's Field Staff Team is responsible for strengthening the structure of the union program by identifying, recruiting, training, mentoring and motivating building leaders; there is a strong focus on building power within the union through developed organizing plans helping members engage in collective action around issues to improve schools and public education; and to improve school culture/climate and the functioning of joint decision-making on teaching and learning issues, through school leadership teams.
Desirable Qualifications and Skills
Successful experience in relational organizing and the use of one-on-one relational meetings

Commitment to working as part of an organizing team focused on leadership identification, coaching, member engagement, and building level organizing

Strong coaching, training and interpersonal skills

Highly self-motivated, with demonstrated ability to exercise independent judgment and initiative

Skilled at developing and implementing organizing plans

Knowledge of current issues in public education and teacher unionism

Proficiency in verbal and written communications, and with online tools (ex. VAN, Google Drive, etc.)

Experience in member representation managing grievances and meeting with management.
Responsibilities
Leadership Development: Develop and maintain effective building action teams through the recruitment, training, and support of building leaders and other union leaders. Regular one-on-one contact with leaders will be required. Support leaders in various program work as part of MCEA's commitment to social justice and professional unionism.
Recruitment: Working with building representatives and recruiting new members to participate in union activities and political campaigns. Regular one-on-one contact with members will be required.
Communication: Maintain regular and effective communication with workers in assigned buildings through personal visits, flyers, phone calls, emails, bulletin board postings, and meetings. Respond to telephone messages in a timely manner.
Representation: Interpret negotiated agreements and other relevant laws, codes, regulations, policies, and practices and assist union members in understanding their rights. Provide assertive and prepared advocacy, handle grievances, appeals, requests for hearings, and other formal personnel matters on behalf of union members. Handle preparation of hearings, including investigation and preparation of witnesses and exhibits. Assist union members in achieving informal resolutions of work-related problems.
Collective Bargaining: Conduct bargaining surveys, salary surveys, and other research activities to strengthen the negotiating position of the bargaining unit.
Issue Campaigns: Participate in the development and implementation of effective strategies and coordinated activities to elevate educator voice. Identify significant worksite and/or departmental issues and develop strategies and tactics to effectively address them, including petitions, group grievances, work actions, etc.
Legislative and Electoral Campaigns: Participate in and recruit members to participate in legislative and electoral campaign activities, including lobbying, phone banking, letter-writing, door-to-door canvassing, and other activities.
Compensation
MCEA provides a comprehensive benefits package including medical, dental, vision and prescription drug coverage, retirement savings plan, and long-term disability insurance. Salaries and benefits are in accord with a collective bargaining agreement.
Requirements
Must possess a valid Maryland driver's license and have a good driving record; must have auto insurance that covers business driving; and must possess an automobile for business use.
Application Process
Interested candidates should send a résumé and cover letter to: Mary Neal, MCEA, 12 Taft Court, Rockville, MD 20850, or electronically to: mneal@mceanea.org.
WHEN APPLYING: Be sure to indicate that you saw this information at UNIONJOBS.COM.