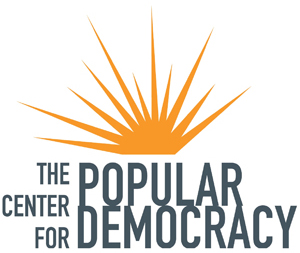 The Center for Popular Democracy

Director of Digital Strategies
Based in Washington, DC or New York, NY

Position Location: New York, NY or Washington, DC strongly preferred; other locations considered.
About CPD + CPDA:
The Center for Popular Democracy/CPD Action (CPD/CPDA) work together to promote equity, opportunity, and a dynamic democracy in partnership with innovative base-building organizations, organizing networks and alliances, and progressive unions across the country. We currently work with more than 53 partner organizations in more than 34 states, Puerto Rico, and D.C., and build the strength and capacity of democratic organizations to envision and advance a pro-worker, pro-immigrant, racial and economic justice agenda. We are a rapidly-expanding, changing organization that partners with organizations across the country to build political power and win tangible victories that improve the lives of low-wage workers, immigrants, and communities of color.
About the Position:
This is a senior position within the CPD/A Public Affairs and Strategic Communications Department. The Director of Digital Strategies is responsible for overseeing all aspects of digital strategy, such as branding, list building, social media engagement, website and digital content creation, online fundraising, and digital organizing. The Digital Director will work closely with the Director of Public Affairs and Strategic Communications while supervising and mentoring staff responsible for the strategic use of broadcast email, content management systems, social media, website properties, online ads, text messages, and more on multiple issue campaigns. Serve as lead digital strategist or oversee the digital strategists for all of CPD's issue campaigns. Set goals with campaign directors and develop strategies and tactics to deliver results.
A strong candidate will have significant experience designing and implementing various digital strategies that include traditional and social media; digital communications; special events; and the integration of cultural work that engages diverse audiences ranging for grassroots and grasstops leaders to national advocates from various backgrounds and spheres of influence.
The ideal candidate will have deep alignment with CPDs theory of change, which focuses on building strong people's institutions and a community of action committed to building a world in which we are all free to thrive together.
Primary Responsibilities:
Campaign Engagement: Develop and build strong relationships with campaign leads and be a bridge between their individualized campaigns and the larger narrative and goals for CPD's online audiences. Tie the threads together from multiple issue campaigns to form a cohesive message about economic and racial justice. Interact regularly with individual campaign leads and know when a conversation or decision needs to 'escalate' from entry-level or reporting staff for direct engagement.
List Building: Develop and drive strategies for the robust growth of CPD/A social media followers, email list subscribers, and other manifestations of digital organizing. Provide regular reports, analyses, and new thinking that will aid in that robust growth.
Supervision: Supervise, mentor, train, and develop digital staff. Establish and monitor staff performance and development goals, assign accountabilities, set objectives, establish priorities, conduct annual performance appraisals, and administer salary adjustments for the Digital Team at CPD/A
Fundraising: Takes direct responsibility for driving strategies to raise money for the organization through online and digital fundraising approaches. In so doing, will provide reports on progress, proactively advocate for new solutions, and foster a culture of fundraising for the team.
Editorial and Content Creation: Develop the larger narrative for CPD's online audience by maintaining a long-term content strategy and email calendar. Tie the threads together from multiple issue campaigns to form a cohesive message about economic and racial justice. This includes writing/editing content for email and websites; coordinating with graphic designers and video producers on content; and managing production of web ads, as needed. Develop and implement an integrated strategic communications and digital organizing plan to advance CPDs brand identity; broaden awareness of its programs and priorities; and increase the visibility of its programs across key stakeholder audiences.
Qualifications:
Digital Strategies Competency: Proven success at leading strategic internal and external digital efforts through the development of digital engagement plans, message development, new and social media strategies, marketing, and targeted distribution strategies. Ability to convey complex ideas through brief, reader-friendly materials. Experience identifying and crafting stories that engage and compel an audience. Superior writing and proofreading/editing skills are critical. Video production experience preferred.
Leadership: Experience in planning, leading, and managing creative digital projects. Ability to participate on a leadership team to advance the organization's broader goals and a willingness to roll up your sleeves to execute as needed. Experience coordinating with peers across functional teams to achieve desired outcomes. Ability to work independently to organize and prioritize multiple projects.
Tools and Resource Development: Expertise overseeing the production of multimedia resources to ensure relevance to target audiences.
Events: Experience designing and executing events with a focus on culture, creativity, and experiential learning.
Collaboration: Effective at working with others to reach common goals and objectives. Comfort in an informal, entrepreneurial environment that values innovation, risk, and results.
Relationship Building: Skilled at establishing and cultivating strong relationships with peers, across different levels of the organization and externally.
Management Experience: Excellent people skills with demonstrated experience managing others and working with a dynamic team internally and externally. Able to multitask; comfortable working in an ambiguous, fast-moving environment, while also driving toward clarity and solutions.
Project Management: Ability to implement project management methodology to advance multiple endeavors simultaneously, providing project participants and suppliers with clarity related to vision, deliverables, and timelines.
Job Requirements
At least five years relevant experience, with at least three years working in digital strategy and management for political campaigns, non-profit organizations or unions.

Experience developing and implementing digital strategy for campaigns, such as community organizing, political, and legislative campaigns, as well as experience working with grassroots activists.

Excellent writing skills. Candidate should be able to write sharp, memorable copy under deadline.

An ability to juggle multiple projects at a time and produce consistently high-quality deliverables in a fast-paced environment.

Excellent interpersonal skills and an ability to work well with diverse groups and populations.

Ability to speak, write, and proofread Spanish is a plus.

Demonstrated commitment to social, racial and economic justice.

Willingness to travel occasionally.
Salary and Benefits:
The salary range for this position is competitive and commensurate with experience. We have a generous benefits package, including health insurance, dental insurance, vision insurance, 15 vacation days per year, 10 sick days per year, 12 paid holidays per year, and contributions to individuals' 401K plans.
HOW TO APPLY: Please submit your cover letter and résumé through our hiring portal: https://cpd.hiringthing.com/job/115268/director-of-digital-strategies
CPD/A is an Equal Employment Opportunity employer and actively recruits people of color, women, individuals with disabilities and members of the LGBTQ community.
WHEN APPLYING: Be sure to indicate that you saw this information at UNIONJOBS.COM.