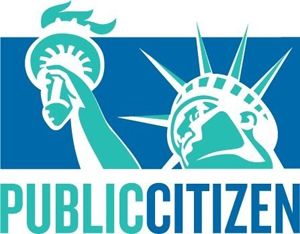 Public Citizen

Democracy Organizer
Public Citizen's President's Office
Based in Washington, DC

Public Citizen is a national, non-partisan, public interest group with more than 500,000 members and supporters. We take on corporate power and seek to advance justice and democracy, health and equality. We have worked for a stronger democracy for our entire 47-year history, and are now scaling up our campaigning.
CAMPAIGN OVERVIEW:
Public Citizen is playing a key role in state and federal efforts to preserve and strengthen our democracy. We have an ambitious agenda in Congress and are driving grassroots organizing to move forward a powerful set of democracy reforms that focuses on both addressing the pervasive influence of money in politics, the attacks on voting rights, overturning Citizens United and increased transparency and oversight.
We are also playing a lead role in organizing the Trump Is Not Above the Law network (www.TrumpIsNotAboveTheLaw.org) which has more than 400,000 people signed up nationwide to take the streets if Trump interferes with the Mueller investigation. This network also is engaged in ongoing organizing, especially in key U.S. Senate Districts to ensure that our democracy is protected.
At the same time, we run and support campaigns on the state level to win more short term democracy victories, including playing an important role in the passage of Amendment 4 which restores the eligibility to vote to 1.4 million Floridians who have been convicted of felonies. We are also involved in coalitions in New York and elsewhere to expand voting rights and reforms aimed at addressing big money in politics.
The grassroots organizing campaign will emphasize:
Working with activists around the country, especially in key states, to involve them in state and federal democracy efforts.

Reaching out to state and national organizations to build coalitions to support and help win our campaigns.

Developing and implementing creative campaign tactics to pressure key decision-makers to advance democracy reforms.
GENERAL DESCRIPTION OF POSITION:
The Organizer will work closely with Public Citizen's democracy team to execute our grassroots organizing strategy for local and nationwide coordinated action in support of our democracy. The organizer will help identify and cultivate relationships with grassroots activists and local coalitions in target states and districts to build the people power needed to convince policymakers to support democracy legislation, defend the Mueller investigation and act on its outcomes, and continue the drumbeat supporting democracy reforms in the lead up the 2020 elections. The organizer will also provide support to the democracy team in developing on-line and offline campaign materials and nurturing a growing, national Declaration for American Democracy coalition.
This is an opportunity for an innovative organizer with creative ideas and excellent follow-through to engage people and organizations grassroots. If you enjoy figuring out what moves people to action and are passionate about building a nation that is truly of, for, and by the people, this may be the position for you!
The Democracy Organizer will:
Engage in online and offline outreach via phone banking, texting, email alerts, social media, and working in local coalitions to mobilize activists nationwide, and especially in target states and districts to take action.

Travel to build leadership and train grassroots activists face to face, in order to effectively implement action strategies, such as local actions, mobilizations, in-district meetings with lawmakers, bird-dogging, and letters-to-the-editor.

Work with state-based organizations, building coalitions to put pressure on key U.S. Senators and state legislators to advance democracy reforms.

Report and track on progress of online organizing and field efforts to improve outreach, messaging and tactics.

Provide additional support to the Campaign Director and other democracy focused staff and experts as needed.
You could be great for this job if you have:
One to two years of strategic issue-based advocacy and organizing and/or electoral experience at the state and/or national level.

Experience activating and engaging every day people to take action.

Excellent inter-personal skills and ability to work well with a wide range of people.

Successful strategies to keep yourself organized in a fast-paced environment, meet short-term deadlines, balance multiple responsibilities, and maintain strong attention to detail and accuracy.

A desire to travel to target communities and states.

A passion to win and a desire to ask and inspire people to do more and aim higher than they believed possible.
SALARY AND BENEFITS: This is a grant contingent position. The salary for this role will be between $49,125 and $71,084 depending upon experience. The exact salary will be determined using a salary schedule that is part of a collective bargaining agreement. Thus individual salaries will not be subject to negotiation.
Benefits include:
Great medical and dental coverage, including full coverage for children

Three weeks paid vacation for new employees, plus five personal days

401K plan with a 5% contribution from PC after one year of employment

12 weeks of paid parental leave after one year of employment

Student loan reimbursement program
Public Citizen is based in Washington DC but this position will report to our campaign co-director who works remotely from Syracuse, NY and we believe it will work best if the organizer is based there as well.
TO APPLY:
Please submit a cover letter and résumé as well as one to two brief and relevant advocacy writing samples (no more than two pages) to Jonah Minkoff-Zern at jzern@citizen.org. No phone calls please.
Public Citizen is an equal opportunity employer. Public Citizen employees are proud members of SEIU Local 500. People of color, women and LGBT candidates are encouraged to apply.
WHEN APPLYING: Be sure to indicate that you saw this information at UNIONJOBS.COM.