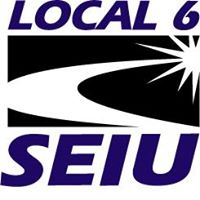 Service Employees International Union Local 6
Property Services Northwest

Administrative Assistant
Seattle, WA

Administrative Assistant
SEIU6 Property Services NW
Seattle/Puget Sound Area
Full-time Administrative Position
Seattle, Washington
Summary:
SEIU6 Property Services NW is a 7,000+ member local union based in Seattle, Washington. The Local represents and organizes janitors, security officers, airport passenger services, and other property services workers throughout Washington State. We are committed to helping workers fight for social and economic justice on the job and in the community.
Job Description:
SEIU6 is seeking candidates for a full-time Administrative Assistant position. This position is responsible for providing administrative support, with considerable exercise of independent judgment, to the officers and staff of SEIU6 Property Services NW. This position performs all duties necessary to maintain standards of written communication, including correspondence, contract proposals, reports, newsletters, fliers, and other campaign materials.
This is a union position requiring membership in OPEIU Local 8.
Primary Responsibilities:
Examples provide a general summary of the work required and should not be treated as a total and complete list of expected duties to be performed by employees in the classification.

Performs confidential work and advanced level administrative duties, i.e., prepares correspondence, reports and documents; monitors contracts, legal documents, and grievances; maintains records and filing systems.

Manages administrative projects with minimal supervision; can prioritize work. Assists with and completes special projects.

Responds to inquiries and requests relative to the President; maintains President's calendar and staff travel; coordinates meeting rooms schedule.

Communicates with executive board; prepares materials for executive board meetings; takes minutes once a month at executive board meetings.

Performs other duties as required to support the office/department and its mission.
This position works under general supervision and reports to the President and the Office Manager.
Education and Experience:
High school graduate with at least (5) five years of administrative support experience or college degree with at least (2) two years of administrative work, preferably in a not-for-profit environment. Previous Labor Union work is encouraged.
All candidates must be able to demonstrate the following knowledge, skills, and abilities:
Knowledge of modern office practices and principles.

Ability to effectively manage multiple projects exercising independent judgment. Must be detail-oriented and self-directed.

Ability to communicate clearly and concisely in both verbal and written form. This position requires strong language skills, including writing, proofreading, and editing.

Ability to organize assignments, meet deadlines and pay attention to detail. Ability to prioritize daily competing priorities.

Ability to handle confidential information, including budgets and personnel issues.

High computer skill level and Microsoft Office Suite, including Word, Outlook, Excel, and PowerPoint. Experience with Adobe Creative Suite is also recommended.
We are looking for a person who is consistent, confident, and calm with a professional demeanor.
Salary DOE. Generous benefit package.
To Apply
Submit cover letter and résumé by March 25, 2018, to Zenia Javalera at ZJavalera@seiu6.org. Please include "Administrative Assistant Position" in the subject title.
SEIU is an equal opportunity/affirmative action employer.
The Service Employees International Union is the nation's fastest growing labor organization with 2 million members. SEIU is on the cutting edge of progressive activism, building the power of low-wage workers, and engaging in larger social issues such as health care, housing, and immigration.
The Property Services Division is home to Stand For Security (security officer organizing) and Justice for Janitors (janitor organizing) campaigns, existing national drives to empower workers to unionize and improve working conditions as well as win significant wage gains, health insurance, full time work, and organizing rights for low-wage property service workers.
WHEN APPLYING: Be sure to indicate that you saw this information at UNIONJOBS.COM.