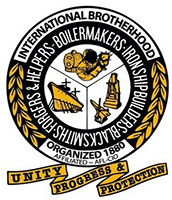 Strategic Campaign Researcher
Based in Kansas City, KS

This is an exciting opportunity to help workers by becoming a Strategic Campaign Researcher with the International Brotherhood of Boilermakers.
About the Boilermakers
The International Brotherhood of Boilermakers, Iron Ship Builders, Blacksmiths, Forgers & Helpers, AFL-CIO/CLC, represents members across North America employed in industrial construction and maintenance, shipbuilding, cement making, railroads, manufacturing and allied industries. Organized in 1880, we are headquartered in Kansas City, Kansas. We are a diverse union, with members engaged across a range of industries, from energy to mining to commercial and naval shipbuilding to consumer products. The Boilermakers' family of organizations includes Bank of Labor, the MOST trust (with 17 industry-leading programs for safety, training and work readiness), the Boilermakers National Apprenticeship Program and the Boilermakers National Funds.
About the Position
The strategic campaign researcher will provide strategic planning, corporate and industry research to support organizing efforts in the Industrial Sector Operations Department.
The strategic campaign researcher will have a variety of responsibilities but will work primarily on projects to compile information on companies, industries and issues, and assists in campaign strategy, tactic development, implementation and driving of the overall targeted organizing strategy.
The strategic campaign researcher will be a member of the International President's Staff, but will report to and receive daily assignments from the Director of Organizing,
Primary Responsibilities
Monitor and analyze industry, real estate and other data in order to identify opportunities for growth;

Identify issues relevant to campaigns through strategic analysis of regulatory agencies, policy documents, public budgets, labor relations and other systems;

Creatively analyze financial and other quantitative data to identify patterns relevant to the Union's goals;

Creativity in application of research methods for union campaigns;

Gather information from people, including Organizers and other Union Staff,

public officials, businesses, and academic experts;

Participate in strategic campaign planning;

Create and manage lists, charts, and databases;

Report regular updates to Director of Organizing and/or Chief of Staff;

Must be able to work independently, be a self-ˇstarter, and work with little or no supervision; and

Perform other duties as assigned.
Qualifications
B.A. or B.S. in relevant field required. Graduate Degree or coursework preferred, but not necessarily required with adequate relevant experience;

7 – 10 years of strategic corporate research or very comparable experience;

Demonstrated research, writing, and analytical skills including the ability to interpret, synthesize, and summarize primary research and complex regulatory materials;

Previous experience working on campaigns with labor, community, political, campus or issue-based organizations is desirable;

Must be able to work independently and be deadline/team oriented;

Valid U.S. driver's license, automobile (to be used for work purposes), and auto insurance;

Flexible with the ability to adjust to rapidly changing campaign priorities;

Excellent interpersonal, communication and listening skills;

Demonstrated commitment to social justice and worker rights;

Must have interest and loyalty to the labor movement;

Bilingual and multilingual candidates are preferred, but not absolutely required for this position. Candidates who speak and write in the English language and one or more of the following languages would be very helpful: Spanish, Ukrainian, and/or Russian.
Significant amounts of travel may be required at times for this position. Please do not apply for the job if you are not willing or able to handle the traveling. Travel assignments may be issued on very short notice and the duration of the travel could be extensive depending on the circumstances.
Travel may include, but is not limited to, places where active organizing campaigns are taking place, conferences, meetings, or to work out of one of our many satellite offices/local lodge union halls.
Compensation
Competitive salary commensurate with experience will be offered to successful candidates. Our union offers one of the best pay and benefit packages in the Labor Movement. Qualified candidates are highly encouraged to apply.
How to apply
Submit a cover letter, résumé and at least one writing sample electronically to:
Mya Fillingham, Administrative Secretary
International President's Office
Email: mfillingham@boilermakers.org
***No phone calls please***
Applications will be accepted on a rolling basis until the position is filled.
Our organization is an equal opportunity employer that actively seeks to build diversity. Women, people of color, LGBTQ, Veterans, and disabled individuals are fully respected and encouraged to apply.
For more information on the International Brotherhood of Boilermakers, please visit our website at www.boilermakers.org or www.formaunion.com.
WHEN APPLYING: Be sure to indicate that you saw this information at UNIONJOBS.COM.