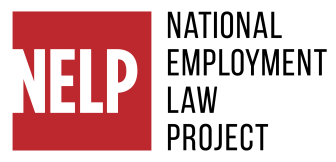 Human Resources Manager
New York City, NY

The National Employment Law Project (NELP) seeks an experienced, creative, skilled Human Resources Manager to work with our management and staff to develop and implement policies and practices that support an employee-oriented, high performance culture emphasizing empowerment, quality, productivity, standards, goal attainment, and the recruitment and ongoing development of a superior workforce.
Who We Are
NELP is a national non-profit with offices in New York, Washington D.C., Seattle, and Berkeley, promoting federal, state, and local policies to create good jobs, strengthen workers' upward mobility, enforce worker rights, and improve benefits and services for the unemployed. In collaboration with national and grassroots partners, NELP advances its work through research, advocacy, litigation support and technical assistance designed to raise wages, end wage theft and workplace violations, strengthen unemployment insurance, ensure employer accountability for workers in contract employment, encourage fair chance hiring practices, and promote a comprehensive policy framework to build a good jobs economy. For more information, see www.nelp.org.
As advocates for workers' rights, including the right to collectively bargain, non-management staff at NELP are members of Local 2320, UAW.
What You Will Do
As NELP's Human Resources Manager, you will be responsible for developing and implementing processes that support the development and retention of an extraordinary team. Your position reports to the Managing Director, and serves as a combination of strategist, coach, and HR technical expert. For example, you will research the latest scholarship in the fields of human resources and management on best practices for timing and methods for providing feedback and coaching to staff, and you will develop recommended processes for performance evaluation, including support for our managers and supervisors in providing effective feedback. A second example is staff development: Working with managers and supervisors to develop an understanding of the different skills and knowledge needed on their teams while also meeting regularly with staff to understand how they wish to grow professionally and develop new skills. You will use this research to develop strategies and systems to ensure that our different teams have the necessary skills to meet their goals, team members have access to professional development opportunities, and NELP maintains a culture of continuous learning.
You will also be directly responsible for originating and leading our human resources practices and objectives including the overall administration, coordination, and evaluation of the human resource function at NELP. You will be responsible for ensuring that NELP's HR policies and practices are executed consistently with the terms of our Collective Bargaining Agreement. You will be responsible for developing all HR strategies and providing sound advice to senior management on all related subjects, including issues related to NELP's collective bargaining agreement. Due to the specific legal implications involved in many of these areas, you will work closely with NELP's General Counsel.
While certainly not an exhaustive list of responsibilities, your job will include:
Setting annual objectives for NELP's human resources function. Preparing and presenting regular reports on major decisions, HR initiatives and performance against goals.

Streamlining and standardizing NELP's recruitment and hiring processes across all internal teams and geographic locations. Developing job announcements and executing outreach strategies consistent with NELP's mission and values. Working with hiring supervisors throughout the candidate screening, interviewing, reference check and job offer phases of the hiring process.

Negotiating with professional recruitment firms to conduct high-profile job searches.

Monitoring and continuously improving the staff member experience at NELP from conducting new-employee orientation, to monitoring career-path programs, assisting in designing professional development plans, employee relations counseling, and conducting exit interviews.

Supporting NELP's Deputy Director in planning and executing NELP staff retreats.

Partnering with our finance team, as appropriate, to administer NELP benefits and manage NELP benefits providers. Making suggestions for expanding or improving the cost effectiveness of NELP benefits and existing contracts and screening potential providers.

Performing research in support of the renegotiation of the Collective Bargaining Agreement by conducting salary surveys, analyzing compensation, periodically reviewing NELP's existing personnel policies and recommending and implementing improvements.

Recommending new approaches, policies and procedures to effect continual improvements in efficiency of department and services performed.

Ensuring compliance with federal, state, and local legal requirements by studying existing and new legislation; anticipating legislation; enforcing adherence to requirements; and advising management on needed actions.

Communicating and reinforcing NELP HR policies and practices.

Updating your own job knowledge by participating in conferences and educational opportunities, reading professional publications, maintaining personal networks, and participating in professional organizations.

Actively contribute to NELP's work in becoming an anti-racist organization that reflects and embodies internally the values of social justice, diversity, and inclusion.
Who You Are
While deeply knowledgeable in the technical aspects of HR management (e.g., benefits administration, compensation, compliance), you are drawn to the HR field because you really enjoy working with people across many different levels and functions within an organization and helping them to realize their potential.

You are a born problem solver. You enjoy and are good at teasing out root causes and identifying solutions.

You count among your strengths hiring, recruiting, developing, coaching, and retaining individuals and teams, and empowering them to grow and develop professionally.

You actively track best practices in the field of HR and staff development.

You possess the ability to think strategically, anticipate future consequences and trends, and incorporate them into human resource planning.

You are organized and pay keen attention to detail. You have finely honed time management skills. You are skilled at developing systems for effectively tracking and maintaining essential and often confidential organizational and personnel data. You are excited by exploring and using new technologies and tools for addressing organizational priorities and challenges.

You are a skilled communicator both verbally and in writing. You are at ease when presenting complex topics to an audience.

You are comfortable with ambiguity and change.

Ideally, you have experience managing the unique aspects of human resources that occur in a union environment.

You have a bachelor's degree and 5 years of human resource experience, or 7 years of experience in the HR field; master's degree in human resource management preferred.

If you are a SHRM Certified Professional (SHRM-CP) or SHRM Senior Certified Professional (SHRM-SCP), that is a plus.

Experience working in a socially responsible public agency focused on labor law and policy, labor unions, or workers' rights preferred.
Start date and compensation: This position will be based in our New York City office. The position will start as soon as possible and reasonable, given the candidate's transitional needs. Salary is competitive within the non-profit sector and commensurate with experience and education. Excellent benefits package. The position will require some travel.
To apply: Email cover letter, resume, and three references to jobs@nelp.org, noting "Human Resources Manager" in the subject line. If you have questions regarding this announcement, please forward those to jobs@nelp.org, noting "Human Resources Manager Questions" in the subject line. No phone calls or other email inquiries please. We will consider applications on a rolling basis.
NELP is a 501(c)(3) non-profit organization and an equal opportunity, fair chance, affirmative action employer, committed to building a diverse and inclusive workforce. All qualified applicants will be considered for employment without regard to race, color, creed, national origin, sex, age, disability, marital status, sexual orientation, military status, prior record of arrest or conviction, citizenship status, current employment status, or caregiver status.
WHEN APPLYING: Be sure to indicate that you saw this information at UNIONJOBS.COM.