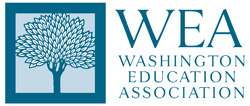 Equity & Diversity Coordinator
Based in Federal Way, WA

The Washington Education Association is seeking applicants for the position listed below. A job description is included on the following pages. This position is currently available to internal and external applicants.
To be considered for this position the following documents are required:
Cover Letter

Updated résumé reflecting qualifications for this position

Signed WEA application form

Three professional letters of reference
Washington Education Association application forms are required and may be obtained by selecting Online Application located at the end of this document or, at the Washington Education Association located at 32032 Weyerhaeuser Way South, Federal Way, WA. or, by calling Human Resources at 1-800-622-3393 extension 7002.
The deadline for receipt of cover letter, résumé, signed application and references is on or before September 22, 2017.
Washington Education Association
Attn: Karen Knight, HR Generalist/Member Benefits
PO Box 9100
Federal Way, WA 98063-9100
253-765-7002 (direct)
FAX (253) 946-4726
Email: kknight@washingtonea.org
The Washington Education Association is an equal employment opportunity employer. It is the desire of the Washington Education Association to interview applicants from an applicant/interview pool that reflects the diversity of the greater community for each vacancy as it occurs.
Job Description — Equity & Diversity Coordinator
Supervision: The successful applicant will report directly to the WEA Executive Director of the Washington Education Association.
Location: The position will be located in the WEA Headquarters Building in Federal Way, WA., with travel expected throughout the state.
Philosophy: Founded in April of 1889 as the Washington State Teachers' Association with 124 members, the Washington Education Association (WEA) has evolved into the largest representative of public school employees in the state – with a membership of approximately 90,000. Respect for diversity and full inclusion in employment and governance is a key component of WEA's core values. Ending institutionalized racism and bias in public education and promoting a just and inclusive society with respect for the worth, dignity, and equality of every individual remain primary objectives of the Association.
Responsibilities and essential functions:
Support and advance the WEA and WEA Mission, goals, core values and priorities.

Assist the WEA in developing and implementing the systems, programs and organizational strategies that create a greater awareness of diversity and inclusion while advancing the goals of WEA.

Assist the WEA in developing, refining and implementing the WEA Diversity Plan in conjunction with key stakeholders with the goal of ensuring that diversity awareness is part of our organizational culture at all levels.

Assist the WEA in developing and delivering dynamic diversity trainings for staff and leaders as part of WEA leadership development efforts.

Assist the WEA, Councils and Locals in cultivating diversity awareness and understanding.

Identify both internal and external resources (people and money) necessary for the successful implementation of our diversity plan.

Ability to define, assess and cultivate awareness of diversity issues, trends, and developments.

Ability to research, understand data and demographics, and establish success metrics related to the concepts herein.

Strong understanding of federal and state laws and regulations related to diversity issues, including but not limited to affirmative action, EEOC, disability, and the constituent needs of minorities.

Staff advisor and support for the WEA Diversity Committee, the WEA Human and Civil Rights Committee, and WEA employment internship programs in support of 3-1(g) planning, reporting and compliance.

Effective collaboration with staff involved in developing and maintaining relationships with communities of color, labor partners, and external civil rights focused organizations.

Develop and assist the organization in leadership development in the context of diversity awareness.

Work closely with WEA programs and departments to ensure the lateral and vertical integration of diversity concepts in all aspects of WEA work, including Communications, Human Resources, Governance, Advocacy, and the Learning and Education Policy Center.

Ability to establish and maintain positive working relationships, recognizing a varying degree of awareness and understanding of diversity issues in the organization.

Ability to remain flexible and understand the internal political landscape of the organization.

Ability to stay positive and resilient in the face of institutional resistance to diversity issues.

A strong understanding or willingness to learn and deploy project management techniques.

Strong knowledge or willingness to learn and deploy change management and/or other organizational development techniques.

An ability to use creative problem-solving to overcome barriers to the implementation of the diversity plan, its goals and its objectives.

Strong verbal and written communication skills.

Ability to train and make presentations before small and large groups of constituents - leveraging social justice and business-case rationales with the importance of diversity.

Ability to effectively propose and manage a budget in conjunction with WEA management, understand the grant writing process, and research and develop funding for diversity initiatives.

Ability to effectively manage meetings, events, coordinate calendars and logistics.

Ability to travel throughout the state to help deliver diversity programs.

Assist the organization in building and exercising power at the state and local level by encouraging and developing greater member engagement from members of color and from historically underrepresented groups.

Political action activities and lobbying support.

Developing relationships and working with broad-based organizations to support the goals of the WEA.

Internal and external communications.

Experience working in traditional advocacy, including but not limited to bargaining, contract maintenance, and organizing techniques.

Provide staff liaison/serve on WEA committees as assigned.

Participate in WEA shared staffing assignments, including assignments throughout the state of Washington.

Regularly attend and participate in WEA staff meetings and trainings.

Complete other duties as assigned.
Minimum job requirements:
Bachelor's Degree, preferably in an educational subject closely related to the concepts included herein.

Ability to compose documents under pressure; strong ability to communicate verbally, in writing and through various media.

Ability to think creatively to resolve problems, issues, and conflict.

Demonstrated successful experience in:

Commitment to member-driven and organizing union culture

Problem-solving and other mediation of sensitive interpersonal situations

Cultural Competence/Relevancy or Multicultural Education

Ability to relate to all membership levels: Higher Ed, Certs, ESP members, staff, management and leaders, as peers

Strong work ethic.

Ability to work with diverse groups and individuals in a teamwork environment as well as working in a self-directed manner when needed.

Ability to work well in teams, including providing cross-organizational support to other areas of the organization.

Ability to establish systems and procedures for responding to reports of bias - including a mediation process.

Ability to coordinate the delivery and development of diversity training for staff, governance, and leaders and assist in leadership development in the context of diversity, inclusivity, bias and micro-aggression.

Ability to develop metrics for measuring the effectiveness of WEA diversity indicatives including benchmarks and promoting accountability for diversity measures.

Provide input to the recruitment and retention strategies for WEA staffing and leadership programs.

Ability to collaborate with staff in developing and maintaining relationships with external community-based organizations, labor partners and communities of color.

Proficient computer skills and experience in, but not limited to, word-processing and online research.

Ability to coordinate personal workloads and schedules in a fast-paced working environment.

Ability to establish, track and assess metrics (data) related to organizing goals and membership objectives. Ability to deliver and communicate complex data.

Ability to travel both in and outside the state of Washington.

Ability to obtain a valid Washington State driver's license, possess a satisfactory driving record, and have a dependable automobile for Association travel. Proof of automobile insurance with liability limits of at least $100,000/$300,000 required.

Willingness to take temporary assignments in other state locations as required.
Preferred job requirements:
5 years' experience teaching and/or leading diversity efforts in labor union or similarly situated organization.

Certification and/or advanced education in the area of diversity, cultural awareness, civil rights advocacy, racial studies, or similarly situated areas.

Staff or Association leader experience in education associations, local, state or national school employee organizations, or professional organizations.

5 or more years working as an organizer in an education union setting.

5 or more years' experience with internal, new member and community organizing.

Experience in an advocacy organizer role or comparable union work.
Salary range and benefits:
Annual salary range: Level V (E) - $ 94,349 to $ 134,581
Benefits:
Medical, Dental, Vision and Life Insurance

Sick and Vacation Leaves (PTO)

Long-term Disability

Defined Benefit Plan

Defined Contribution Plan (401k) (w/employer contribution)

Covered by the WEA/WEASO Collective Bargaining Agreement
Application procedure and references:
In order to be considered for this position, a completed and signed WEA application form including resume, cover letter and three letters of reference from associates who have professional knowledge of the applicant's background and work experience must be submitted to WEA Human Resources on or before September 22, 2017. Please submit your application materials online by following the link below.
Important note: When submitting your application materials online, select "Save as Draft" until you have all materials together and ready to be attached and uploaded – i.e., cover letter, resume application and three professional reference letters. This will ensure your application materials remain together as a single submission.
WHEN APPLYING: Be sure to indicate that you saw this information at UNIONJOBS.COM.